Butcher's Choice Gift Box
6 Filet Mignons & 8 Gourmet Steak Burgers
$164.95
Reg.
$199.95
save 18%
Use Promo Code: FBFILET2021
To receive FREE Standard Shipping and $35 off this package
Use Promo Code:FBFILET2021 to receive an additional $35 off the sale price and FREE Shipping on this Filet Mignon Gift Box
WEIGHT:

6oz

AGED:

4-6 weeks to enhance flavor & tenderness

PACKAGING:

Individually wrapped & vacuum sealed

Individually Registered

with its own unique registration number - guaranteeing uncompromising quality

Gift Box:

Delivered in a classic black & gold gift box
Product is flash frozen before shipping to lock in flavor and will arrive frozen or partially thawed
This gift box will cost $104.95 + Free Shipping with code FBFILET2021

Apply Promo Code: FBFILET2021 to receive an additional $35 off the sale price and FREE Shipping on this Filet Mignon Gift Box
A Taste of Tradition
At Chicago Steak Company, we invite you to taste tradition. Since 1865 with the founding of the Union Stock Yards, Chicago has been at the heart of high-quality American meats. Chicago Steak Company proudly carries on that tradition. We specialize in hand-cut, Mid-West raised, Premium Angus USDA Prime beef - cut by Chicago butchers with five generations of experience. If you're looking for the very best steaks on the market, then you've come to the right place.


The Butcher's Choice Filet Mignon Gift Box
The butcher's choice filet mignons are exactly that, the Butcher's choice steaks! These specially reserved steaks are the very steaks that butchers would take home to enjoy with their families. Each steak is hand-selected and hand carved to ensure you get the best cut possible, and then wet-aged for a minimum of 28 days to intensify its naturally delicious flavor. That is why our filet mignons are among the most flavorful, juicy, and tender filet mignons you'll ever eat. These exquisite steaks are sure to satisfy!!

Filet Mignon Gift Box Includes:
6 (6oz) Butcher's Choice Filet Mignons
8 (4oz) Angus Steak Burgers
1 Packet of Chicago Steak Seasoning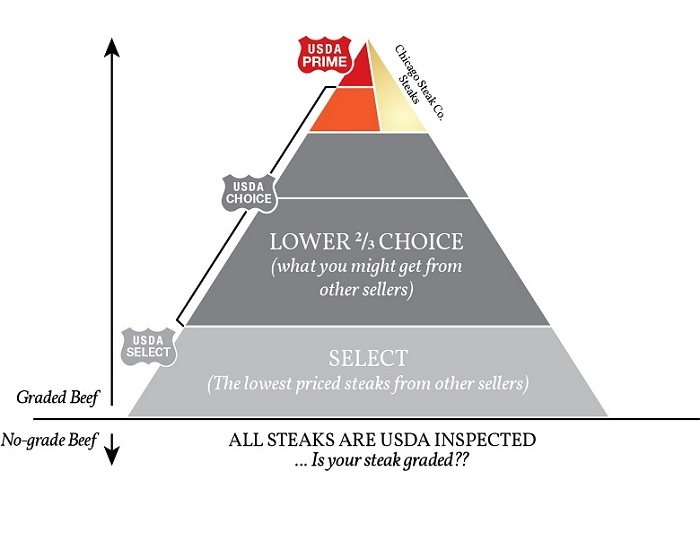 The Best Process for Grilling Filet Mignon
First, you should allow your steaks to come to room temperature for about 30 minutes before grilling them. Then, preheat your grill before grilling a filet mignon. This ensures that your steak gets a good sear before cooking internally and prevents overcooking.
Right before you place your steaks on the grill, add your choice seasoning. Salt and pepper are good choices, but our Chicago Steak Seasoning can give your filets just the right flavor boost!
Put your filets on the grill over the most intense heat and close the lid. Keep them in place for the time mentioned above, according to your steaks' thickness. When the time is up, open the grill lid and flip and turn the filets. Again, close the lid and cook for the recommended time to your desired doneness.
Packaged with Care
When you place an order with Chicago Steak Company, we do everything we can to ensure that your package arrives in excellent condition. All of our steaks are vacuum wrapped and flash frozen in their natural juices to lock in the flavor. The steaks are then wrapped in our attractive food grade paper, sealed with the Chicago Steak Company gold label, and placed in our gorgeous gift box. Those gift boxes are placed inside our reusable insulated cooler with enough dry ice to keep them cold until arrival. For more information on shipping, and other Frequently Asked Questions see our FAQ page.
Watch the Video to see how your order is packed, how it will arrive, and how to thaw it properly.
For more information please see the Shipping Details page