Premium Angus Beef
Filet Mignon
Starting at
$94.95
Reg.
$114.99
save

17

%

17%

Savings based off a la carte item prices

Use Code: BURGERS149
For 8 FREE Steak Burgers on orders of $149+
Free Shipping on orders of $179+


Expires TOMORROW
BEEF UP YOUR CART WITH ADDED SAVINGS
Premium Angus Filet Mignon
Handpicked for color, texture, and marbling, these 2 6oz USDA graded Premium Angus Choice Filet Mignons are slowly Wet-Aged for a buttery tenderness that you can cut with a fork. These are the steaks that you choose for special occasions as they are sure to WOW. Each Filet is individually hand-cut and completely trimmed of all exterior fat yet marbled enough to deliver full flavor.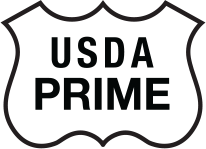 We
specialize

in
Angus USDA Prime

Only 2% of all beef
qualifies as USDA Prime
express
shipping
Packages are shipped overnight to ensure your steaks arrive frozen.
wagyu
Beef
We proudly offer Wagyu and Premium Angus Beef.
superior
marbling
Each steak is hand-selected and hand-cut to ensure impressive marbling and excellent flavor.
Aged
28 days
Our steaks are wet-aged or dry-aged 28-40 days, resulting in tender steaks with extraordinary flavor.
Packed

with


dry ice

Your steaks are packed in a reusable cooler with plenty of dry ice to ensure they arrive frozen.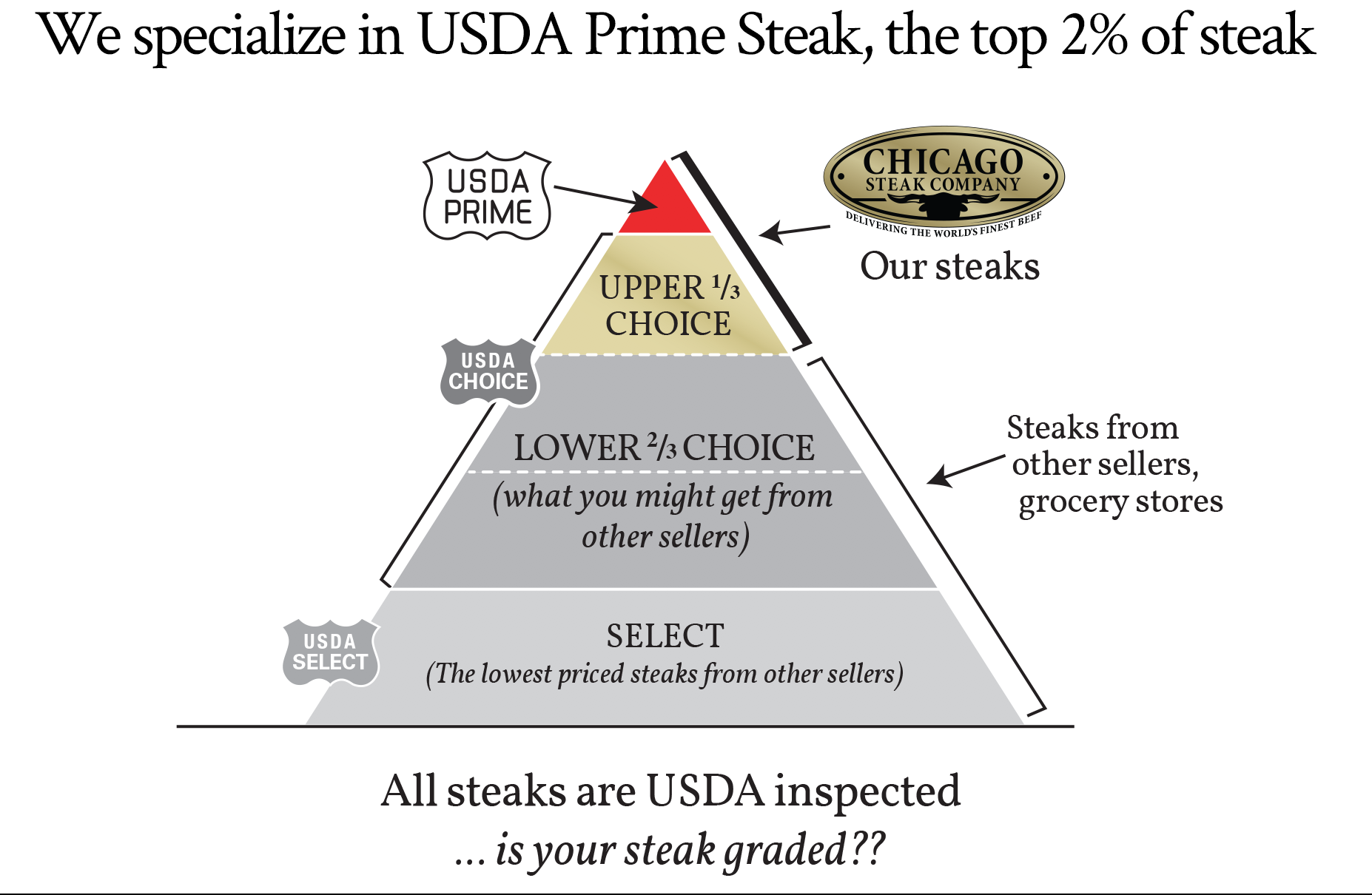 use promotion BURGERS12 to get 12 FREE steak burgers with your order of $159.95+
A Taste of Tradition
At Chicago Steak Company, we invite you to taste tradition. Since 1865 with the founding of the Union Stock Yards, Chicago has been at the heart of high-quality American meats. Chicago Steak Company proudly carries on that tradition. We specialize in hand-cut, Mid-West raised, Premium Angus USDA Prime beef - cut by Chicago butchers with five generations of experience. If you're looking for the very best cuts of steak on the market, then you've come to the right place.
Premium Angus Filet Mignon
Every filet mignon we offer is certified USDA Prime or upper-1/3 USDA Choice, putting our steaks in the top 2% of beef worldwide. Each steak is hand-selected and hand carved to ensure you get the best cut possible, and then dry- or wet-aged to intensify its naturally delicious flavor. That is why our filet mignons are among the most flavorful, juicy, and tender filet mignons you'll ever eat. Paired with our FREEGIFTS or BURGERS12 promotion code for 12 free (4oz) steak burgers, you'll get an additional 12 servings for free on your order. They're the same amazing filet mignons you'll get at 5-star restaurants like Jordan's or Ditka's. In short, the very best steaks your money can buy.
Handpicked for color, texture, and marbling, these Filet Mignons are then slowly Wet-Aged for a buttery tenderness that you can cut with a fork. These Premium Filet Mignon steaks are individually hand-cut and completely trimmed of all exterior fat, yet marbled enough to deliver full flavor. Making these wet-aged steaks, "Simply the Best".
The Best Process for Grilling Filet Mignon
First, you should allow your steaks to come to room temperature for about 30 minutes before grilling them. Then, preheat your grill before grilling a filet mignon. This ensures that your steak gets a good sear before cooking internally and prevents overcooking.
Right before you place your steaks on the grill, add your choice seasoning. Salt and pepper are good choices, but our Chicago Steak Seasoning can give your filets just the right flavor boost!
Put your filets on the grill over the most intense heat and close the lid. Keep them in place for the time mentioned above, according to your steaks' thickness. When the time is up, open the grill lid and flip and turn the filets. Again, close the lid and cook for the recommended time to your desired doneness.
Check out the cooking tab for more
If your steak is frozen, we recommend thawing it in a pan, thawing in a pan helps catch any drippings that may occur, under refrigeration for 24 hours.
Season with our signature steak seasoning.
When turning your steak, be sure to use tongs and not a fork. A fork will puncture the steak and allow for the juices to escape the steak.
Allow your steak to rest for half of the cooking time. This allows for the juices to flow back into the center of the steak.
Steak Cooking Tips
1. Plan ahead. Know the cut of steak you are cooking. A steak is more flavorful and tender if not overcooked.
2. Preheat your grill or broiler to high. Charcoal coals should be ashen grey and red-hot. When cooking on top of the range, the cast iron skillet or grill pan should be hot, but not smoking.
3. Season your steak with salt & pepper or a blended mix to taste.
4. Lightly oil your cooking surface.
5. Sear the steaks on first side using the times listed on the Steak-Cooking Chart as a guide. Flip when juices begin to bead on the surface.
6. Cook your steaks on the second side and use the steak cooking chart below as a guide for time. Less time will be needed on the second side. Steaks may cook quickly, so be attentive.
7. Gauge doneness. This may be determined by touch or meat thermometer. A rare steak will feel very soft when touched and will have an internal temperature of 120° - 125°F. Medium rare steak will feel soft and spongy to the touch and register 130° F, medium steaks will offer resistance when touched and register 140° -145° F. Well-done steaks will be firm with an internal temperature of 160° F.
8. Rest your steak. Allow steaks to stand for 5 minutes before serving. This lets the juices flow from the center of the meat to the exterior, resulting in a juicy & succulent steak. 
Check out Steak University to learn more ways to cook filet mignon like a pro. We'll show you the best ways to grill, pan-sear, or oven-roast your filet mignon for maximum flavor.
Filet Mignon Wine Pairing
Although the Filet Mignon is regarded as one of the best cuts of steak you can sink your teeth into, it actually has some of the subtlest flavors of any cut. That's why it's important to choose a wine that won't overpower the filet mignon.
The most ideal pairing for a filet mignon is an Old World aged wine, like Pinot Noir or Port
Packaged with Care
When you place an order with Chicago Steak Company, we do everything we can to ensure that your package arrives in excellent condition. All of our steaks are vacuum wrapped and flash frozen in their natural juices to lock in the flavor. The steaks are then wrapped in our attractive food grade paper, sealed with the Chicago Steak Company gold label, and placed in our gorgeous gift box. Those gift boxes are placed inside our reusable insulated cooler with enough dry ice to keep them cold until arrival. For more information on shipping, and other Frequently Asked Questions see our FAQ page.
Watch the Video to see how your order is packed, how it will arrive, and how to thaw it properly.
For more information please see the Shipping Details page