Premium Angus Beef
Ribeye
Starting at
$74.95
Reg.
$129.99
save

42

%
Use Promo Code: BLKFRI2
To Recieve Free 4 Filet Mignon on any orders of $159+. Expires November 27th
GRADE:

Top One-Third USDA Choice or Higher

WEIGHT:

8oz, 10oz, 12oz, 16oz

AGED:

4-6 weeks to enhance flavor & tenderness

PACKAGING:

Individually wrapped & vacuum sealed

Individually Registered

with its own unique registration number - guaranteeing uncompromising quality

Gift Box:

Delivered in a classic black & gold gift box
Product is flash frozen before shipping to lock in flavor and will arrive frozen or partially thawed
A Taste of Tradition
At Chicago Steak Company, we invite you to taste tradition. Since 1865 with the founding of the Union Stock Yards, Chicago has been at the heart of high-quality American meats. Chicago Steak Company proudly carries on that tradition. We specialize in hand-cut, Mid-West raised, Premium Angus USDA Prime beef - cut by Chicago butchers with five generations of experience. If you're looking for the very best steaks on the market, then you've come to the right place.
Premium Angus Ribeye
Every ribeye we offer is certified USDA Prime or upper-1/3 USDA Choice, putting our steaks in the top 2% of beef worldwide. Each steak is hand-selected and hand carved to ensure you get the best cut possible, and then dry- or wet-aged to intensify its naturally delicious flavor. That is why our ribeyes are among the most flavorful, juicy, and tender ribeyes you'll ever eat. They're the same amazing ribeyes you'll get at 5-star restaurants like Jordan's or Ditka's. In short, the very best steaks your money can buy.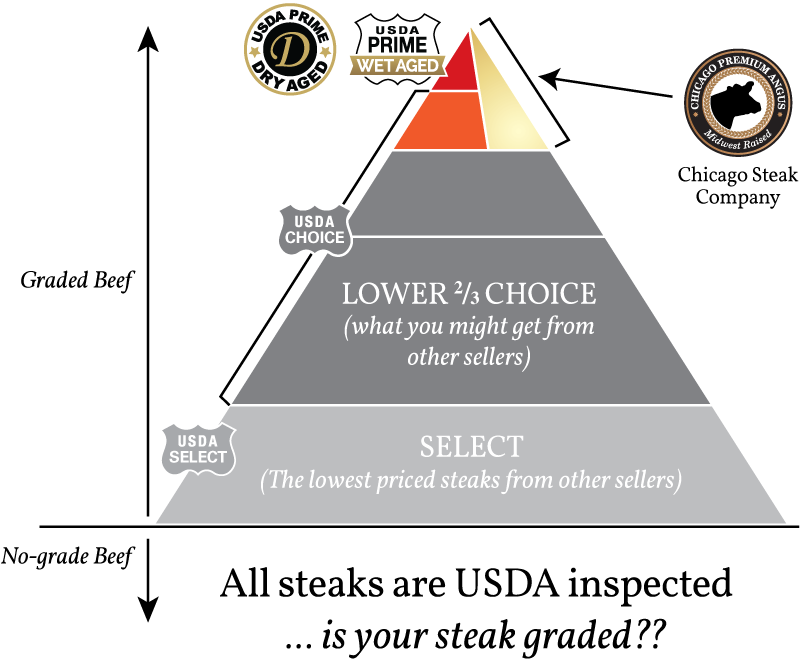 Carved from the center of our premium Prime Rib Roast, these magnificent Black Angus Beef Ribeye Steaks will amaze you. Also, for enhanced flavor, try our Angus Bone-In Ribeyes.
How To Recognize A Ribeye
The Ribeye is distinguished by its rich marbling and natural "flavor kernel" that runs through each steak. It is this incredible marbling that slowly melts and bastes the meat throughout the cooking process which creates a rich flavor and juicy texture. With just the right amount of marbling to give you a juicy, flavorful Ribeye steak that's second to none.
Cooking a Ribeye to Perfection!
Ribeyes have a high fat content which can be somewhat dangerous for grilling. They run a higher risk of being dried out quickly from the high heat of the grill. Pan searing a Rib Eye with a small amount of butter would be a much better choice. By pan searing the Rib Eye the steak would cook a little slower and allows the fat to tenderize. Grab some friends and show them what you've learned!
Boneless Ribeye Nutrition Facts

Serving Size
8oz
Calories
624
Calories from Fat
448
Total Fat
50.08g
Sodium
128mg
Protein
39.68g
If your steak is frozen, we recommend thawing it in a pan, thawing in a pan helps catch any drippings that may occur, under refrigeration for 24 hours.
Season with our signature steak seasoning.
When turning your steak, be sure to use tongs and not a fork. A fork will puncture the steak and allow for the juices to escape the steak.
Allow your steak to rest for half of the cooking time. This allows for the juices to flow back into the center of the steak.
Steak Cooking Tips
1. Plan ahead. Know the cut of steak you are cooking. A steak is more flavorful and tender if not overcooked.
2. Preheat your grill or broiler to high. Charcoal coals should be ashen grey and red-hot. When cooking on top of the range, the cast iron skillet or grill pan should be hot, but not smoking.
3. Season your steak with salt & pepper or a blended mix to taste.
4. Lightly oil your cooking surface.
5. Sear the steaks on first side using the times listed on the Steak-Cooking Chart as a guide. Flip when juices begin to bead on the surface.
6. Cook your steaks on the second side and use the steak cooking chart below as a guide for time. Less time will be needed on the second side. Steaks may cook quickly, so be attentive.
7. Gauge doneness. This may be determined by touch or meat thermometer. A rare steak will feel very soft when touched and will have an internal temperature of 120° - 125°F. Medium rare steak will feel soft and spongy to the touch and register 130° F, medium steaks will offer resistance when touched and register 140° -145° F. Well-done steaks will be firm with an internal temperature of 160° F.
8. Rest your steak. Allow steaks to stand for 5 minutes before serving. This lets the juices flow from the center of the meat to the exterior, resulting in a juicy & succulent steak. 
Jump over to Steak University to learn more ways to cook ribeye like a pro. We'll show you the best ways to grill, pan-sear, or oven-roast your ribeye for maximum flavor.
FILETS MIGNON & BONELESS RIBEYES
| Thickness | Rare 110° To 120° F | Medium Rare 120° To 130° F | Medium 130° To 140° F |
| --- | --- | --- | --- |
| 1.5" | 3 min EACH SIDE | 3.5 min EACH SIDE | 4 min EACH SIDE |
| 1.75" | 3.5 min EACH SIDE | 4 min EACH SIDE | 4.5 min EACH SIDE |
| 2" | 4 min EACH SIDE | 4.5 min EACH SIDE | 5 min EACH SIDE |
SIRLOIN STRIP STEAKS, BONE-IN RIBEYE STEAKS & PORTERHOUSE STEAKS
Thickness
Rare 110° To 120° F
Medium Rare 120° To 130° F
Medium 130° To 140° F
1"
5 min First Side
3 min Second Side
4.5 min EACH SIDE
6 min First Side
4 min Second Side
1.25"
5 min First Side
4 min Second Side
5.5 min EACH SIDE
7 min First Side
5 min Second Side
1.5"
6 min First Side
4 min Second Side
6 min EACH SIDE
7 min EACH SIDE
1.75"
6 min First Side
5 min Second Side
6.5 min EACH SIDE
8 min First Side
7 min Second Side
2"
6 min EACH SIDE
7 min EACH SIDE
8 min EACH SIDE
Ribeye Wine Pairing
The Ribeye steak is known for its abundant marbling (good fat content within the steak) and fat content is an important aspect to consider when pairing a wine. With that in mind, a red wine is the perfect pairing for this steak. Its also safe to say that your chardonnay may not be the best choice for this steak.
Both Cabernet Sauvignon and Zinfandel work perfectly with the Ribeye. Your choice will depend on how robust you like your wine flavors. Both score right in the middle of the wine sweetness scale, but the Zinfandel has some spiciness weaved into its fruity flavor
Packaged with Care
When you place an order with Chicago Steak Company, we do everything we can to ensure that your package arrives in excellent condition. All of our steaks are vacuum wrapped and flash frozen in their natural juices to lock in the flavor. The steaks are then wrapped in our attractive food grade paper, sealed with the Chicago Steak Company gold label, and placed in our gorgeous gift box. Those gift boxes are placed inside our reusable insulated cooler with enough dry ice to keep them cold until arrival. For more information on shipping, and other Frequently Asked Questions see our FAQ page.
Watch the Video to see how your order is packed, how it will arrive, and how to thaw it properly.
For more information please see the Shipping Details page