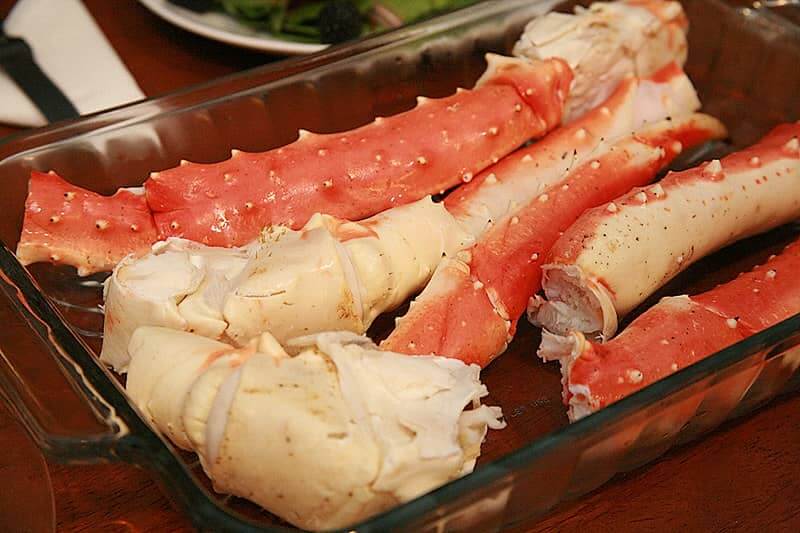 Looking to enjoy your favorite seafood meal at home? Look no further than our guide to Baked  Crab Legs. Incredibly simple, this hands off cooking method makes for an easy and delicious meal. 
Any great recipe starts with having the right tools and ingredients to make preparation a breeze  and to enjoy a delicious final result. For this recipe, we recommend an order of our Alaskan  King Crab Legs. Here at Maine Lobster House we source only the finest seafood products,  ensuring that the freshest, best tasting ingredients are delivered right to your home.  
With fresh ingredients and the following tools in hand, you'll be ready to prepare baked crab legs in no time at all.
What You'll Need:
Ingredients:
Alaskan King Crab Legs
Butter (salted or unsalted)
Seasonings of Choice (such as Old Bay seasoning)
Fresh Lemon Wedges
Instructions:
To begin, you'll need to defrost your crab legs overnight. Remove vacuum packaging, placing crab in a zip-top bag instead. Place crab legs in a large bowl in the refrigerator for about 8-12 hours. Thawing your crab legs in the fridge ensures that they remain at a safe temperature, keeping freshness and flavor intact.
Once fully thawed, you can begin cooking.
Remove thawed crab legs from the refrigerator, making sure that they are fully defrosted.
Next, you'll want to split your crab legs to expose the meat.
Using kitchen scissors, carefully cut the crab shell lengthwise. You may need to separate legs at the joint to make them easier to split.
Once your crab legs are split, you can preheat your oven to 375 degrees Fahrenheit.
While the oven is preheating, prepare a flavored butter sauce.
Begin by placing a few tablespoons of butter in a small saucepan over medium heat. To the butter, add seasonings of your choice such as Old Bay, garlic and lemon, or simply salt and pepper.
Stir the butter and seasonings together until melted.
Remove from the heat promptly as to not burn the butter.
Next, arrange your crab legs in a baking dish, spooning the butter sauce overtop. Using a pastry brush or a spoon, spread the sauce evenly over each crab leg.
Place the baking dish on the center rack of the oven and bake for approximately 15-20 minutes. Check for doneness at the 15 minute mark to ensure that you do not overcook the crab legs.
Signs of doneness include a sweet, seafood aroma as well as color of the shell and meat. Cooked crab meat will be opaque in color and steaming hot.
Serve baked crab legs fresh out of the oven with remaining butter sauce and fresh lemons.
Simple as that! In just a few steps, you can enjoy an incredible crab leg dinner right in the comfort of home. Perfect to serve to friends and family alike, this will be a meal that your guests are sure to savor.
Baked Crab Legs
Ingredients
Alaskan king crab legs

butter (salted or unsalted)

seasonings of choice (such as old bay seasoning)

fresh lemon wedges

seafood crackers (for serving)
Instructions
To begin, you'll need to defrost your crab legs overnight. Remove vacuum packaging, placing crab in a zip-top bag instead. Place crab legs in a large bowl in the refrigerator for about 8-12 hours. Thawing your crab legs in the fridge ensures that they remain at a safe temperature, keeping freshness and flavor intact.

Once fully thawed, you can begin cooking

Remove thawed crab legs from the refrigerator, making sure that they are fully defrosted

Next, you'll want to split your crab legs to expose the meat

Using kitchen scissors, carefully cut the crab shell lengthwise. You may need to separate legs at the joint to make them easier to split

Once your crab legs are split, you can preheat your oven to 375 degrees Fahrenheit

While the oven is preheating, prepare a flavored butter sauce

Begin by placing a few tablespoons of butter in a small saucepan over medium heat. To the butter, add seasonings of your choice such as Old Bay, garlic and lemon, or simply salt and pepper

Stir the butter and seasonings together until melted

Remove from the heat promptly as to not burn the butter

Next, arrange your crab legs in a baking dish, spooning the butter sauce overtop. Using a pastry brush or a spoon, spread the sauce evenly over each crab leg

Place the baking dish on the center rack of the oven and bake for approximately 15-20 minutes. Check for doneness at the 15 minute mark to ensure that you do not overcook the crab legs

Signs of doneness include a sweet, seafood aroma as well as color of the shell and meat. Cooked crab meat will be opaque in color and steaming hot

Serve baked crab legs fresh out of the oven with remaining butter sauce and fresh lemons
Notes
*Photo by Clemson is marked with CC BY 2.0