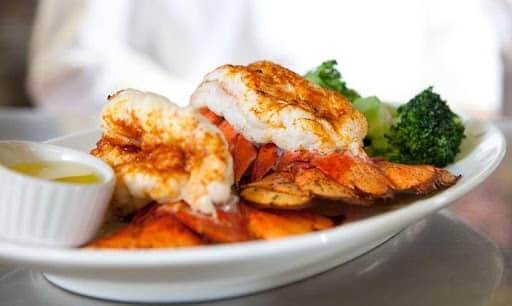 Delight in the fresh and flavorful taste of Maine Lobster from the comfort of home with this guide to Baked Lobster Tails. This quick, hands-off method for cooking lobster provides a flavorful, no-fuss method for an enjoyable lobster meal at home. 
Any at-home lobster dinner should start with the freshest ingredients, like our Maine Lobster Tails. Sourced off the Maine coastline, our tails are flash-frozen to lock in freshness and delivered to your doorstep. 
What You'll Need: 
Ingredients:
Maine Lobster Tails
Butter (Salted or Unsalted)
Seasonings of Choice (ie: garlic, lemon, paprika, Old Bay Seasoning, or fresh herbs)
Salt & Pepper to Taste
Lemons
Instructions for Baking Lobster Tails
To begin baking lobster tails, you'll want to preheat your oven to 350 degrees Fahrenheit.
While the oven is preheating, prep your defrosted lobster tails. Using a knife or kitchen shears, cut back the lobster shell lengthwise to expose the meat. Gently pull the meat out of the shell so it is fully exposed on top. Doing so allows for more even cooking, and greater ease when removing the cooked lobster meat to eat.
Add some water to the bottom of a baking dish and place your prepped lobster tails on top, leaving some space between each lobster tail. Make sure not to overcrowd the pan.
Next you'll want to season your lobster tails. There are so many different seasonings you can use to flavor your baked lobster tails, like garlic and lemon, Old Bay or your favorite herbs.
Begin flavoring your lobster tails by placing 1 tablespoon of butter on each tail. Butter can be slightly melted so you can spread across all of the lobster meat. Then add seasonings of your choice such as garlic powder and paprika, or Old Bay seasoning.
Alternatively, you can make a butter sauce. Begin by melting 2 tablespoons of butter for each lobster tail in a small sauce pot. Add your favorite seasonings such as fresh garlic, parsley and lemon juice or fresh herbs, salt and pepper.
Put half the sauce aside for serving. Then, spoon the remaining half over the lobster tails, or use a pastry brush to evenly distribute the butter sauce.
Once each lobster tail is seasoned, place the pan in the center of your oven. Cook the lobster tails for 1-1.5 minutes per ounce of lobster.
Check that your lobster tails are cooked through by inserting an instant read thermometer into the thickest part of the lobster meat. Thermometer should read between 140-145 degrees Fahrenheit. A good indication that your lobster is cooked is opaque white lobster meat and a bright red shell.
Serve baked lobster tails hot alongside a flavored butter sauce or clarified butter for dipping.
This fast and flavorful cooking method is fuss-free, versatile, and oh-so delicious. It's easy to customize each lobster tail with different flavors, so feel free to test your favorite herbs and seasonings. Regardless of how you flavor them, the freshness of the lobster is sure to shine when you get your lobster tails from Maine Lobster House.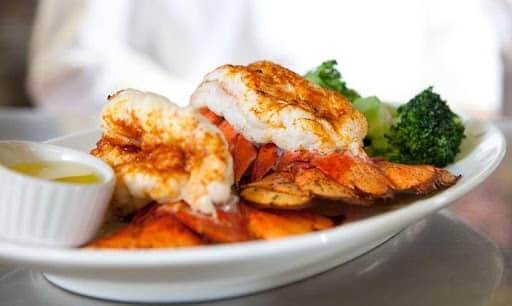 Baked Lobster Tails
Ingredients
Maine lobster tails

butter (salted or unsalted)

seasongs of choice (ie: garlic, lemon, paprika, old bay seasoning, or fresh herbs)

salt and pepper, to taste

lemon
Instructions
To begin baking lobster tails, you'll want to preheat your oven to 350 degrees Fahrenheit

While the oven is preheating, prep your defrosted lobster tails. Using a knife or kitchen shears, cut back the lobster shell lengthwise to expose the meat. Gently pull the meat out of the shell so it is fully exposed on top. Doing so allows for more even cooking, and greater ease when removing the cooked lobster meat to eat

Add some water to the bottom of a baking dish and place your prepped lobster tails on top, leaving some space between each lobster tail. Make sure not to overcrowd the pan

Next you'll want to season your lobster tails. There are so many different seasonings you can use to flavor your baked lobster tails, like garlic and lemon, Old Bay or your favorite herbs

Begin flavoring your lobster tails by placing 1 tablespoon of butter on each tail. Butter can be slightly melted so you can spread across all of the lobster meat. Then add seasonings of your choice such as garlic powder and paprika, or Old Bay seasoning

Alternatively, you can make a butter sauce. Begin by melting 2 tablespoons of butter for each lobster tail in a small sauce pot. Add your favorite seasonings such as fresh garlic, parsley and lemon juice or fresh herbs, salt and pepper

Put half the sauce aside for serving. Then, spoon the remaining half over the lobster tails, or use a pastry brush to evenly distribute the butter sauce

Once each lobster tail is seasoned, place the pan in the center of your oven. Cook the lobster tails for 1-1.5 minutes per ounce of lobster

Check that your lobster tails are cooked through by inserting an instant read thermometer into the thickest part of the lobster meat. Thermometer should read between 140-145 degrees Fahrenheit. A good indication that your lobster is cooked is opaque white lobster meat and a bright red shell

Serve baked lobster tails hot alongside a flavored butter sauce or clarified butter for dipping