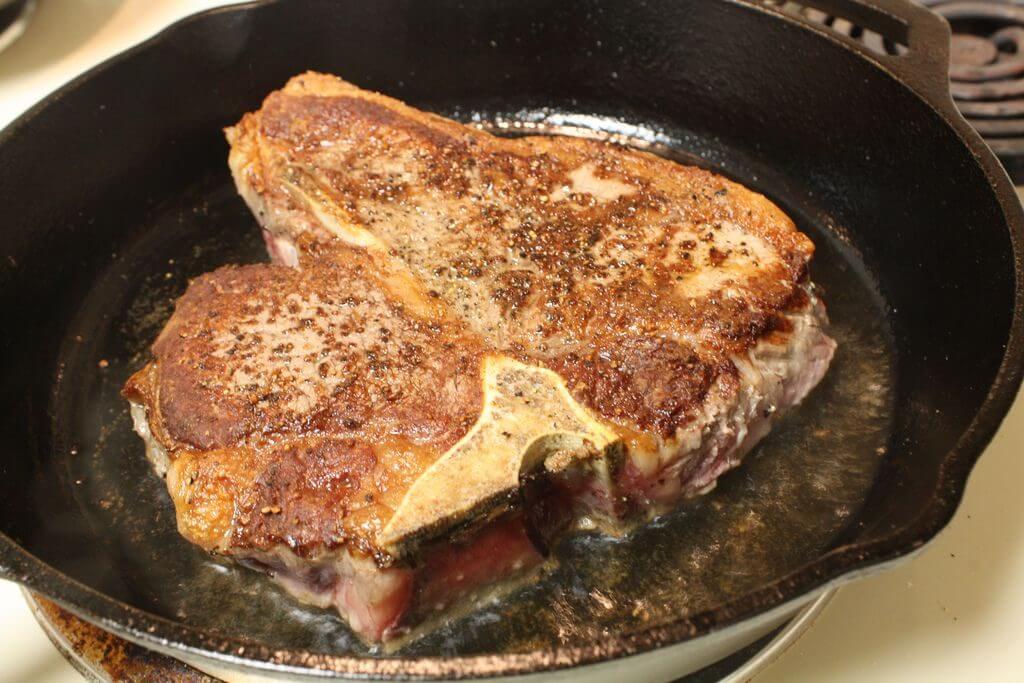 At Steak University, we hold a few truths near and dear to our red-meat loving hearts.  Steak should be cooked to no more than medium rare.  Starting with high quality, gourmet steaks from the Chicago Steak Company is always the best option.  And, finally, there is no wrong way to cook a steak.  With that being said, we certainly do have our favorite cooking apparatuses and when push comes to shove, few things can beat cooking steak in a cast iron skillet for a quality sear, even heat distribution and consistent steak success.  Whether you are a steak novice or a "well-seasoned" veteran, keep reading as we explore just what makes cast iron our go-to cooking method for steak.
The Benefits of Cast Iron
When you consider the qualities of a perfectly cooked steak, it's easy to understand why a cast iron skillet steak is best.  Delicious, juicy and tender steaks have a lovely crust on the outside that comes from searing the meat at incredibly high heat.  While there's a whole science behind why this is the case, trust us when we say that a good sear brings out utmost in meaty, steaky flavor.  Cast iron pans can take on, and retain, a good deal of heat.  Non-stick pans or traditional grills allow heat to dissipate quickly, making that crust hard to achieve.  They can also be easily transferred to the oven, perfect for that last "finishing" stage of cooking steak in a skillet.
Steak Tips – Cooking With a Skillet
Before every cooking session, there comes the prep.  Below are a few tips and tricks to help set you up for success when cooking steak.
Choose the Right Pan – A quality cast iron pan should be heavy, solid and free of flaking or rust. Look for qualities such as a small hand grip opposite the handle to allow for easy transfer of the pan between oven and stovetop.
Season your Pan – Cast iron is an amazing material, but it does have certain drawbacks. First, it needs to be properly seasoned before use.  To do this, place small amount of oil in pan and thorough coat interior sides and bottom.  Allow to heat in oven until pan just begins to smoke.  Remove pan from oven, allow to cool, and wipe excess oil away.
Cleaning your Skillet – Unless you want to go through the seasoning process every time you make cast iron skillet steak, you need to practice proper cleaning and maintenance technique on your pans. Avoid soap or the dishwasher and instead wipe with paper towels or rinse with warm water.  The trick is to avoid stripping the oil from your pan as much as possible.
How to Cook Steak in a Cast Iron Skillet
Cooking steak in a cast iron skillet is a much simpler process than many would imagine.  Simply follow our step by step tips below and you'll be enjoying perfectly seared steak in no time.
Bring steaks to room temperature on counter for maximum flavor. Season liberally with salt and pepper, or, better yet, Chicago Steak Company steak seasoning.
Turn oven on to 450 and place the skillet with small amount of oil in bottom of pan, into the oven.
Once the oven reaches temperature, your skillet is pre-heated and can be removed to the stove top. Be extra cautious to use both hands for extra heavy cast iron and to wear proper oven mitts or use special cast iron handle covers.
Grill steaks for 2-3 minutes per side, depending on thickness and desired temperature.
Transfer pan, steaks and all, to the oven to finish cooking for 3-4 minutes more. Steaks will be medium rare when internal temperature measures 135, but don't wait that long!  Take your steak out of the oven and allow to rest on a plate when internal temperature is between 125-130 degrees.  Your steak will continue to cook for a few minutes before it begins to cool, ensuring perfect medium rare, cast iron skillet steak goodness.
Rest for at least five minutes before slicing to allow juices to congeal, making for juicier, more flavorful steak.
There you have it folks.  Everything you needed to know about cooking steak in a cast iron skillet.  While it isn't the only cooking method for your Chicago Steak Company gourmet steaks, it certainly is our favorite.