CHICAGO STEAK COMPANY DIFFERENCE
We specialize in Angus USDA Prime, a step above the competition.
Providing the highest quality beef is not an easy task, but we pride ourselves in continuing to adhere to our customer's expectations - delivering luxury Angus Prime Steaks.
Cutting corners has never been in our philosophy - our devotion to your satisfaction ensures the highest quality of our products. Guaranteed.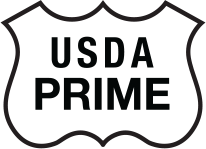 We specialize in
USDA Prime
Only 2% of all beef
qualifies as USDA Prime
express
shipping
Packages are shipped overnight to ensure your steaks arrive frozen.
wagyu
Beef
We proudly offer Wagyu and Premium Angus Beef.
superior
marbling
Each steak is hand-selected and hand-cut to ensure impressive marbling and excellent flavor.
Aged
28 days
Our steaks are wet-aged or dry-aged 28-40 days, resulting in tender steaks with extraordinary flavor.
Packed

with


dry ice

Your steaks are packed in a reusable cooler with plenty of dry ice to ensure they arrive frozen.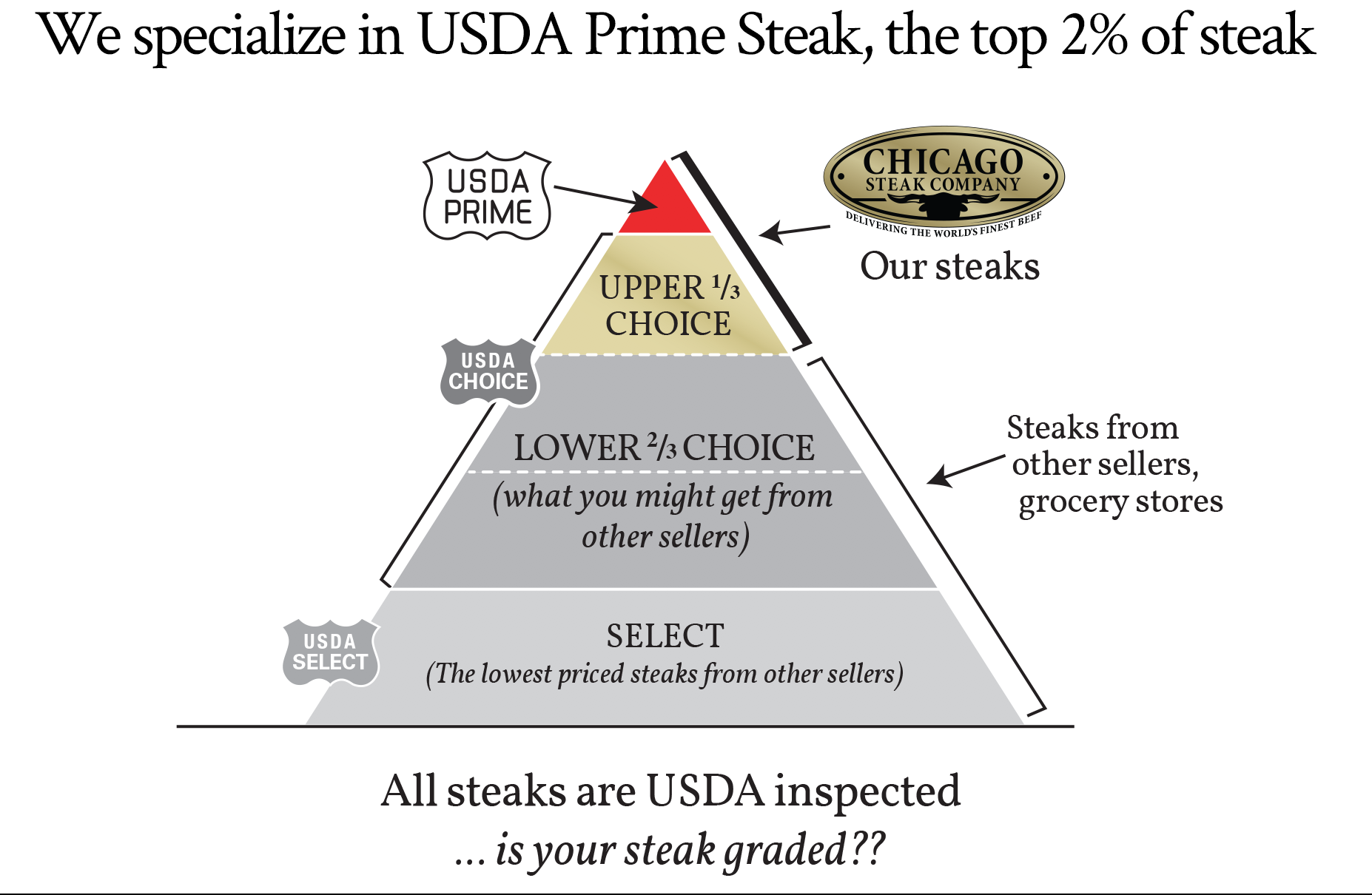 Grade
The highest grade you can buy, USDA Prime beef represents only 2% of all American beef. Described by the United States Department of Agriculture as "The ultimate in tenderness, juiciness and flavor", it is a coveted designation that any beef seller would be proud to boast. However, because only a small portion of all US beef earns this grade, and demand for it is so high, many beef sellers are unable to offer it. More than likely, if it's not labeled USDA Prime – it's not. USDA Choice is the second highest grade assigned to beef that has slightly less marbling than USDA Prime.
Hand Selected and Hand Cut
It really does start with the quality of the beef. Even within the USDA Prime and Choice grades there are differing qualities. Variations in marbling, texture and color are just a few of the variables that can affect flavor and tenderness. We carefully select our beef from the top of the grade to ensure that we are delivering on our promise of excellence.
Aging
How do you take a great steak and make it exquisite? You age it! Aging meat is a process that breaks down a steak and makes it more tender and flavorful. Meat is placed in special, temperature & humidity controlled refrigerators that are carefully monitored. The meat ages in this environment while its natural enzymes break down the steak. There are two types of aging – Wet and Dry.
Wet Aged beef
The wet-aging process is carried out with the meat carefully packaged to prevent oxidation. These bags are then placed into coolers for "wet aging" before the beef is finally cut and packaged. This extra time (in a controlled atmosphere) allows the fibers of the meat to begin to break down and reach an extra level of tenderness. Because wet-aged beef isn't exposed to air (like its dry-aged counterpart), it doesn't lose as much moisture through evaporation; and the result - delicious, flavorful and tender meat.
Dry Aged Beef
The dry-aging process begins in a strictly controlled temperature and humidity level–where beef ages for approximately 28-40 days. During dry-aging, two things take place. First, the additional aging time allows the breakdown of fibrous tissues and second, the monitored atmosphere causes evaporation–meaning that the meat loses its moisture. As moisture decreases and the meat consequently shrinks, the remaining flavor intensifies. Because of the extra time and the shrinkage of the meat, dry-aged beef commands a significantly higher price than wet aged beef does.
Individually Registered
Each perfectly aged steak is individually vacuum sealed and placed in our attractive gift box. These boxes are then placed in a reusable cooler packed with plenty of dry ice to keep it frozen during shipment. Every order is individually registered with its own unique registration number - guaranteeing uncompromising quality. The care that we put into each package ensures that every order is well received, whether given as a gift or simply as a way to treat yourself.