$8.33

/serving
$99.95
Reg.
$129.95
save 23%
23%

Savings based off a la carte item prices
Assortment Includes:
4 (4oz) Gourmet Angus Steak Burgers
4 (9oz) Frenched Bone-In Pork Chops
4 (6oz) Lemon-Herb Marinated Chicken Breasts
GIFTS FOR EVERYONE
Access to exclusive packages only through our Corporate Gifting Program.
Grill Master's Trio
Our Grill Master's Trio is sure to tantalize your taste buds! With 4 burgers, 4 pork chops, and 4 chicken breasts, this mouth-watering combination is a must-have for grill masters looking to impress their guests with an array of delicious meats. Get ready to savor the juicy burgers, succulent pork chops, and tender chicken breasts - all in one convenient bundle. Order now and elevate your next cookout or family dinner with this irresistible selection of meats.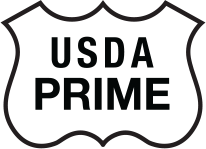 We
specialize

in
Angus USDA Prime

Only 2% of all beef
qualifies as USDA Prime
express
shipping
Packages are shipped overnight to ensure your steaks arrive frozen.
wagyu
Beef
We proudly offer Wagyu and Premium Angus Beef.
superior
marbling
Each steak is hand-selected and hand-cut to ensure impressive marbling and excellent flavor.
Aged
28 days
Our steaks are wet-aged or dry-aged 28-40 days, resulting in tender steaks with extraordinary flavor.
Packed

with


dry ice

Your steaks are packed in a reusable cooler with plenty of dry ice to ensure they arrive frozen.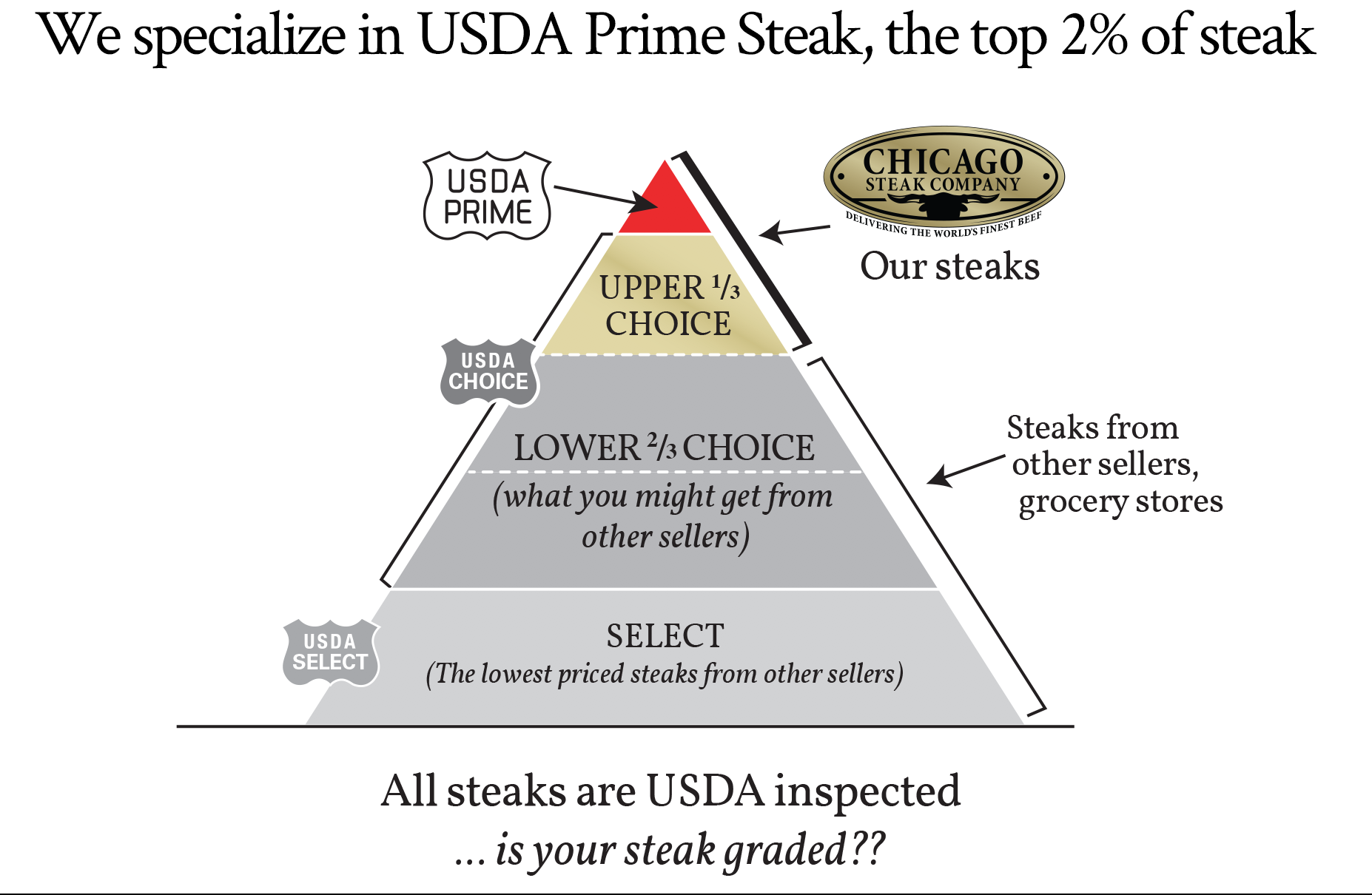 A Taste of Tradition
At Chicago Steak Company, we invite you to taste tradition. Since 1865 with the founding of the Union Stock Yards, Chicago has been at the heart of high-quality American meats. Chicago Steak Company proudly carries on that tradition. We specialize in hand-cut, Mid-West raised, Premium Angus USDA Prime beef - cut by Chicago butchers with five generations of experience. If you're looking for the very best cuts of steak on the market, then you've come to the right place.
Premium Angus Beef in Every Burger
Are you looking for the most delicious, thick, and juicy burgers for your next get together? These Premium Angus Beef 1/4 pound burgers are a perfect choice. Made from the top 1/3 of USDA Choice steak trimmings from Angus beef, these amazing steak burgers are a favorite among Chicago Steak Company customers.
Lemon Herb Marinated Chicken Breast
Juicy. Flavorful and Delicious. Our Gourmet Marinated Chicken Breasts are sure to be a hit at your next cookout!
Ingredients: Chicken, enhanced with up to 15% solution of seasoning (corn syrup solids, dried lemon peel, lemon juice powder(corn syrup solids, lemon juice, lemon oil, silicon dioxide) salt, spices, dried onion & garlic, dried parsley, xanthan gum, citric acid, less than 1% silicon dioxide, milk and soybean oil) salt and sodium phosphate. Allergens: Soy and Milk
Lemon Herb Chicken Nutrition Facts

Serving Size
6oz (170g)
Calories
168
Calories from Fat
30
Total Fat
4g
Sodium
779mg
Protein
29g
Frenched Bone-In Pork Chops
Our "Frenched," bone-in pork chops are hand-cut from the center of the pork loin. Richly marbled and aged to perfection, these chops are incredibly juicy and tender with a delicate, sweet pork flavor.
Pork Chop Nutrition Facts

Serving Size
9oz
Calories
504
Calories from Fat
216
Total Fat
12.87g
Sodium
171mg
Protein
56.25g
Packaged with Care
When you place an order with Chicago Steak Company, we do everything we can to ensure that your package arrives in excellent condition. All of our steaks are vacuum wrapped and flash frozen in their natural juices to lock in the flavor. The steaks are then wrapped in our attractive food grade paper, sealed with the Chicago Steak Company gold label, and placed in our gorgeous gift box. Those gift boxes are placed inside our reusable insulated cooler with enough dry ice to keep them cold until arrival. For more information on shipping, and other Frequently Asked Questions see our FAQ page.
Watch the Video to see how your order is packed, how it will arrive, and how to thaw it properly.
For more information please see the Shipping Details page