Cut from the tenderloin section of the cattle T-bone steaks are a favorite among steak lovers, the T-bone delivers the best of both worlds. Savor the richness of the meaty strip side and enjoy a sampling of the oh-so-tender, buttery soft Filet Mignon on the other. Packed with an extraordinary beefy flavor, you won't be disappointed when this steak hits your plate. Select from Premium Angus or USDA Prime Wet Aged.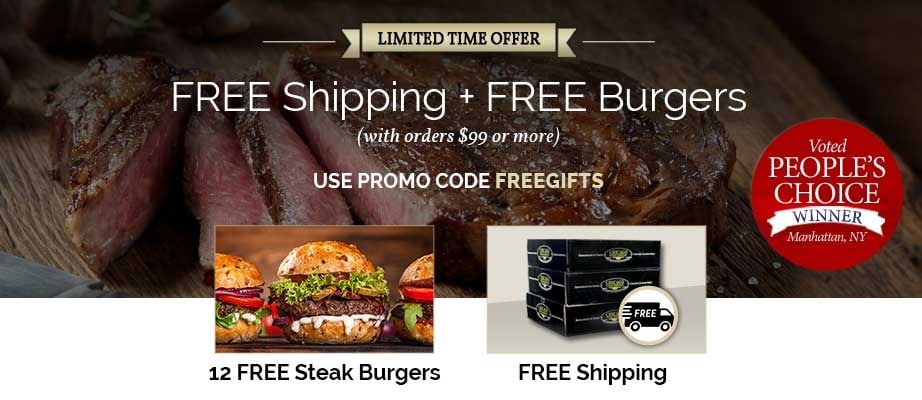 We are so sure that you'll love our steaks, that we are willing to give you a $95 Value FREE on your first order of $99+

Use Promo Code: FREEGIFTS and get FREE Shipping plus 12 Steak Burgers. This offer is valid while supplies last and expires Sunday at midnight. With over 1,900 positive reviews and counting, check out what other's have to say about our steaks:
If you're looking for the very best steaks on the market, then you've come to the right place. In fact, Iron Chef Marc Forgione hosted 120 guests at a steak tasting event in Manhattan NY pitting 8 of the leading online steak retailers against each other to win the People's Choice Award and Chicago Steak Company won the contest, making our steaks the most popular in taste and quality!

Every steak we offer is certified USDA Prime or upper-1/3 USDA Choice, putting our steaks in the top 2% of beef worldwide. Each steak is hand-selected and hand-carved to ensure you get the best cut possible, and then dry- or wet-aged to intensify its naturally delicious flavor. That is why our steaks are among the most flavorful, juicy, and tender steaks you'll ever eat. They're the same amazing steaks you'll get at 5-star restaurants.

Click here to watch a video about what makes our steaks the Ultimate Steak Experience.