2 (5/6oz) Cold Water Lobster Tails & 8 (4oz) Burgers
$9.00

/serving
$89.99
Reg.
$144.95
save 38%
38%

Savings based off a la carte item prices
Made from the steak trimmings of our Premium Angus Choice beef, our Premium Angus Choice Gourmet Steak Burgers are a must-have for any grilling occasion. Paired with our succulent Maine Cold Water Lobster Tails, this package is perfect for grilling up a delicious surf & turf meal!
Use Promo Code: DADSDAY23
To receive 8 FREE Steak Burgers & Seasoning, a FREE Grillmaster Chef's Apron, plus FREE Standard Shipping on orders of $189+. Expires June 5th
QUICKS FACTS: p>

GRADE:

Top One-Third USDA Choice or Higher

WEIGHT:

4oz

AGED:

4-6 weeks to enhance flavor & tenderness

PACKAGING:

Vacuum sealed in sets of 4

Individually Registered

with its own unique registration number - guaranteeing uncompromising quality

Gift Box:

Delivered in a classic black & gold gift box
Don't take our word for it!
10,036

Reviews

4.6 of 5 Stars
10,000+ reasons you're going to love our steaks, service, and shipping...
11,487

Reviews

4.6 of 5 Stars
10,000+ people recommend our steak.
Check out why everyone loves the quality of our steaks, service & shipping.
Lobster Tail & Burger Combo
Get your grill ready to serve up some delicious flavor with this package of Cold Water Lobster Tails and Steak Burgers. Only the finest quality, our burgers use USDA Choice or higher steak trimmings, and our lobster tails are sourced directly from local Maine lobstermen. Enjoy the quality and freshness of some of the finest ingredients by placing your order today!
We
specialize

in
Angus USDA Prime

Only 2% of all beef
qualifies as USDA Prime
express
shipping
Packages are shipped overnight to ensure your steaks arrive frozen.
wagyu
Beef
We proudly offer Wagyu and Premium Angus Beef.
superior
marbling
Each steak is hand-selected and hand-cut to ensure impressive marbling and excellent flavor.
Aged
28 days
Our steaks are wet-aged or dry-aged 28-40 days, resulting in tender steaks with extraordinary flavor.
Packed

with


dry ice

Your steaks are packed in a reusable cooler with plenty of dry ice to ensure they arrive frozen.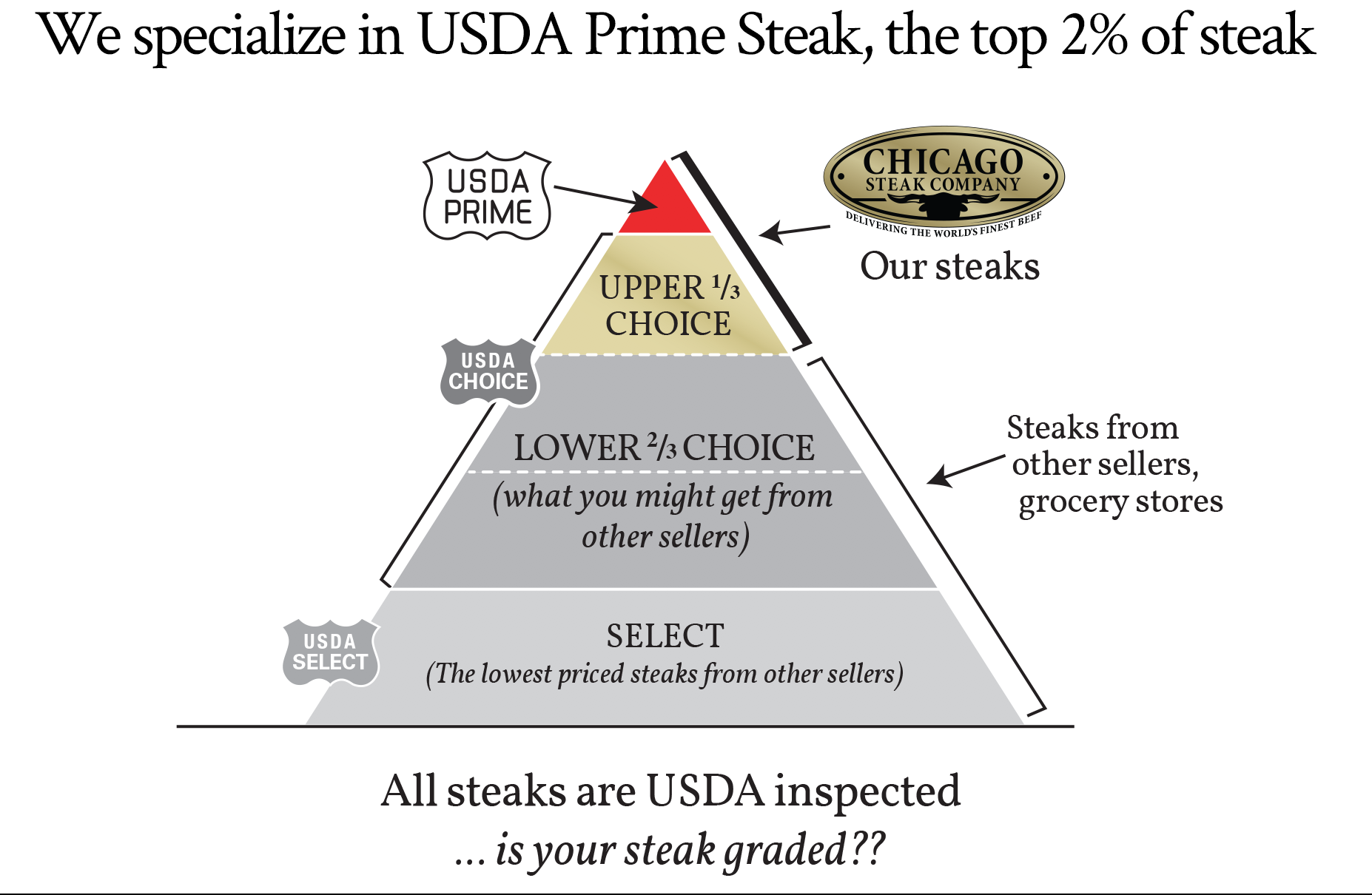 Assortment Includes:
2 (5/6oz) Maine Cold Water Lobster Tails
8 (4oz) Gourmet Angus Steak Burgers
Lobster Tails & Burger Combo
These two Cold Water Lobster Tails are a perfect compliment to any Chicago Steak Company Steak. Plus these Steak Burgers are created from our meticulously aged steak trimmings, it's not surprising that these flavorful steak burgers are a customer favorite.
What Makes Them Gourmet?
These 4-oz Gourmet Angus Steak Burgers are made with select trimmings from Chicago Steak Company's 100% corn-fed Angus beef steaks, meaning that you get only the best for your burgers. When you order this set from us, you know exactly what's going into your burger, like only the top 'Öì USDA Choice beef.
Cold Water Lobster Tails
For those who love the taste of lobster, but don't want a whole one, our lobster tails are a perfect compromise. Like all of our Lobster offerings these Lobster tails are Certified Maine Lobster Tails that are caught by local lobstermen. These impressive lobster tails are ready to be thawed out and enjoyed.
Packaged with Care
When you place an order with Chicago Steak Company, we do everything we can to ensure that your package arrives in excellent condition. All of our steaks are vacuum wrapped and flash frozen in their natural juices to lock in the flavor. The steaks are then wrapped in our attractive food grade paper, sealed with the Chicago Steak Company gold label, and placed in our gorgeous gift box. Those gift boxes are placed inside our reusable insulated cooler with enough dry ice to keep them cold until arrival. For more information on shipping, and other Frequently Asked Questions see our FAQ page.
Watch the Video to see how your order is packed, how it will arrive, and how to thaw it properly.
For more information please see the Shipping Details page