Premium Angus Beef
4 (14oz) T-Bone
$184.95
Reg.
$249.95
save 26%
Enjoy the unique flavors of two cuts of meat in one with a delicious T-Bone steak from Chicago Steak Company.
Use Promo Code: BLKFRI2
To Recieve Free 4 Filet Mignon on any orders of $159+. Expires November 27th
GRADE:

Top One-Third USDA Choice or Higher

WEIGHT:

14oz

AGED:

4-6 weeks to enhance flavor & tenderness

PACKAGING:

Individually wrapped & vacuum sealed

Individually Registered

with its own unique registration number - guaranteeing uncompromising quality

Gift Box:

Delivered in a classic black & gold gift box
Product is flash frozen before shipping to lock in flavor and will arrive frozen or partially thawed
The T-Bone has always been a favorite of steak lovers not only for having a size that will satisfy any appetite but for having two different cuts all in one steak. On one side is a generous portion of the rich and meaty strip loin cut from the end of the short loin. On the opposite side of the bone is a rich, buttery, melt-in-your-mouth, filet mignon. We age our T-Bones to perfection to ensure that each side exhibits the best characteristics of each unique cut.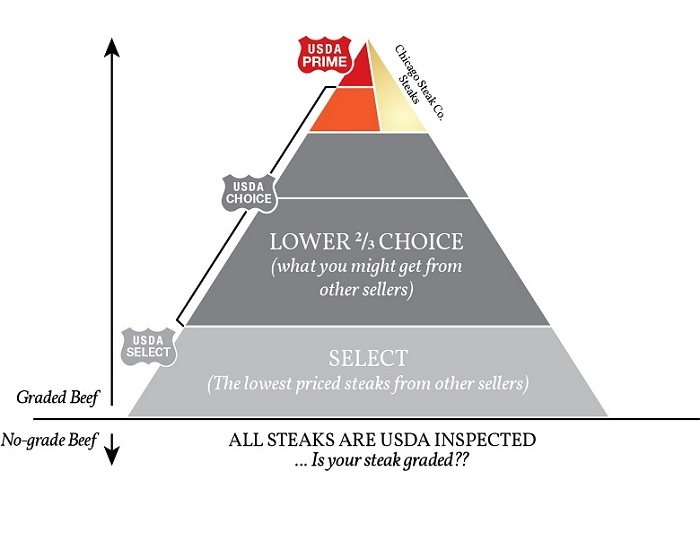 T-Bone Nutrition Facts

Serving Size

14oz

Calories

182

Calories from Fat

98

Total Fat

56.7g

Sodium

196mg

Protein

79.1g
If your steak is frozen, we recommend thawing it in a pan, thawing in a pan helps catch any drippings that may occur, under refrigeration for 24 hours.
Season with our signature steak seasoning.
When turning your steak
Packaged with Care
When you place an order with Chicago Steak Company, we do everything we can to ensure that your package arrives in excellent condition. All of our steaks are vacuum wrapped and flash frozen in their natural juices to lock in the flavor. The steaks are then wrapped in our attractive food grade paper, sealed with the Chicago Steak Company gold label, and placed in our gorgeous gift box. Those gift boxes are placed inside our reusable insulated cooler with enough dry ice to keep them cold until arrival. For more information on shipping, and other Frequently Asked Questions see our FAQ page.
Watch the Video to see how your order is packed, how it will arrive, and how to thaw it properly.
For more information please see the Shipping Details page