Premium Angus
Big Kahuna Assortment
$279.95
Reg.
$369.95
save 24%
Assortment Includes:
4 (10oz) Premium Angus Filet Mignons
12 (4oz) Steak Burgers
Use Promo Code: SANTA189
To Recieve Free Shipping plus 4 Ribeyes on any orders of $189+. Expires December 4th
GRADE:

Top One-Third USDA Choice or Higher

AGED:

4-6 weeks to enhance flavor & tenderness

PACKAGING:

Individually wrapped & vacuum sealed

Individually Registeredwith its own unique registration number - guaranteeing uncompromising quality
Gift Box:

Delivered in a classic black & gold gift box
Product is flash frozen before shipping to lock in flavor and will arrive frozen or partially thawed
Use Promo Code: BIGKAHUNA to receive Free standard shipping + $50 Off on this assortment ($79.99 value - FREE)
A Taste of Tradition
At Chicago Steak Company, we invite you to taste tradition. Since 1865 with the founding of the Union Stock Yards, Chicago has been at the heart of high-quality American meats. Chicago Steak Company proudly carries on that tradition. We specialize in hand-cut, Mid-West raised, Premium Angus USDA Prime beef - cut by Chicago butchers with five generations of experience. If you're looking for the very best steaks on the market, then you've come to the right place.
Assortment Includes:
4 (10oz) Premium Angus Filet Mignons
12 (4oz) Steak Burgers
Big Kahuna Assortment
Every cut of steak in each of the assortments we offer is certified USDA Prime or upper-1/3 USDA Choice, putting our steaks in the top 2% of beef worldwide. Each steak is hand-selected and hand carved to ensure you get the best cut possible, and then dry- or wet-aged to intensify its naturally delicious flavor. That is why the Big Kahuna Assortment offers steaks that are among the most flavorful, juicy, and tender steaks you'll ever eat. They're the same amazing steaks you'll get at 5-star restaurants like Jordan's or Ditka's. In short, the very best steaks your money can buy.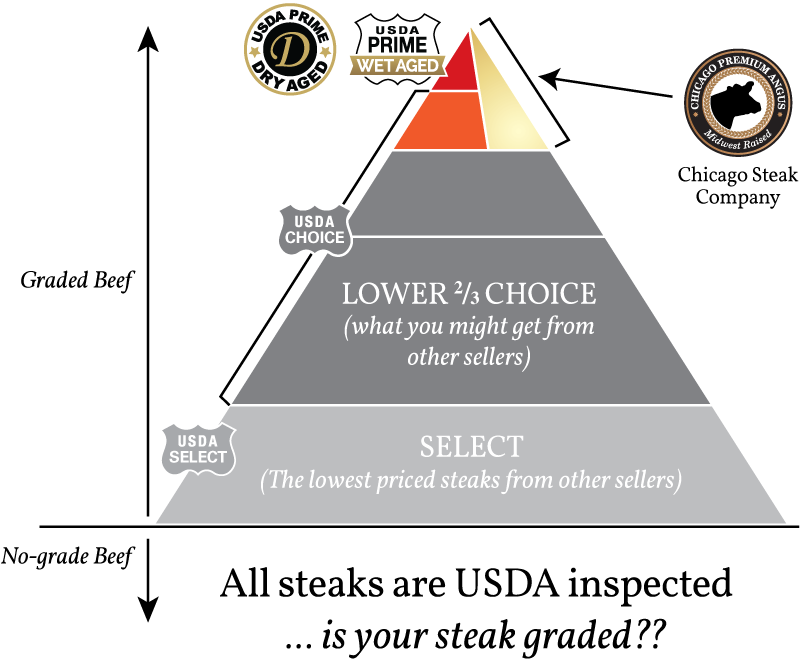 Weighing in at 10oz EACH, these Filet Mignons are a sight unto themselves. With a size like this, you will get both a tender and buttery texture as well as a hearty portion. And with the customer-favorite, gourmet steak burgers, this package has the best mail order steaks to make the perfect gift.
A Tender(loin) Gift
Looking for the perfect gift for that hard to buy for person on your list? Why not buy steaks online and send some incredibly tender, Filet Mignons & delicious Steak Burgers?
If your steak is frozen, we recommend thawing it in a pan, thawing in a pan helps catch any drippings that may occur, under refrigeration for 24 hours.
Season with our signature steak seasoning.
When turning your steak
Wine & Steak Pairing
The Cabernet Sauvignon is one of the most common wines you'll see at a dinner party. It's not only considered the best red wine to have with steak, but also one of the most well received wines overall. Cabernet Sauvignon tends to stand out with its fruity flavors that give contrast to the beefy flavors. Red wines pair well with more marbled steaks because the fat will decrease how much you taste the bitterness
Packaged with Care
When you place an order with Chicago Steak Company, we do everything we can to ensure that your package arrives in excellent condition. All of our steaks are vacuum wrapped and flash frozen in their natural juices to lock in the flavor. The steaks are then wrapped in our attractive food grade paper, sealed with the Chicago Steak Company gold label, and placed in our gorgeous gift box. Those gift boxes are placed inside our reusable insulated cooler with enough dry ice to keep them cold until arrival. For more information on shipping, and other Frequently Asked Questions see our FAQ page.
Watch the Video to see how your order is packed, how it will arrive, and how to thaw it properly.
For more information please see the Shipping Details page