Item #
PSCS01PDRY 2PK STRIP
USDA Prime Beef - Dry Aged
Surf & Turf - Boneless Strip
$15.00

/serving*
$209.95
Reg.
$254.95
save 18%
18%

Savings based off a la carte item prices
Assortment Includes:
2 10oz USDA Prime Dry Aged Boneless Strips
2 5/6oz Cold Water Lobster Tails
FREE Shipping by Christmas

Use Code: FREESIRLOINS
For 4 FREE Bourbon Peppercorn Sirloins on $249+
Free Shipping on orders of $179+


Expires TOMORROW
BEEF UP YOUR CART WITH ADDED SAVINGS
USDA Prime - Dry Aged Surf & Turf
Why choose between a gourmet steak and tasty lobster when you can get both with this Surf and Turf package of 2 10oz USDA Prime Dry Aged Boneless Strips and 2 5/6oz Coldwater Lobster Tails! Enjoy the most savory boneless strips paired with delicious Cold Water Lobster Tails just like you would find them at 5-Star Steakhouses. Each steak is hand-selected and hand carved to ensure you get the best cut possible, and then dry-aged to intensify its naturally delicious flavor. Treat yourself or a loved one with a Surf and Turf package that is sure to impress.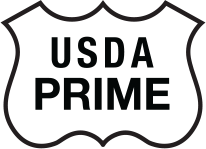 We
specialize

in
Angus USDA Prime

Only 2% of all beef
qualifies as USDA Prime
express
shipping
Packages are shipped overnight to ensure your steaks arrive frozen.
wagyu
Beef
We proudly offer Wagyu and Premium Angus Beef.
superior
marbling
Each steak is hand-selected and hand-cut to ensure impressive marbling and excellent flavor.
Aged
28 days
Our steaks are wet-aged or dry-aged 28-40 days, resulting in tender steaks with extraordinary flavor.
Packed

with


dry ice

Your steaks are packed in a reusable cooler with plenty of dry ice to ensure they arrive frozen.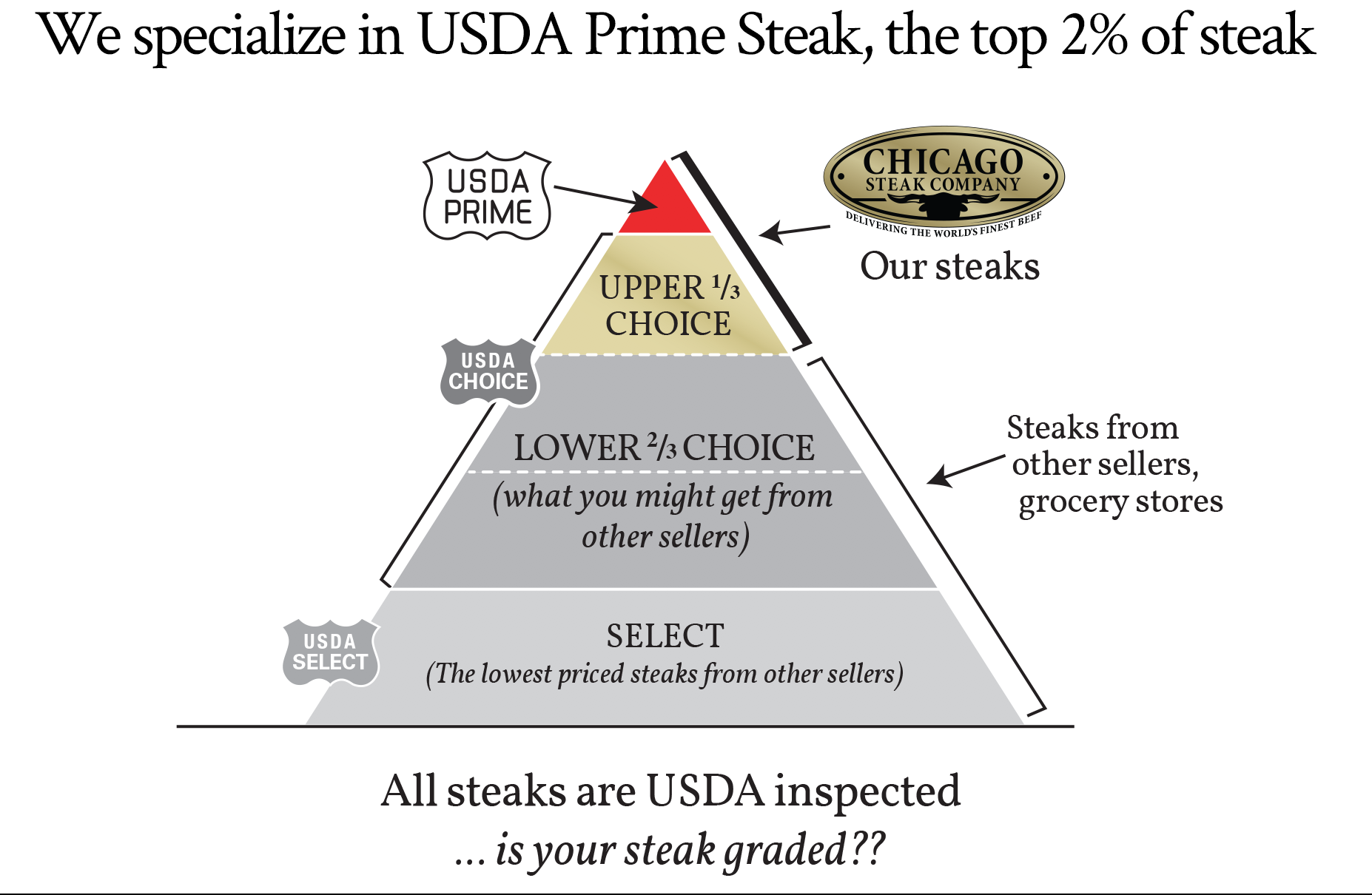 use promotion BURGERS12 to get 12 FREE steak burgers with your order of $159.95+
A Taste of Tradition
At Chicago Steak Company, we invite you to taste tradition. Since 1865 with the founding of the Union Stock Yards, Chicago has been at the heart of high-quality American meats. Chicago Steak Company proudly carries on that tradition. We specialize in hand-cut, Mid-West raised, Premium Angus USDA Prime beef - cut by Chicago butchers with five generations of experience. If you're looking for the very best steaks on the market, then you've come to the right place.
Surf and Turf Includes:
2 (10oz) USDA Prime Dry-Aged Boneless Strips & 2 (5/6oz) Cold Water Lobster Tails
Surf and Turf - Dry-Aged
Every cut of steak in each of the assortments we offer is certified USDA Prime or upper-1/3 USDA Choice, putting our steaks in the top 2% of beef worldwide. Each steak is hand-selected and hand carved to ensure you get the best cut possible, and then dry- or wet-aged to intensify its naturally delicious flavor. That is why the dry-aged steaks in our surf and turfs are among the most flavorful, juicy, and tender steaks you'll ever eat. Paired with our BURGERS12 promotion code for 12 free (4oz) steak burgers, this package comes out to 14 servings at just $13.21 each. They're the same amazing steaks you'll get at 5-star restaurants like Jordan's or Ditka's. In short, the very best steaks your money can buy.
What Wine Complements a New York Strip?
The New York Strip is full of flavor and marbling, making it one of the most popular cuts around. You'll need a full-flavored wine with high acidity to break down the fat from the steak to create a mesh of bold flavors in your mouth.
If you prefer white wine, then champagne is your best bet. Champagne has similar acidic and flavor characteristics of red wine, so it can stand up to the boldness of the New York Strip. If you'd rather have a red wine
Packaged with Care
When you place an order with Chicago Steak Company, we do everything we can to ensure that your package arrives in excellent condition. All of our steaks are vacuum wrapped and flash frozen in their natural juices to lock in the flavor. The steaks are then wrapped in our attractive food grade paper, sealed with the Chicago Steak Company gold label, and placed in our gorgeous gift box. Those gift boxes are placed inside our reusable insulated cooler with enough dry ice to keep them cold until arrival. For more information on shipping, and other Frequently Asked Questions see our FAQ page.
Watch the Video to see how your order is packed, how it will arrive, and how to thaw it properly.
For more information please see the Shipping Details page