Chateaubriand
Tenderloin Roast
Starting at
$174.95
Reg.
$229.95
save

24

%
Use Promo Code: VAL189
To receive FREE Standard Shipping, 2 Crab Cakes and 6 FREE Pastries on orders of $189+. Expires January 31st
GRADE:

USDA Prime or Premium Angus (depending upon what you select)

WEIGHT:

2lbs/approx 5 servings

AGED:

4-6 weeks to enhance flavor & tenderness

PACKAGING:

Individually wrapped & vacuum sealed

Individually Registeredwith its own unique registration number - guaranteeing uncompromising quality

Product is flash frozen before shipping to lock in flavor and will arrive frozen or partially thawed
Tenderloin Roast
Chateaubriand Roasts are the perfect centerpiece to any meal. Enjoy cooking this tenderloin roast at your next dinner party and impress your guests with ease. Available in Premium Angus or USDA Prime. Treat friends and family to Chicago Steak Company - they will be thankful you invited them.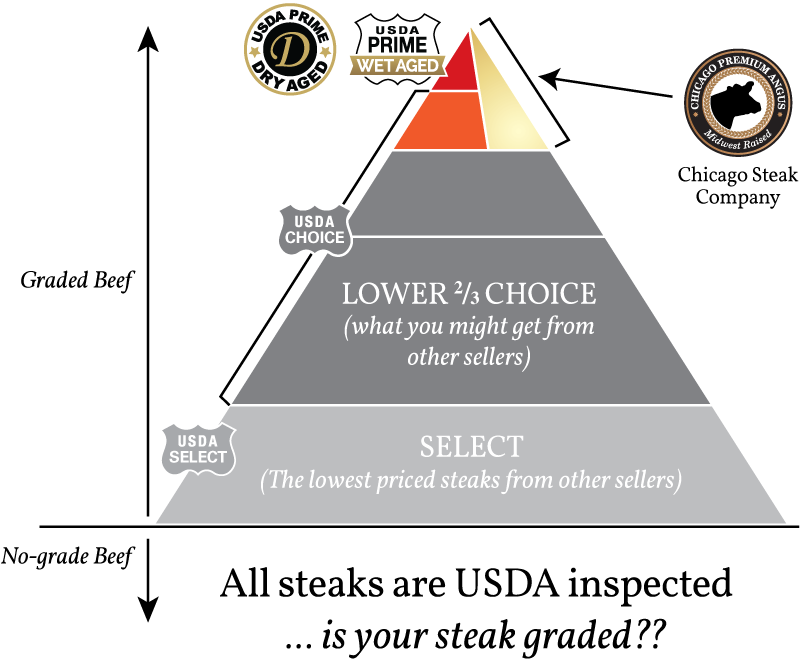 Chateaubriand Cooking Instructions
Medium Rare Roast:
Removed thawed roast from refrigerator 45 minutes prior to cooking

Preheat oven to 350°F

Lightly brush chateaubriand tenderloin with extra virgin olive oil

Season with salt and pepper

Place roast into the oven for 15 minutes per pound for medium rare

Remove roast when internal temperature reaches 125-130°F*

Let roast rest 10-15 minutes before serving
*Roast will continue to cook internally once removed from heat source. Remove the chateaubriand roast 5-10°F prior to desired temperature.

Chateaubraind Cooking Time
| Size (lbs) | Rare 110° To 120° F | Medium Rare 120° To 130° F | Medium 130° To 140° F |
| --- | --- | --- | --- |
| 2 lbs | 25 minutes | 30 minutes | 35 minutes |
| 3 lbs | 40 minutes | 45 minutes | 50 minutes |
| 5 lbs | 70 minutes | 75-80 minutes | 80-85 minutes |
Packaged with Care
When you place an order with Chicago Steak Company, we do everything we can to ensure that your package arrives in excellent condition. All of our steaks are vacuum wrapped and flash frozen in their natural juices to lock in the flavor. The steaks are then wrapped in our attractive food grade paper, sealed with the Chicago Steak Company gold label, and placed in our gorgeous gift box. Those gift boxes are placed inside our reusable insulated cooler with enough dry ice to keep them cold until arrival. For more information on shipping, and other Frequently Asked Questions see our FAQ page.
Watch the Video to see how your order is packed, how it will arrive, and how to thaw it properly.
For more information please see the Shipping Details page