Australian Kobe - Wagyu
Filet Mignon
Starting at
$174.95
Reg.
$269.99
save

35

%

35%

Savings based off a la carte item prices

Use Code: FREESIRLOINS
For 4 FREE Bourbon Peppercorn Sirloins on $249+
Free Shipping on orders of $179+


Expires TOMORROW
BEEF UP YOUR CART WITH ADDED SAVINGS
Australian Wagyu Filet Mignon
Our Wet Aged Australian Wagyu Beef Filet Mignons are what every steak lover dreams about! The Wagyu Kobe beef style has a tender texture and buttery melting point that lingers on the tongue for each satiating taste. Australian Wagyu surpasses American or Black Angus due to the quality and the amount of marbling that comes from years of careful breeding and the utmost care of premium cattle. When you gift a package of these filet mignons you can rest assured knowing only the very best will be delivered to your favorite grillmaster.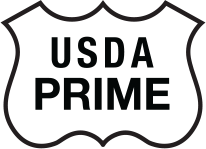 We
specialize

in
Angus USDA Prime

Only 2% of all beef
qualifies as USDA Prime
express
shipping
Packages are shipped overnight to ensure your steaks arrive frozen.
wagyu
Beef
We proudly offer Wagyu and Premium Angus Beef.
superior
marbling
Each steak is hand-selected and hand-cut to ensure impressive marbling and excellent flavor.
Aged
28 days
Our steaks are wet-aged or dry-aged 28-40 days, resulting in tender steaks with extraordinary flavor.
Packed

with


dry ice

Your steaks are packed in a reusable cooler with plenty of dry ice to ensure they arrive frozen.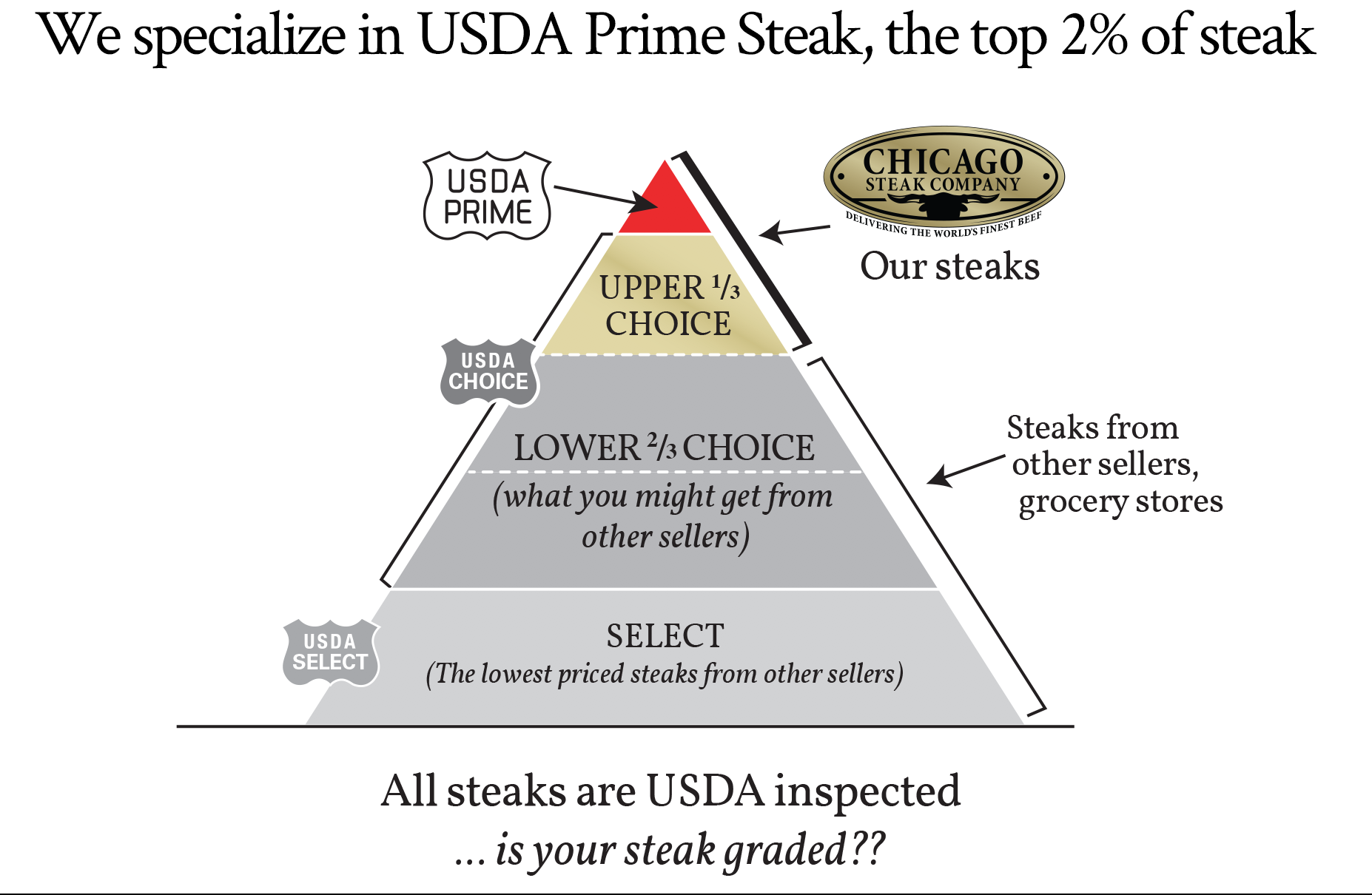 use promotion BURGERS12 to get 12 FREE steak burgers with your order of $159.95+
A Taste of Tradition
At Chicago Steak Company, we invite you to taste tradition. Since 1865 with the founding of the Union Stock Yards, Chicago has been at the heart of high-quality American meats. Chicago Steak Company proudly carries on that tradition. We specialize in hand-cut, Mid-West raised, Premium Angus USDA Prime beef - cut by Chicago butchers with five generations of experience. If you're looking for the very best steaks on the market, then you've come to the right place.
Wagyu Kobe Steaks
Wagyu (meaning "Japanese Cattle") filets are prized worldwide for their astounding marbling, tenderness and juiciness. While the name "Kobe" is reserved exclusively for Wagyu cattle raised in region of Kobe, Japan - cattle raised in the other areas around the world must be referred to as Wagyu or Kobe-Style. Better than even USDA Prime, these filets are in a class of their own. Guaranteed to please even the most discriminating steak connoisseur, each luscious bite will literally melt in your mouth, as the marbling in a Wagyu steak begins to dissolves at a much lower temperature than common steaks. Wagyu has a flavor, texture and marbling that can't be found in any other meat.  Buying wagyu filets online from Chicago Steak Company ensures you're getting the freshest beef available as we flash freeze all our meat to lock in the flavor.
Australian Wagyu History
Although it originates from Japan, Australia is one of the key players in Wagyu beef production globally and hosts the largest population of Wagyu cattle outside of Japan. In 1997, the first five full-blood Japanese cattle were introduced to Australia and today Australian Wagyu beef is sold globally, with nearly 80-90% of produce being exported and only 10-20% sold domestically.  Australian Wagyu surpasses American or Black Angus due to the quality and the amount of marbling that comes from years of careful breeding and the utmost care of premium cattle. Australia hosts the largest population of Wagyu outside of Japan.
Wet Aged Wagyu Filets
Our wet aged Wagyu Filets is what steak lover's dream about! The Wagyu Kobe beef style has a tender texture and buttery melting point that lingers on the tongue for each satiating taste. Our Wagyu Beef Filets are delicate with a light buttery flavor that leaves a lingering memory impressed on your taste buds. The flavor may be mellow, but is unlike any other steak you've had before. Try our delivery forWagyu steaksonline and you won't be disappointed.
Now it's time to celebrate!
Whether it's your colleague or someone you love, treat them to something special by sharing some of our Wagyu Kobe Style Rib Eyes when you want to celebrate! It would be a night you both would never forget and the best way is by doing it together. You're just a few clicks away from choosing a delivery date!
Cooking Wagyu Filets
When you're cooking a Wagyu Kobe Filet keep in mind because of the extra marbling the steak will cook faster. Just a tip - medium rare is the best choice for enjoying a Wagyu Filet and experiencing the difference.
Checkout the cooking tab above for tips on cooking these delectable steaks
If your steak is frozen, we recommend thawing it in a pan, thawing in a pan helps catch any drippings that may occur, under refrigeration for 24 hours.
Season with our signature steak seasoning.
When turning your steak, be sure to use tongs and not a fork. A fork will puncture the steak and allow for the juices to escape the steak.
Allow your steak to rest for half of the cooking time. This allows for the juices to flow back into the center of the steak.
Steak Cooking Tips
1. Plan ahead. Know the cut of steak you are cooking. A steak is more flavorful and tender if not overcooked.
2. Preheat your grill or broiler to high. Charcoal coals should be ashen grey and red-hot. When cooking on top of the range, the cast iron skillet or grill pan should be hot, but not smoking.
3. Season your steak with salt & pepper or a blended mix to taste.
4. Lightly oil your cooking surface.
5. Sear the steaks on first side using the times listed on the Steak-Cooking Chart as a guide. Flip when juices begin to bead on the surface.
6. Cook your steaks on the second side and use the steak cooking chart below as a guide for time. Less time will be needed on the second side. Steaks may cook quickly, so be attentive.
7. Gauge doneness. This may be determined by touch or meat thermometer. A rare steak will feel very soft when touched and will have an internal temperature of 120° - 125°F. Medium rare steak will feel soft and spongy to the touch and register 130° F, medium steaks will offer resistance when touched and register 140° -145° F. Well-done steaks will be firm with an internal temperature of 160° F.
8. Rest your steak. Allow steaks to stand for 5 minutes before serving. This lets the juices flow from the center of the meat to the exterior, resulting in a juicy & succulent steak. 
Check out Steak University to learn more ways to cook filet mignon like a pro. We'll show you the best ways to grill, pan-sear, or oven-roast your wagyu filet mignon for maximum flavor.
Filet Mignon Wine Pairing
Although the Filet Mignon is regarded as one of the best cuts of steak you can sink your teeth into, it actually has some of the subtlest flavors of any cut. That's why it's important to choose a wine that won't overpower the filet mignon.
The most ideal pairing for a filet mignon is an Old World aged wine, like Pinot Noir or Port
Packaged with Care
When you place an order with Chicago Steak Company, we do everything we can to ensure that your package arrives in excellent condition. All of our steaks are vacuum wrapped and flash frozen in their natural juices to lock in the flavor. The steaks are then wrapped in our attractive food grade paper, sealed with the Chicago Steak Company gold label, and placed in our gorgeous gift box. Those gift boxes are placed inside our reusable insulated cooler with enough dry ice to keep them cold until arrival. For more information on shipping, and other Frequently Asked Questions see our FAQ page.
Watch the Video to see how your order is packed, how it will arrive, and how to thaw it properly.
For more information please see the Shipping Details page