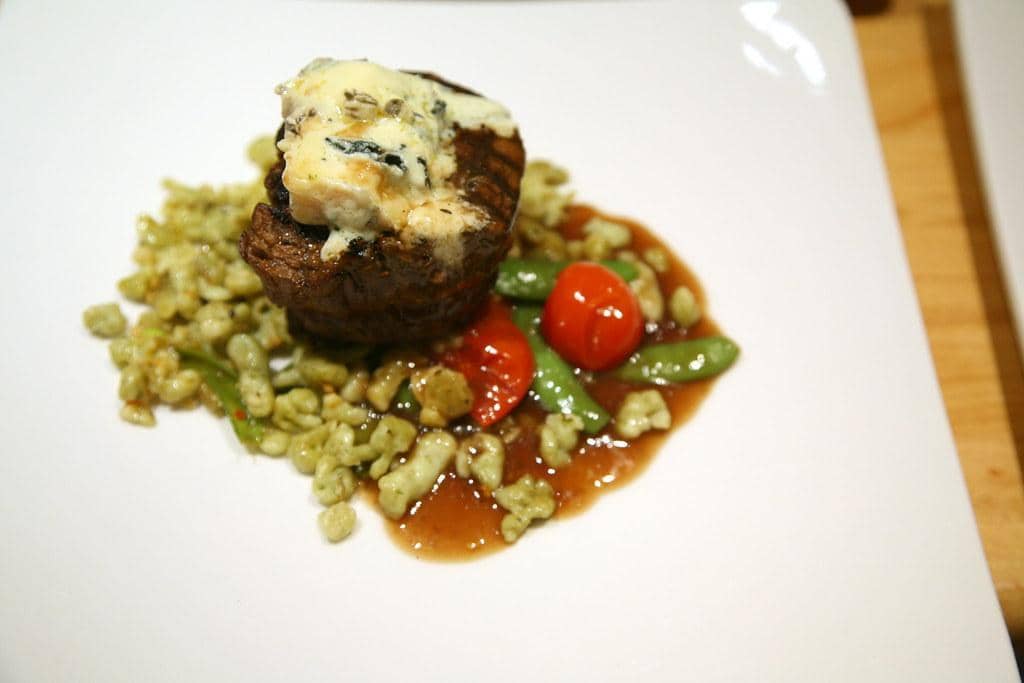 Filet mignon is known for being tender, juicy, fancy, and — yes — pricey. Although you might spend more per pound for a delicious filet mignon, it's impossible to deny that these steaks are worth it. 
It might be intimidating to cook one of these restaurant favorites at home, but we promise that it's 100% doable. Like other steaks, you can cook filet mignon on the stove, on the grill, or in the oven. It's even sous-vide-friendly if you want a simple, hands-free way to cook it.
Follow along with our filet mignon cooking guide to learn how to cook filet mignon at home like a professional.
What is Filet Mignon Steak
Filet mignon's name roughly translates from French to English as "tender filet," which makes perfect sense for this delicate cut of beef that's unlike any other piece of steak you eat. Known for its texture that requires little chewing, filet mignon has become somewhat of a delicacy in the steak world. You'll usually see it represented in upscale dining dishes rather than the more rustic steakhouse dishes you might be used to.
This cut has almost a buttery flavor rather than a bold, beefy flavor like ribeye or New York strip steak. Therefore, it lends itself well to herbed butter, light gravy, or au jus as toppings for a little extra flavor.
What Cut of Beef is Filet Mignon
The filet mignon comes from the tenderloin. The strip of meat is somewhat small compared to other cuts that come from a cow, so tenderloin meat is often more expensive than others because there simply isn't as much to go around.
Filet mignon is even more special because this particular cut comes from the end of the tenderloin, so only a small portion of filet mignon is available from each animal.
5 Ways to Cook Filet Mignon Steak
Perhaps the most common way to cook filet mignon is to pan-sear it and finish it off in the oven. But you can also grill, reverse sear, and sous vide filet mignon.
Before cooking filet mignon with any method, be sure to salt it generously on all sides. Then, allow it to brine by letting it sit at room temperature for 45 minutes before introducing it to heat.
Grilling Filet Mignon Steak
Preheat the grill to high (400-450 degrees, if gas).
Brush filet mignon with olive oil and add a little more salt and some freshly ground black pepper to the steak.
Place filet mignon on grill grates on the hottest area of the grill. Cook for 5-6 minutes until a golden-brown crust forms.
Use tongs to flip the filet to the other side, cooking for another 5-6 minutes until seared.
Move the filet to a lower-heat area of the grill to continue cooking until desired doneness level is reached. Keep the grill lid closed. For medium-rare, filet mignon will need another 5-10 minutes.
Rest for 5-10 minutes on a foil-tented plate before serving.
Pan-Seared Filet Mignon Steak
Preheat oven to 400 degrees.
Heat two tablespoons of butter in a cast-iron skillet over medium-high heat. Meanwhile, season filet mignon with freshly ground black pepper.
Place filet mignon in pan, and sear for 2-3 minutes. Flip with tongs and sear for another 2-3 minutes.
Add skillet with filets to the oven's middle rack, and cook for 5-8 minutes for medium-rare.
Transfer steaks to a plate, tent with foil, and rest for 5-10 minutes.
Cooking Filet Mignon Steak in the Oven
Preheat the oven to 415 degrees.
Brush olive oil on filets, followed by a sprinkle of salt and black pepper.
Place steaks on an oven-safe pan and transfer to the oven's middle rack. Cook for 8-12 minutes until the steak begins to firm up slightly to the touch.
Preheat the broiler. Move steaks directly under the broiler.
Allow filets to cook for 1-2 minutes; flip, and cook the other side for 1-2 minutes until crispy.
Remove from oven and transfer the filets to a clean plate. Tent the filets with foil and rest for 5-10 minutes.
Reverse Sear Method for Filet Mignon
Preheat oven to 250 degrees. Meanwhile, brush filets with olive oil and season with salt and pepper.
Cook for 30-60 minutes in a cast-iron skillet on the oven's middle rack. The length of time depends on the thickness of the filets, so be sure to check every 15 minutes. Use a meat thermometer and remove steaks from the oven when they read about 10 degrees lower than your desired doneness (120-125 degrees for medium-rare).
Remove the skillet from the oven and heat with two tablespoons of butter over medium-high heat. Transfer the filets to the skillet and sear for 2-3 minutes on each side until a golden-brown crust forms.
Place filets on a clean plate tented with foil to rest for 5-10 minutes.
Filet Mignon Sous Vide
Preheat the water bath to 130 degrees.
Sprinkle filet mignon with salt, pepper, and other preferred seasonings. Place in a sealable bag with fresh thyme or rosemary sprigs.
Vacuum seal the bag and add to the water bath so that the filet mignon is fully submerged.
Cook for 1 ½-2 hours. Remove from water bath and bag and transfer to a plate. Set aside.
Preheat a cast-iron skillet with two tablespoons of butter. Add steaks and sear for 2-3 minutes on each side. Steaks should be medium-rare. If you'd like more doneness, reduce the heat to low and continue cooking for 2-5 minutes until the desired temperature is reached.
Transfer to a plate, tent with foil, and let rest for 5-10 minutes.
Seasoning Filet Mignon
The easiest way to season filet mignon is with a generous sprinkle of salt before the 45-minute brining period and finished with a light sprinkle of freshly ground black pepper before cooking. However, many filet mignon fans enjoy sprucing up the flavor of this cut with some garlic salt while cooking or a dash of steak seasoning just before enjoying.
Marinating Filet Mignon
Filet mignon certainly doesn't need a marinade to help it become more tender, but it could use some additional flavors to spruce up its mildness. A simple marinade is best for this cut. In a bowl, combine olive oil and a few spices and herbs, like basil, garlic, thyme, salt, and pepper. Then, add the marinade and filet mignon to a sealable bag, marinating for at least 2-3 hours in the refrigerator.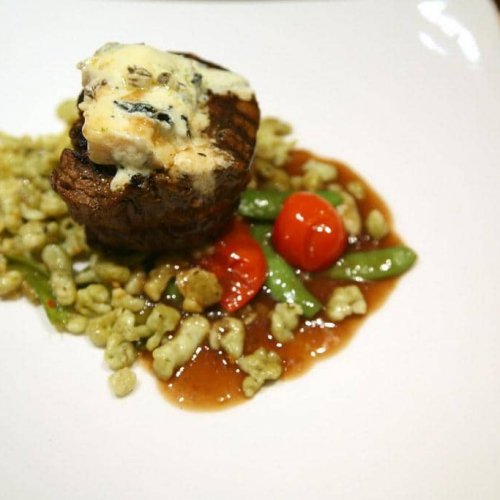 Pan-Seared Filet Mignon
Ingredients
2

6oz

filet mignon

1

tsp

salt

2

tbsp

salted butter

1

tsp

freshly ground black pepper
Instructions
Remove filet mignon from the refrigerator. Salt all sides generously and allow them to sit at room temperature for 45 minutes

Preheat the oven to 400 degrees

Add butter to a cast-iron skillet and heat to medium-high until butter is fully melted

Season filets with pepper before placing them in the pan. Sear for 2-3 minutes until golden-brown crust forms. Flip to the other side using tongs and sear for another 2-3 minutes

Turn off the stove and move the skillet to the oven's middle rack. Continue cooking for 5-6 minutes in the oven for medium-rare, or leave in for another minute or two for medium doneness

Place steaks on a cutting board or plate tented with foil for 5-10 minutes to rest before serving
Additional Information
Filet mignon can be a tricky cut to cook because of its thickness. Following the cooking guides above can help, but here are a few extra tips to ensure success:
Cooking Times
Filet mignon takes longer to cook than others because it's thicker than a lot of steaks. However, pan-searing and grilling to medium-rare can be achieved in around 20-30 minutes, depending on your desired doneness level. Using the oven also takes about 30 minutes from start to finish, while reverse-searing can take about 45-60+ minutes. The longest method is sous vide, which you'll spend about two hours waiting for, but it's a good set-it-and-forget-it cooking method when you have other things to do.
Measuring Doneness
Measure the doneness of filet mignon using a digital meat thermometer. Place the probe in the thickest part of the filet, which is usually right through the middle. Wait for a few seconds before reading the temperature. Remove filet mignon from its heat source between 120-125 degrees for medium-rare. The internal temperature will rise to 130-135 degrees as it rests.
Conclusion: Your Guide to Cooking Filet Mignon
Filet mignon is usually the star of upscale restaurant dishes, but it's also 100% plausible to cook in your home. Grill it, sear it, sous vide it — the choice is yours. With some practice using this cooking guide and helpful tips, you can make the perfect restaurant-quality filet mignon in your own kitchen.
Buy mail-order filet mignon from Chicago Steak Company today. The filets arrive in our signature box with a unique registration number for quality assurance.