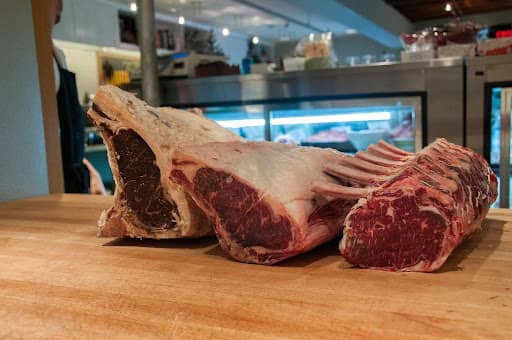 A bone-in ribeye roast is a welcome addition to many dinner tables, especially for holidays and group meals. This stunning cut is certainly eye-catching when carved correctly, but it also tastes incredible when cooked correctly. Made up of several ribeye steaks, it's hard to surpass the flavor and unique texture you get from a bone-in ribeye roast.
Want to learn how to cook it in your kitchen? We have all the information you need in this guide, which includes an easy-to-follow bone-in ribeye roast recipe.
Where Does This Cut Come From?
You'll find the bone-in ribeye roast in the rib area of a cow, behind the shoulder blades and above the stomach. This is where ribeye also comes from, as ribeye steaks are actually cut from the roast portion of meat. While a ribeye is an individual steak, a bone-in ribeye roast typically contains 4-6 ribeye steaks with their bones attached.
Because the rib area isn't used for frequent movements like walking, it contains more fat than other more exercised areas, like the rump or shoulders. Therefore, the bone-in ribeye roast contains marbling of fat running through the meat. When cooked, this fat renders down into the meat for additional flavor and tenderness.
Bone-in Ribeye Roast VS Boneless Ribeye Roast
When shopping for ribeye roast, you might find both bone-in and boneless versions. Neither one is necessarily better than the other, but they each offer something a little different. For instance, bone-in ribeye roast is thought to be more flavorful and tender because the bone helps insulate the meat when cooking, preventing it from heating up too quickly and becoming dry. However, boneless ribeye is usually a little quicker to cook, and it can be much easier to carve after cooking.
How to Prepare Bone-In Ribeye
Before cooking bone-in ribeye, we suggest seasoning it with salt and leaving it at room temperature for 45 minutes. During this time, the meat will warm up in temperature slightly, allowing a more even cook. The salt also goes to work on brining the meat, helping it achieve a crisp outside when cooking.
After this resting time, brush olive oil on all sides of the meat and season with any remaining herbs and spices you'd like to use, like black pepper, garlic powder, or thyme.
What to Serve with Ribeye Roast
Some of the most popular side dish options to serve with bone-in ribeye roast include mashed or baked potato, salad, roasted or steamed vegetables, and sauteed mushrooms and onions. Steakhouses and home chefs may also serve salad to lighten up the dish a bit.
What Sauce Goes with a Ribeye Roast?
The most common sauce to pair with a ribeye roast is a simple garlic butter that you can add to each steak after you cut it. Some people also create au jus or gravy using some of the roast's natural juices that escape during the cooking process. For some extra flavor, consider creating a thin sauce with Worcestershire or horseradish as a base.
Bone-In Ribeye Roast Recipe
Our easy-to-make bone-in ribeye roast recipe is simple enough for a beginner to try. Feel free to add your own seasonings for a different flavor or get started with our suggested herbs and spices.
Ingredients
6-10 pounds of bone-in ribeye roast
Salt
2 tbsp olive oil
Pepper
2 tbsp dried thyme
2 tbsp dried rosemary
Instructions
Salt all sides of the roast, and leave it at room temperature for 45 minutes before you're ready to cook.
Ten minutes before the end of the resting period, preheat the oven to 450 degrees. Brush the roast lightly with olive oil. Then, sprinkle the pepper, thyme, and rosemary on all sides of the roast.
Transfer the roast fat side up to a baking dish and put it in the oven on the middle rack. Bake for 30-45 minutes until the outside begins to crisp before reducing the heat to 325 degrees. Continue cooking for another 1 ½ to 2 hours until the thickest part of the roast reaches 125 degrees if cooking to medium rare.
Remove the roast from the oven, and tent it loosely with foil. Rest for 15-20 minutes before slicing and serving.
Experiment with the Best Bone-In Ribeye Roast Recipe
It's your turn to cook a bone-in ribeye roast from the comfort of your kitchen. We suggest starting with a bone-in standing rib roast from the Chicago Steak Company, which offers 3-4 thick ribs (8-9 pounds) of USDA Choice or USDA Prime beef. Before it arrives, start planning your recipe and meal. Our simple recipe is ideal to start with, but you can always add your own herbs, spices, marinades, or gravy to make the roast your own. Enjoy!
Bone-In Ribeye Roast FAQs
The most straightforward way to cook a bone-in ribeye roast is in the oven. This method is potentially the easiest for beginners to try because it doesn't require much hands-on work or guesswork. After cooking the roast on high for several minutes to sear, you can bump the temperature down for the remainder of the cook until the roast comes to the proper temperature for your desired doneness level.
Yes. Ribeye roast and prime rib roast are two names used to describe the ribeye roast, whether bone-in or boneless. The ribeye roast is also sometimes referred to as a standing rib roast or beef roast.
Bone-in ribeye generally needs 20-30 minutes of cooking time per pound if you're cooking it in the oven or on the grill. Most bone-in ribeyes are between 6-10 pounds, which can take anywhere from 2-5 hours to cook. On average, a medium-rare bone-in ribeye takes 3-4 hours to roast.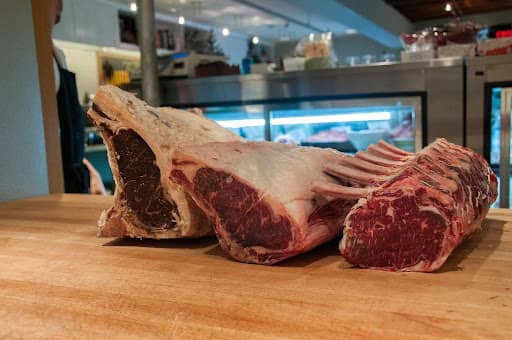 Bone-In Ribeye Roast
Ingredients
6-10

lbs

bone-in ribeye roast

salt, to taste

pepper, to taste

2

tbsp

olive oil

2

tbsp

dried thyme

2

tbsp

dried rosemary
Instructions
Salt all sides of the roast, and leave it at room temperature for 45 minutes before you're ready to cook

Ten minutes before the end of the resting period, preheat the oven to 450 degrees. Brush the roast lightly with olive oil. Then, sprinkle the pepper, thyme, and rosemary on all sides of the roast

Transfer the roast fat side up to a baking dish and put it in the oven on the middle rack. Bake for 30-45 minutes until the outside begins to crisp before reducing the heat to 325 degrees. Continue cooking for another 1 ½ to 2 hours until the thickest part of the roast reaches 125 degrees if cooking to medium rare

Remove the roast from the oven, and tent it loosely with foil. Rest for 15-20 minutes before slicing and serving