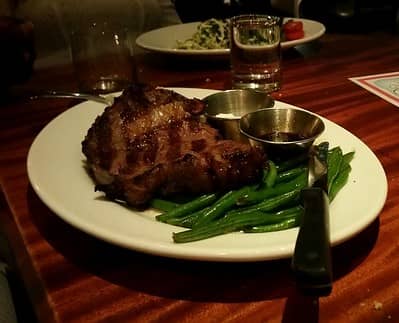 Saucing up your thick slices of perfectly roasted beef is a matter of holiday tradition for some people. Of course, there are so many great sauces to choose from, it's hard to settle on just one. Most of these sauces taste great when applied to freshly roasted Prime Rib and other cuts of beef, but some also work well when using leftovers to make sandwiches and other dishes. Expand your repertoire of flourishes to top off a big dinner with these seven Prime Rib sauce options and tips on making them.
Sauces to Elevate Your Prime Rib Feast
Why serve sauce at all if you roast a perfectly juicy and flavorful Prime Rib? It's a great way to add even more flavor and introduce contrast at the same time. For example, the sharp spiciness of horseradish cuts through the richness of the Prime Rib to make it even more enjoyable. Other creamy sauces intend to complement the marbled fat of this cut to its maximum effect. If you're a fan of keeping your Prime Rib plain, experiment with trying these sauces on a steak like the Flat Iron.
Creamy Horseradish Sauce
One of the most iconic pairings for Prime Rib is a creamy horseradish sauce. Sour cream and mayonnaise combine for a creamy yet mild base, while a few tablespoons of prepared horseradish gives it plenty of kick. You can ramp the amount of this spicy root up and down to fit your personal taste. Try combining ½ cup of full-fat sour cream, 2 tablespoons of mayonnaise, 2 tablespoons of prepared horseradish that's drained of excess liquid, and 1 teaspoon of apple cider vinegar. Season it with salt and pepper to taste.
Au Jus
Au jus is a thin sauce that brings flavor and moisture to Prime Rib by making good use of the roasting pan drippings. Just mix ¼ cup of beef drippings, 2 cups of beef broth, ½ tablespoon of Worcestershire sauce or soy sauce, and salt and pepper to taste. Heat it in a small saucepan on low heat until it has slightly thickened. This is great for making Beef Dip sandwiches from leftover Prime Rib.
Prime Rib Gravy
Rich brown gravy uses all the same ingredients as au jus, but it's also thickened with a combination of butter and flour. Melt half a stick of butter in a non-stick pan and let it melt completely and start to brown slightly. Then sprinkle in ¼ cup of all-purpose flour. Mix the flour in and move the mixture around a little, cooking it until it has a nutty brown color and smell. Then add in one cup of beef broth, ¼ cup of beef drippings from the roasting pan, and ½ tablespoon of Worcestershire sauce or soy sauce. Whisk while simmering until it is smooth and thick for the ideal Prime Rib sauce.
Mushroom Sauce
This buttery sauce doubles as a side dish as well. Heat a skillet over medium heat and melt 2 tablespoons of butter in it. Add a tablespoon of olive oil as well, then fry half a diced yellow onion until it is softened and golden. Cook 16 ounces of sliced mushrooms with the onion, adding a clove of minced garlic when they're nearly done. Mix in some fresh thyme, salt, and black pepper as well. When everything is browned and starting to stick to the pan, deglaze with ½ cup of red wine. After the alcohol simmers out of the wine, finish with ½ cup of heavy cream.
Mustard-Cream Sauce
Tangy Dijon mustard is the key to a cream sauce that pairs beautifully with the richness of Prime Rib. ¼th cup of sour cream starts this sauce off, with another 3/4th cup of heavy cream to keep it liquid. Warm these two ingredients together in a saucepan, adding in 2 tablespoons of Dijon mustard when it thickens. Season with salt and pepper to taste and serve immediately.
Red Wine Sauce
A true steakhouse secret, this sauce is actually a simple reduction you can make yourself quite easily. Start by putting a tablespoon of oil in a saucepan and gently sizzling 2 tablespoons of minced onion and 1 clove of minced garlic over low heat. When they've softened and just turn golden, mix in ¼ cup of your favorite red wine and 1 tablespoon of spicy brown mustard. Cook until it has reduced by about half, then add in 2 tablespoons of cold and chopped-up butter. Whisk together until the butter melts and serve the red wine sauce immediately.
Compound Butter
Infusing butter with extra flavor is as easy as softening it and then mixing in whatever spices and seasonings you like. When you cool it down again and then serve it with Prime Rib, the results are mouthwatering. Try mixing softened unsalted butter with minced garlic, fresh rosemary, and cracked black pepper along with some salt for a quick compound butter.
Conclusion
Try two or three different sauces to make sure all your guests have the perfect accompaniment for their Prime Rib dinner. When you decide to cook corned beef brisket instead, many of these sauces pair equally well with that kind of beef entree. Experiment with your favorite sauces by ordering more steaks from the Chicago Steak Company.