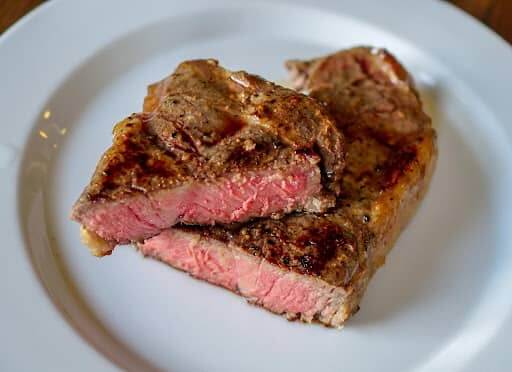 While steakhouses typically go for pan-seared or grilled sirloin steaks because they're the quickest methods to use, home cooks love a good sous vide sirloin. Yes, this cooking method takes more time than others, but it's worth the wait if you have some time to spare. 
Our guide will walk you through everything you need to know to learn how to sous vide sirloin, including temperatures in relation to doneness and how to choose the best cut. 
Preparation for Sous Vide Sirloin
Use a precision cooker to sous vide sirloin, or use a large pot filled about ¾ with water and a thermometer that clips on the side of the pot. You'll also need sous vide bags or sealable food storage bags and your choice of herbs and seasonings. We love a sprig or two of thyme and some minced garlic when sous vide cooking, but the choice is yours.
Cooking Time
For sirloin sous vide, set aside about one hour of time per inch of steak thickness. So, for a one-inch sirloin, you'll need about two hours, and a two-inch sirloin needs about three hours. Regardless of thickness and your preferred doneness level, you shouldn't need longer than four hours to sous vide sirloin steak.
Final Temperature
Use the following chart to determine the right cooking temperature for your sirloin steak and the temperature it should reach after cooking. 
| | | |
| --- | --- | --- |
| Steak Doneness | Cook Temperature | Final Temperature |
| Medium-rare | 130°F | 130°F-135°F |
| Medium | 140°F | 140°F-145°F |
| Medium-well | 150°F | 150°F-155°F |
| Well-done | 160°F | 160°F-165°F |
Cooking to Medium Rare
A medium-rare cook is the most common for sous vide sirloin. To do it, set the precision cooker to 130 degrees. Add your bagged steaks and cook for 1-2 hours. Let steaks rest for five minutes at room temperature before removing from their bags and patting them dry. Then, sear in a hot skillet for 2-3 minutes on each side. Rest for 5-10 minutes at room temperature. Enjoy!
Sirloin Sous Vide Tips
The following tips can help you get just the right cook on your sous vide sirloin.
Rest It Twice
After your steaks finish cooking in the sous vide water bath, let them rest at room temperature for about 5 minutes. This lets them cool down a bit before opening the bags to remove the steaks, pat them dry, and sear them in a skillet. After searing, you'll let them rest another 5-10 minutes to allow the juices to reabsorb and the meat to come to the proper temperature.
Use a Thermometer After Sous Vide Cooking
Although sous vide cooking does an excellent job of thoroughly cooking a steak to your preferred doneness, there are no guarantees that it's cooked properly until you use a meat thermometer. After cooking with sous vide, use a thermometer with the probe inserted into the thickest part of the sirloin to ensure that it's reached 130 degrees for medium-rare. Check again after searing for the best results.
Choosing the Right Cut
Sirloin steak is available in different levels of quality. Starting with a high-quality cut that's been inspected for its coloring and marbling can help you achieve better results with sous vide. Consider buying Premium Angus, USDA Prime, or Wagyu sirloin steaks, which are the highest-quality tiers for steak. You can shop for sirloin online at Chicago Steak Company.
Sous Vide Sirloin Instructions
These easy-to-follow steps will help you cook the below recipe just like the professionals do.
Step 1: Prepare to Sous Vide
First, set your precision cooker to 130 degrees for a medium-rare sirloin. If you don't have a precision cooker, use a pot filled about ¾ with water. Clip a thermometer to the side to monitor the water temperature. 
Now, prepare the sous vide bags. Place one steak inside each bag after seasoning them with salt and pepper. Then, add aromatics, like sprigs of thyme or rosemary or minced garlic. 
Step 2: Cook Sirloin Using the Sous Vide Method
Seal the bags thoroughly, being sure to remove all air from them. Carefully lower them into the water until they're fully submerged. Use tongs to push them into the water bath. Cook for 1-2 hours, or up to 3 hours if you prefer medium, medium-well, or well-done steak or your steaks are thicker than two inches.
Step 3: Sear and Rest 
Let the bags of steak rest at room temperature for five minutes. Meanwhile, preheat a cast-iron skillet with one tablespoon of olive oil. 
Carefully open the bags over the sink to allow juices to escape. Pat each steak dry completely. Then, sear on each side for 2-3 minutes. Rest on a foil-tented plate for 5-10 minutes before serving. 
Sous Vide Sirloin Steak Recipe
Serves: 2
Prep time: 10 minutes
Cooking time: 1-2 hours
Ingredients:
2 ½-pound sirloin steaks
Salt
Pepper
Thyme, rosemary, or other fresh herbs
Olive oil
Instructions:
Heat the precision cooker to 130 degrees to cook sirloin to medium-rare. Sprinkle salt and pepper on both sides of steak. Add one steak per sous vide bag with 1-2 sprigs of rosemary, thyme, or your choice of herbs.
Seal the bags. Submerge them completely in the water bath, and cook for 1-2 hours. Steaks 1 ½ to 2 inches thick should cook closer to two hours.
Remove steaks from the bags and pat them dry thoroughly. Sear in a preheated cast-iron skillet with a drizzle of oil for 2-3 minutes on each side. Rest for 5-10 minutes. 
Sous Vide FAQ's
Is sirloin good for sous vide?
Yes, sirloin is a good cut of steak for sous vide. Sirloin can be on the thinner side compared to other steaks, making it easy to overcook in the oven or on the grill. However, the controlled-temperature cooking of sous vide allows it to cook evenly while staying tender.
How long do you sous vide a 2-inch sirloin steak?
A good rule of thumb is one hour for every inch of thickness. So, a two-inch sirloin steak needs up to two hours to sous vide, but a 1 ½-inch sirloin may need closer to 1 ½ hours.
What temp do you sous vide sirloin steak?
For medium-rare sirloin, set the water bath to 130 degrees. Raise the temperature by ten degrees for every higher level of doneness. For example, a medium steak's water bath should be set to 140 degrees. 
Why is my sous vide sirloin tough?
When using the sous vide method with sirloin steak, be sure to fully submerge the bags in the water to get an even cook. Also, the bags should be sealed thoroughly, releasing as much air as possible before sealing to help them remain submerged in the water bath.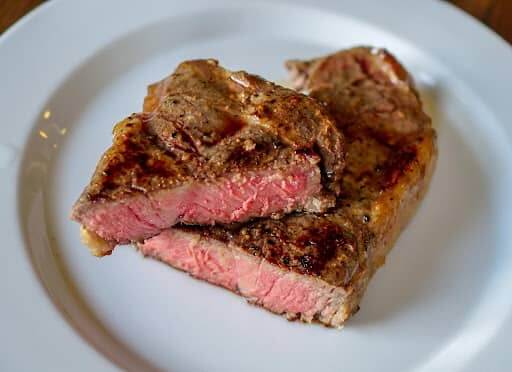 Sous Vide Sirloin Steak
Ingredients  
2

1/2 lb

sirloin steaks

salt

pepper

thyme, rosemary, or other fresh herbs

olive oil
Instructions 
Heat the precision cooker to 130 degrees to cook sirloin to medium-rare. Sprinkle salt and pepper on both sides of steak. Add one steak per sous vide bag with 1-2 sprigs of rosemary, thyme, or your choice of herbs

Seal the bags. Submerge them completely in the water bath, and cook for 1-2 hours. Steaks 1 ½ to 2 inches thick should cook closer to two hours

Remove steaks from the bags and pat them dry thoroughly. Sear in a preheated cast-iron skillet with a drizzle of oil for 2-3 minutes on each side. Rest for 5-10 minutes