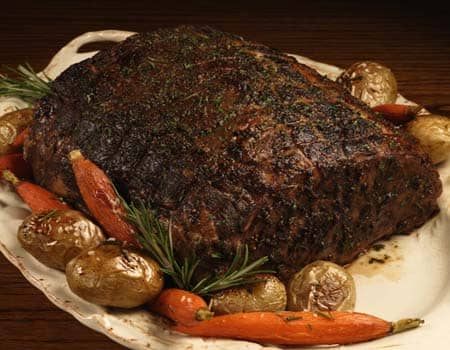 Prime Rib is an impressive beef roast with a long history of being served for special occasions. But if you're looking to amp up the flavor the next holiday or anniversary when you serve this entree, you can't go wrong with a rub. This culinary term refers to a mix of dry herbs, spices, and other ingredients that are all applied directly to the outside of a cut of meat. No matter how you plan to cook your Prime Rib, a rub will add flavor and help create a slightly crisper surface as well. Pick the right Prime Rib rub for your next holiday dinner with our tips.
Why a Rub for Prime Rib?
Aside from dry brining, applying a rub before cooking is one of the only practical ways to season the thick and bone-in Prime Rib cut. Even boneless Prime Rubs are dense enough that marinades and other liquids don't penetrate very far. Thanks to the natural tenderness of the surface once the meat is cooked, using tenderizing marinades could also lead to an overly soft texture. The seasoning rub is a perfect complement to the Prime Rib for these reasons and is easily applied in just the desired amount according to your personal tastes.
Prime Rib Rub Flavor Variations
You have plenty of options when it comes to putting together a good rub for the Prime Rib cut. Since Prime Rib is very rich and tender, you'll want strong flavors that complement and contrast the meat at the same time. The flavor combination of somewhat bitter herbs like rosemary and oregano mixed with black pepper is one of the most commonly recommended rubs you'll see. For a more barbecue-inspired variation, you'll need chili powder, garlic granules, and some brown sugar in the mix. Mediterranean flavors are also easily introduced with a rub based around marjoram, garlic, dill, and a hint of cinnamon. In addition to the usual herbs and spices, ground or instant coffee is another ingredient sometimes used in a Prime Rib rub to help bring a bolder flavor to cut through the richness. It's less common to see ingredients like ground citrus peel or powdered bay leaf in a Prime Rib recipe, but you can always experiment with adding a small amount of something new to an existing rub mix that you enjoy.
Tips for Using Prime Rib Rub
The dry spices and herbs won't adhere well to the surface of the Prime Rib when it comes directly out of the refrigerator. Let the Prime Rib come closer to room temperature first, then pat the surface dry with paper towels. This removes a large amount of moisture from the surface that could cause the seasonings to slide off rather than stay in place throughout the cooking process. You will see some amount of rub being lost from the areas where the fat cap is the thickest, but rest assured that plenty of flavors are still transferring along with the fat as it melts down into the rest of the meat. Mix up a large batch of your favorite Prime Rib rub recipe since it works well on other cuts of beef and even chicken and pork.
When Should I Season My Prime Rib?
If your Prime Rib rub recipe has a lot of salt and is serving as a dry brining method, you'll want to apply the seasoning 24 hours before cooking and let it stand in the refrigerator with a cover over it. Some rubs also call for being applied the night before cooking to get at least 8 to 12 hours of absorption, and they may involve wrapping the roast with plastic to keep the spices in place. It's perfectly fine to wait to apply a rub until right before the Prime Rib goes in the oven, but don't try to apply the spices while the meat is still cold from the refrigerator.
How long should dry rub be on Prime Rib?
Putting a dry rub on too early increases the likelihood of it being washed off or knocked loose before you get the beef cooked. Aside from seasoning mixes designed to go on up to one day before cooking for brining purposes, you'll only want the dry rub on the Prime Rib in time for the start of cooking. There are not a lot of benefits to adding it early unless there's enough salt to create a brining effect.
Prime Rib Rub Recipe
For a general-purpose rub that goes great with Prime Rib as well as many cuts of steak, try keeping this combo on hand at all times.
Ingredients
4 tablespoons coarse Kosher salt
1 teaspoon dry rosemary, minced finely
2 teaspoons cracked black pepper
1 tablespoon of granulated garlic
1 tablespoon of onion powder
1 teaspoon of oregano
½ teaspoon of dried parsley
½ teaspoon of dried thyme
1 teaspoon of brown sugar (optional)
½ teaspoon of smoked paprika
Instructions
1. Blend all of the ingredients together in a mixing bowl. Taste and adjust the salt level as needed for personal preferences.
2. To use on the Prime Rib, first bring the meat to room temperature. Pat the surface dry with paper towels to reduce excess moisture, then sprinkle 1 teaspoon of the mixture over the surface. Use one hand to rub the spices in, adding more as desired with the other hand until the entire roast is covered evenly.
Notes
The brown sugar is easily swapped for half as much granulated sugar if that's what you have on hand, or omitted entirely. It does help balance the flavor of the rub and encourages browning on the outside of the Prime Rib.
Conclusion
Get raving reviews the next time you carve up a Prime Rib for your dinner guests by starting out with a seasoning blend on the surface. We've got plenty of other steak rub recipes and cooking tips available here at Chicago Steak Company to help you achieve your culinary dreams.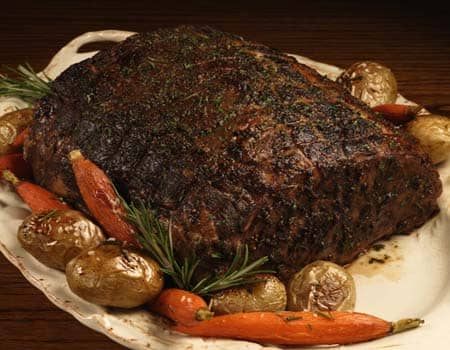 Prime Rib Rub
Ingredients
4

tbsp

coarse kosher salt

1

tsp

dry rosemary, minced finely

2

tsp

cracked black pepper

1

tbsp

granulated garlic

1

tbsp

onion powder

1

tsp

oregano

1/2

tsp

dried parsley

1/2

tsp

dried thyme

1

tsp

brown sugar (optional)

1/2

tsp

smoked paprika
Instructions
Blend all of the ingredients together in a mixing bowl. Taste and adjust the salt level as needed for personal preferences

To use on the Prime Rib, first bring the meat to room temperature. Pat the surface dry with paper towels to reduce excess moisture, then sprinkle 1 teaspoon of the mixture over the surface. Use one hand to rub the spices in, adding more as desired with the other hand until the entire roast is covered evenly
Notes
The brown sugar is easily swapped for half as much granulated sugar if that's what you have on hand, or omitted entirely. It does help balance the flavor of the rub and encourages browning on the outside of the Prime Rib
*

Photo

by

Kansas City Steak Company

licensed under

CC BY-SA 2.0