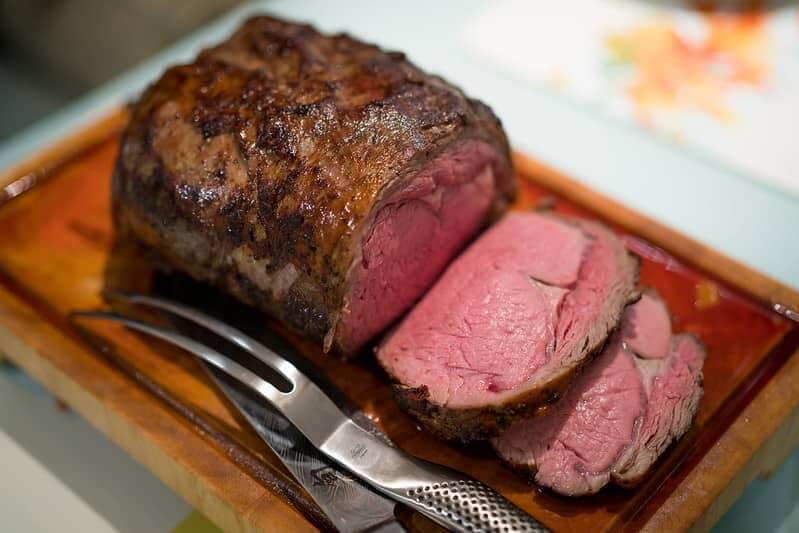 Learning how to cook Prime Rib can feel a little intimidating. It's a relatively large cut of beef and can come with a hefty price tag due to its value. But there's no need to worry about wasting anything with the right cooking method. You'll learn quickly how to prepare this classic roast on your very first try when using the right method. Get the tender meat, rare to medium doneness, and impressive appearance that you need for a special holiday or anniversary dinner.
What is Prime Rib?
The Prime Rib is a section of rib bones and the beef that covers them, specifically the 6th through 12th ribs of the cow. Including 7 rib sections in the roast creates quite a substantial piece of meat that can generally serve 12 or more people. This piece of meat is also known as the standing rib roast, especially when it's cooked so the bones are raised at the top of the beef. Since the muscle tissue is well-marbled but somewhat exercised, it needs to be cooked with care so it remains tender and juicy while getting a delicious sear on the outside of the meat.
What to Know When Buying Prime Rib
For a bone-in roast, you'll want about 1 pound of beef per person. Boneless roasts only need to provide 8 ounces of meat per person. Look for a well-marbled piece of beef no matter the cut. Boneless Prime Rib roasts are also commonly called rolled rib roasts, especially if they've been bound with butcher's twine to keep them compact and easy to slice. If only the center part of the Prime Rib cut is trimmed away, it's known as the rib-eye roast. No matter which type of rib roast you choose, you'll get good results with a slow-and-low cooking process.
Bone-in or Boneless Prime Rib
If you choose a boneless rib roast, you may want to add some fat in the form of bacon draped over the surface to add richness as it cooks. It is easier to slice, but some people feel it has less flavor than the original bone-in roast. When learning how to cook Prime Rib for the very first time, you'll likely find the whole bone-in cut more forgiving due to the extra fat and the heat mediation offered by the large rib bones. The meat will cook slowly but evenly with less chance of drying out, which is always a concern when cooking boneless cuts of beef.
Different Methods of Cooking Prime Rib
You can grill Prime Rib if you like, but it's an advanced method best left to when you're more experienced with this cut of meat. For the most precise control and practice for beginners, start with the oven. Roasting in the oven is easy no matter the weather or where you live as well.
Cooking Prime Rib in the Oven
As long as you have a full-sized oven with accurate temperature controls, you have the best tool for creating a juicy and flavorful Prime Rib. It's easier to control the cooking process with the oven than with the grill or smoker, making it ideal for beginners who want good results on their first try. It's easy to move from the stovetop to the oven during the searing step as well. You'll want a large, heavy-duty metal roasting pan for this step, especially if you want to capture the juices from the roast for au jus sauce or gravy.
Cooking Prime Rib on the Grill
The grill can also transform raw beef into a tasty, richly flavored Prime Rib roast. For best results, you'll want to use a larger charcoal grill that gives you more distance from the heat or a precisely controlled propane grill. Either option will allow you to keep the temperature relatively low so the meat doesn't dry out or overcook. This cooking method helps the fat cap on top best penetrate the meat and crisps up the exterior, so it's worth trying once you're confident with your skills.
Cooking Prime Rib in Smoker
Using a smoker is in many ways even easier than a grill when it comes to Prime Rib. Smokers already offer slow and controlled heat by design, so they run less of a risk of overcooking the meat. Since the roast is nice and thick, you'll need an extended cooking time and may have to refresh the water tray and chips or pellets over the course of the process.
Cooking Prime Rib in Crockpot
If you're limited to indoor appliances only and don't feel like heating up the oven, consider using a crockpot or slow cooker. You won't get quite as much browning or flavor, but the meat will remain juicy and it's easy to check the temperature often to hit the perfect level of the rare pink center. Consider searing at the end of the cooking process when using the crockpot.
How to Season Prime Rib for Best Flavor
The Prime Rib is best kept dry and not marinated or wet-brined before cooking. Due to its density and size, most liquid ingredients won't penetrate far anyway. Instead, focus on adding flavor to the exterior with rubs. Herb crusts with black pepper, granulated garlic, and a wide range of dried herbs are highly popular. For the simplest seasoning that lets the meat's flavor shine, try just black pepper, salt, and minced garlic.
Tips to Perfect Prime Rib
It's all too easy to overcook this cut of meat if you don't have a high-quality meat thermometer. An instant-read no-touch model is worth investing in before you spend quite a bit of money on a large beef roast like this one. When learning how to cook Prime Rib, err on the side of taking the meat out early since it's easier to return it to the oven or grill for a few more minutes than it is to make up for overcooking it.
Prime Rib Recipe
Ingredients
1 Prime Rib roast, 12 to 15 lbs
3 tablespoons of Kosher salt
3 tablespoons of cracked black pepper
2 tablespoons of powdered garlic
1 tablespoon of onion powder
2 teaspoons of dried rosemary, whole
2 teaspoons of oregano
1 teaspoon of marjoram
1 teaspoon of dry thyme leaves
½ teaspoon of dry sage, powdered
¼ teaspoon of bay leaves, powdered
Instructions
1. Mix all of the dry ingredients together. Take the Prime Rib out of the refrigerator and let it stand for up to 4 hours on the counter to come to room temperature. Use a sharp knife to remove the silverside near the bones if desired, and trim the fat cap if it is thicker than 1 inch.
2. Preheat the oven to 275 degrees F or your grill or smoker to 225 degrees F. Rub the Prime Rib with the seasoning mix, patting it dry if it is too damp. Tie with twine if desired.
3. Place in a roasting pan on a rack with the fat side down and roast for 120 minutes, uncovered, in the oven. On the grill, give the roast an hour with the fat side down. Then flip the roast so the fat is on top and roast it for approximately 1 hour. Begin checking the temperature around that time, aiming for a temperature of around 115 degrees F.
4. Turn the oven or smoker up to high heat, around 450 degrees F, for the last 15 minutes to develop a crust. Remove the meat from the oven or grill when the internal temperature reaches 130 degrees F.
Notes
You can aim for 125 degrees F if you want a rarer roast, but thicker pieces of meat may be too rare at that temperature. Check around the 45-minute mark to make sure you don't overcook the meat.
Conclusion
Take your time when learning to cook Prime Rib and you'll be satisfied with your results, especially if you start with a premium cut of beef from Chicago Steak Company.
Prime Rib
Ingredients  
1

12-15lbs

prime rib roast

3

tbsp

kosher salt

3

tbsp

cracked black pepper

2

tbsp

garlic powder

1

tbsp

onion powder

2

tsp

dried rosemary, whole

2

tsp

oregano

1

tsp

marjoram

1

tsp

dried thyme leaves

1/2

tsp

dry sage, powdered

1/4

tsp

bay leaves, powdered
Instructions 
Mix all of the dry ingredients together. Take the Prime Rib out of the refrigerator and let it stand for up to 4 hours on the counter to come to room temperature. Use a sharp knife to remove the silverside near the bones if desired, and trim the fat cap if it is thicker than 1 inch

Preheat the oven to 275 degrees F or your grill or smoker to 225 degrees F. Rub the Prime Rib with the seasoning mix, patting it dry if it is too damp. Tie with twine if desired

Place in a roasting pan on a rack with the fat side down and roast for 120 minutes, uncovered, in the oven. On the grill, give the roast an hour with the fat side down. Then flip the roast so the fat is on top and roast it for approximately 1 hour. Begin checking the temperature around that time, aiming for a temperature of around 115 degrees F

Turn the oven or smoker up to high heat, around 450 degrees F, for the last 15 minutes to develop a crust. Remove the meat from the oven or grill when the internal temperature reaches 130 degrees F
Notes
You can aim for 125 degrees F if you want a rarer roast, but thicker pieces of meat may be too rare at that temperature. Check around the 45-minute mark to make sure you don't overcook the meat
*photo by Hanshen licensed under CC BY-SA 2.0