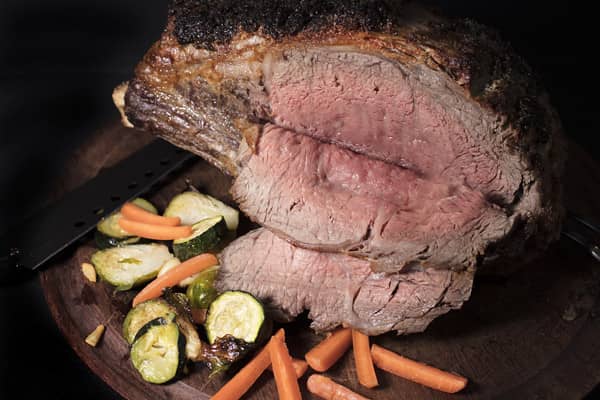 At Chicago Steak Company, we enjoy educating others on cooking different types of steak meals right in their kitchen because there's simply no substitute for a good, home-cooked meal. 
This guide is all about the ribeye roast, cooked to medium rare in the oven. Yes, this roast takes longer than other steaks to cook, but its tender, juicy, and flavorful results are well worth the wait. Continue reading to learn how to prepare, cook, and store a ribeye roast for the family to enjoy. 
Preparing Ribeye Roast for the Oven
To prepare a ribeye roast for oven cooking, you'll first need to remove the roast from the refrigerator and season it generously with salt. Leave the roast at room temperature for 30-45 minutes before you start cooking it. Once its resting time is up, preheat the oven to 500 degrees. 
As the oven heats, move the roast to a shallow baking dish and season it with your choice of seasoning mix or a rub. Work the seasoning into the roast by pressing it gently into the meat with your fingertips. Once the oven is ready, place the roast into the oven on the middle rack. Follow the recipe below for cooking details.
Oven Cooked Ribeye Roast Cooking Time
Ribeye roast comes in various sizes, usually anywhere from small three-pound roasts to heftier portions of six pounds or more. Obviously, roast cooking times vary significantly based on their size, as thicker roasts can take as much as an hour or longer to cook than a smaller ribeye roast.
The best rule of thumb when determining the cooking time for your ribeye roast is to assume you'll need about 20 minutes per pound. So, a three-pound roast takes about 60 minutes, while a six-pound roast doubles that to 120 minutes. Your oven and cooking temperature may vary these times slightly, but this is a helpful rule to use to get an idea of how long your roast needs to cook.
Ribeye Roast Cooking Time Chart
Ribeye roast cooking time varies by size and doneness level. Here's how long to expect your roast to take for each level, assuming you have a 3-4 pound roast.
Rare: 50-70 minutes
Medium Rare: 70-90 minutes
Medium: 80-100 minutes
Medium-Well: 90-110 minutes
Well-Done: 100-120 minutes
Oven Cooking Tips for Ribeye Roast
There's not much you need to do with ribeye roast while it cooks to get excellent results. Instead, avoid opening the oven more than necessary to check on your roast. If you have one, use an in-oven thermometer to check the temperature without opening the oven door.
Some people like basting their roast a couple of times while cooking. This isn't necessary, but you can certainly do it if you'd like. Use garlic butter or a small amount of olive oil to brush along the top of the roast 2-3 times as it cooks.
Finally, remember to cook the roast with the fat side up, as the fat renders down during cooking to absorb into the meat for flavor and tenderization. 
How to Season for Best Flavor
Must-have seasonings for ribeye roast include salt and black pepper. Salt the roast 30-45 minutes before cooking it, ensuring that you get salt on all sides. Leave the roast at room temperature to rest. Then, just before cooking, sprinkle black pepper and your other favorite seasonings on all sides of the roast. If using multiple seasonings, like Italian seasoning, garlic powder, and minced onion, stir them together first before seasoning the roast.
Do You Cook It Covered or Uncovered?
It's best to cook a ribeye roast in the oven uncovered to help the outside crisp. Then, after cooking, cover the roast with aluminum foil loosely to keep the heat inside as it rests. This allows the meat to continue cooking slightly and stay warm during the resting process.
Check the Temperature Accurately
Ribeye roasts are thick, so it's nearly impossible to tell if your roast is cooked enough in the middle by using your sight alone. Instead, rely on a meat thermometer to help. Insert the thermometer's probe into the thickest part of the roast, leaving it in place for several seconds until the temperature reading remains constant. For medium-rare, the final temperature should reach 130-135 degrees. Remember: Your roast cooks more as it rests, so it may only reach 120-125 degrees right out of the oven. As long as it's 130-135 degrees after resting, it's cooked to medium rare.
Rest Meat Before Carving
It's crucial to let ribeye roast rest for 10-15 minutes before you slice it to eat. The resting process gives the meat more time to cook without being in direct heat. During this time, the meat soaks up juices it loses while cooking, boosting its overall flavor and texture. To rest ribeye roast, place a sheet of aluminum foil over the roast, tented loosely. Then, wait up to 15 minutes before slicing the roast against the grain.
What To Serve With Ribeye Roast
Several sides pair well with ribeye roast, whether you want a bold, savory side or something a bit lighter and fresher. A classic side is garlic mashed potatoes, but you can also drizzle a small amount of olive oil and sprinkle seasonings on petite potatoes to make roasted potatoes in the oven alongside your roast. 
For lighter fare, consider flavorful vegetable sides like green beans almondine or a Mediterranean chickpea salad. A wedge salad, sauteed mushrooms, and roasted parmesan asparagus are also good options. 
Ribeye Roast Recipe
Try this easy-to-follow recipe to learn how to cook ribeye roast in the oven. 
Ingredients
3-6 pounds of USDA Prime ribeye roast
2 tsp salt
1 tsp black pepper
2 tsp garlic powder
2 tsp Italian seasoning
Instructions
Salt ribeye roast on all sides. Leave at room temperature for 30-45 minutes.
Preheat the oven to 500 degrees.
Place the roast in a shallow baking pan and season with pepper, garlic powder, and Italian seasoning.
Cook for 10-15 minutes before lowering the heat to 325 degrees. Cook until the roast reaches your desired doneness level, usually about 20 minutes per pound.
Remove the roast from the oven. Tent it loosely with foil as it rests for 10-15 minutes before slicing.
Storing leftovers
Store leftover ribeye roast in the refrigerator for three to four days. To keep it as fresh as possible, keep the roast in an airtight container. If you have a lot of your roast left, slice it first before storing to help it cool down quickly to reach a safe food storage temperature. 
Not sure if you'll eat your leftover roast within four days? Freeze it instead. Slice the roast and add it to vacuum-sealed freezer storage bags. Lay the bags flat in the freezer to store them for about four months.
Conclusion: Cooking Ribeye Roast in the Oven
We hope this guide inspires you to try cooking oven-cooked ribeye roast yourself. With the right, high-quality roast, you'll have some wiggle room to explore the cooking process and learn the right timing for your roast and oven. To ensure that you get a roast that will lead you to success, consider ordering a rib roast from Chicago Steak Company. We offer dry-aged or wet-aged USDA Choice or Prime rib roast for you to enjoy, with quick delivery to your home.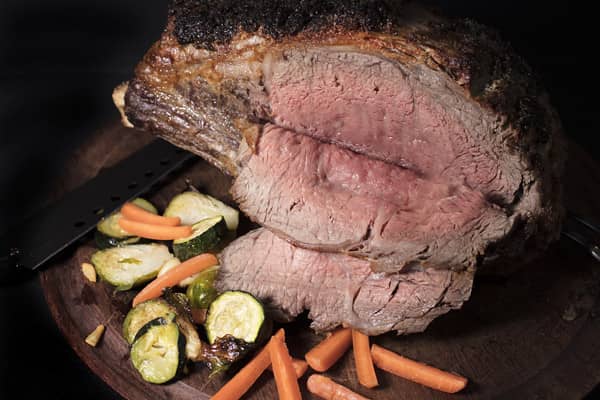 Oven Cooked Ribeye Roast
Ingredients  
3-6

lbs

USDA Prime Ribeye Roast

2

tsp

salt

1

tsp

black pepper

2

tsp

garlic powder

2

tsp

italian seasoning
Instructions 
Salt ribeye roast on all sides. Leave at room temperature for 30-45 minutes

Preheat the oven to 500 degrees

Place the roast in a shallow baking pan and season with pepper, garlic powder, and Italian seasoning

Cook for 10-15 minutes before lowering the heat to 325 degrees. Cook until the roast reaches your desired doneness level, usually about 20 minutes per pound

Remove the roast from the oven. Tent it loosely with foil as it rests for 10-15 minutes before slicing