Boston.  You can't say the name of this East Coast powerhouse of tradition and history without the signature inflection that's less of an accent and more rite of passage for long time Boston residents.  That tendency towards tradition and the embracing of the proud heritage of one of the oldest cities in the nation spills over into the wide variety of available gourmet food options in this metropolitan powerhouse.  And while we have nothing against seafood (we're looking at you Boston chowder), at Chicago Steak Company we feel it's steakhouse, that icon of American cuisine, that truly reflects upon a city's gourmet scorecard.
We scoured the city, from the Back Bay to Beacon Hill and to Dorchester and beyond, to find not only the good dining options for meat lovers, but the best steakhouses around.  Dry aged beef, so flavorful and juicy it could start a rebellion, was enjoyed.  Fork tender filets that would have made puritan's weep were sampled.  There may not have been any tea spilled, but there might have been tears of joy spilled over a porterhouse or two.  In short, we sampled the best that Boston has to offer when it comes to steak and are ready to share our meaty results.
Methodology
When preparing our list of top ten Boston steakhouse restaurants we used the "Chicago Steak Company Method", applying our own high standards, first and foremost, weighting the scores heavily in favor in those who source only the finest quality beef.  Selection of available cuts and variety of sides and accompaniments were our next highest factors.  Finally, we took into consideration the fine details such as ambience, reputation and service.  To break the inevitable close call between these fine establishments we applied the subjective yet all important "Would We Take a First Date Here" test; a time-honored method for evaluating any potential gourmet dinner meal.  What we came up with was a list of 10 of the best Boston steakhouses, with five more that were so good they deserved a nod to their beefy wonders on our honorable mentions list.
If the list overwhelms and impresses you the variety of available steak dining options in the east coast marvel that is Boston, you aren't alone.    While we may have ranked our preferences, you certainly can't go wrong with a dinner night out at any restaurant that made the list.
Boston's Top 10 Steakhouse Restaurants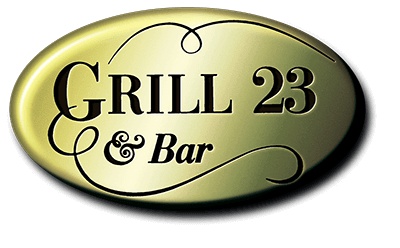 1.    Grill 23
Address: 161 Berkeley St. Boston, 02116
Dry Aged Beef: Yes
What to Order: 100 Day Aged Prime Rib Eye
The Breakdown:  You know the old saying that goes few things in life are certain, except death and taxes?  Well, when it comes to Boston's top steakhouse restaurants, Grill 23 and Bar can "certainly" be added to that classic idiom.  For over 30 years this swanky establishment has been serving up the best in USDA Prime gourmet beef to locals and visitors alike and has racked up the awards and acclaim in the process.
Consistently voted Boston's best steakhouse, a quick perusal of the menu leaves no doubt as to the bonafides of the meat-lover's paradise.  From multiple cuts of tender Wagyu beef to American Kobe Cap steak to the funky, nearly herbaceously meaty 100 Day Aged Prime Ribeye, there's certainly something for steak lovers of all specialties.  While the beef is served a la carte, bring your appetite as the seasonal and locally sourced ingredients that make up the sumptuous sides are nothing you'll want to pass up.

2.    Mooo Restaurant
Address: 15 Beacon St. Boston, MA 02108
Dry Aged Beef: Yes
What to Order: Del Terruño Ribeye
The Breakdown: It takes a healthy sense of humor to name your high-end steak restaurant after the noise you'd expect from an Old McDonald nursery rhyme about what sound do cows make.  Have a meal at this Beacon Hill go-to spot for steak and you just may be braying for joy too.  Located in the XV Beacon hotel, the modern décor and central location to the capital building means a table is a perfect spot to see and be seen by some of Boston's political elite.
While the ambience is great, it's the steak that you need to experience.  Dry-aging is the restaurants focus and it shows in bite after meaty bite of their porterhouse, rib-eye, NY strips and more.  For culinary enthusiasts, try out the Del Terruño Ribeye sourced directly from the famed beef country of Brazil.  Being Boston there's seafood on the menu too, of course, but it's the beef that will keep you coming back time and again to this staple.

3.    Boston Chops
Address: 1375 Washington St Boston, MA 02118
Dry Aged Beef: Yes
What to Order:  Any Selection From the "Rarely Celebrated" Menu
The Breakdown:  It takes a steakhouse that truly appreciates the unique qualities of fine, USDA Prime Beef to make the top of our Top 10 Steakhouses list.  Boston Chops is certainly that and more.  With its "tongue to tail" philosophy of dining, adventurous eaters will be rewarded by everything from braised oxtail to sweetbreads to perfectly roasted bone marrow.
All of the traditional dry-aged meaty favorites also grace the menu of this sleek and stylish restaurant.  Pull up a chair, take in the elegant and clean décor and prepare yourself for a once in a lifetime meaty feast at this praise-worthy Boston up-and-comer.
4.    Abe & Louie's
Address: 793 Boylston St, Boston, MA 02116
Dry Aged Beef: Yes
What to Order: Prime Rib
The Breakdown:  If the beef served up in Boston's elegant Abe & Louie's steakhouse has a familiar appeal to Chicago Steak Company loyalists its good reason.  All of this Boston staple's beef is sourced from the heart of the Midwest and is nothing less than USDA Grade Prime cuts of meaty goodness.  Dry-aged to perfection, each cut is perfectly cooked to exacting standards and accompanied by tasty steakhouse favorites for sides.
A large part of the allure of this gourmet establishment is the ambience.  Wood paneling and plush leather booths surround warm fireplaces that look perfect for fighting off a cold Nor'easter breeze.  As for service, when it comes to beefy knowledge, the waiters at Abe & Louie's are hard to beat.
5.    The Capital Grille
Address: 900 Boylston St. Boston, MA 02115
Dry Aged Beef: Yes
What to Order: Dry Aged Porterhouse
The Breakdown:  For those looking for familiarity and comfort no matter where they may travel, few steakhouse chains can beat the quality and consistency of the Capital Grille.  While Boston is home to three locations, the Boylston St. venue is our favorite for ease of accessibility to some of Boston's greatest sites.
Try out the dry-aged porterhouse if you're feeling particularly hungry.  A steak sized for two, it pairs perfectly with the classic sides and modern cocktails.  A great spot to spend happy hour after a long day at the office.
6.    The Bancroft
Address: 15 3rd Ave, Burlington, MA 01803
Dry Aged Beef: Yes
What to Order: Tomahawk Rib Steak For Two
The Breakdown:  It may be a bit out of the way from downtown Boston, but the ambiance and exceptional attention to detail when it comes to the food makes this new addition to the Boston steakhouse scene a must-do.  Handmade seasoned salts are the only flavoring you'll need on the USDA prime beef that's served up table-side to eager diners.
As for the venue, soaring ceilings with wrought iron and glassworks provide a unique backdrop for a romantic dinner or private gathering.  A steakhouse after our own Chicago Steak Company hearts, the Bancroft pays attention to the small details which can make or break a good steak experience.
7.    Flank
Address: 74, Tower Rd Waltham, MA 02451
Dry Aged Beef: No
What to Order: The Beefsteak Meal
The Breakdown: We must admit that at the Chicago Steak Company we have a preference for beef of the dry-aged variety.  That doesn't mean that we can't appreciate a restaurant that likes to do things a little differently.  All of Flank's gourmet cuts are sourced from single family herds of Black Angus and then wet-aged to give them a signature, smooth and juicy flavor.
While the signature cuts of this gourmet steakhouse are certainly tasty, it's the beefsteak experience that needs to be experienced to be believed.  Sit back and watch as servers pile platters of sliced beef, family style, onto the elegant wooden tables.  Grab a couple of old-world cocktails and you'll feel like you're reliving the prohibition days or old.
8.    Ruth's Chris Steakhouse
Address: 45 School St, Boston, MA 02108
Dry Aged Beef: Yes
What to Order: Cowboy Ribeye
The Breakdown: Another rare chain contender on our list of Boston's top 10 steakhouses, Ruth's Chris makes the cut for not only consistent, quality steak dinners but also for the beautiful setting that can't be replicated anywhere else in the country. Located in Boston's old city hall building, the multi-sectioned dining room's charm is nearly as appealing as the USDA prime, dry-aged beef you will inevitably encounter.
Whether the Cowboy version or traditional ribeye, Ruth's Chris' well marbled steaks are well-known favorites of downtown businessmen.  Bring your appetite and your appreciation for old-world architecture to this iconic Boston steakhouse.

9.    Gibbet Hill Grill
Address: 61 Lowell Road. Groton, MA 01450
Dry Aged Beef: Yes
What to Order: Niman Ranch Hanger Steak
The Breakdown:  Another Boston area steakhouse that made our top 10 list based on standing out from the crowd, the Gibbet Hill Grill is a restaurant that needs to be experienced to be believed.  Located in a functioning farmhouse, Gibbet Hill stands proudly by the fact that it's one of the only farm to fork dining options in New England.  The produce is so fresh, in fact, that during the Summer nearly everything on the menu is sourced from the properties expansive gardens.
The meat is certainly nothing to pass up.  We'll forgive the single dry-aged beef option for craftmanship in cooking, serving and ambience.  For those visiting during daylight hours, no need to worry.  The cattle located on-site are pets and won't end up working their way onto restaurant dinner plates any time soon.
10. Bogie's Place
Address: 21 Temple Pl, Boston, MA 02111
Dry Aged Beef: No
What to Order: Grass Fed Filet Mignon
The Breakdown:  Turn off your cellphones and leave the children at home.  Bogie's Place is a serious speakeasy meets steakhouse that will leave you with timeless memories and a more than full stomach.  A full host of gourmet, USDA prime cuts of steak grace the menu of this Boston restaurant that's tucked away into the back of a bar.  For those daring enough to pull aside the curtain, tableside caviar service and a classically perfect bone marrow appetizer await.
If you are looking to impress with a quality steak meal and prohibition era style cocktails, Bogie's is certainly the Boston restaurant to beat.
Honorable Mentions
Morton's the Steakhouse
The Lowdown: A classic steakhouse chain in the heart of Boston, Morton's gets the nod for convenience of location and quality steaks and sides.  The quality décor and calm ambience from the waterfront views are surpassed only by the exceptional service.  Don't forget to try out the acclaimed wine list.
Del Frisco's Double Eagle Steakhouse
The Quick and Dirty: Del Frisco's makes the honorable mentions list for its stunning wharf and city views and wide array of seating options.  Dine on gourmet steaks from a cushioned booth or take in a warm summer daze out on the patio.  Wherever you dine, quality USDA Prime Beef awaits.
Fogo de Chao
For those with hearty appetites and a sense of adventure, Fogo de Chao is an attention worthy honorable mention for Boston's top steak joints.  This Brazillian steakhouse chain is known for making diners tap out as the refills of delicious cuts of flame grilled steak just keep on coming.
The Palm
If you're working or visiting in the financial district of downtown Boston and craving a gourmet steak dinner, chances are that you'll end up at the Palm to quench your thirst for meat.  The 20-oz. bone-in ribeye is a thing of beauty and pairs nicely with the extensive wine list.
Smith & Wollensky
In a city as large and diverse as Boston, it never hurts to have tried and true favorites for that gourmet steak dinner out.  If you're not cooking Chicago Steak Company steaks at home, this chain known for its juicy offerings to the world of beef certainly won't leave you disappointed.
The Bottom Line
If you're in the area, we hope that our list of the top 10 Boston Steakhouses has provided ample inspiration for your next meat-fueled adventure.  While seafood may be this historic east coast city's first calling, the gourmet steak dining scene is certainly no slouch.  Did we pass up your favorite Boston steakhouse in lieu of our personal picks?  Drop us a line and see if you're contender makes the cut in a future article or update to our thorough who's who of Boston Steak restaurants.  Whether porterhouses, ribeye's or a juicy and classic prime rib, if there's steak calling, the Chicago Steak Company will certainly be there to answer and feast on the finest quality beef that money can buy.