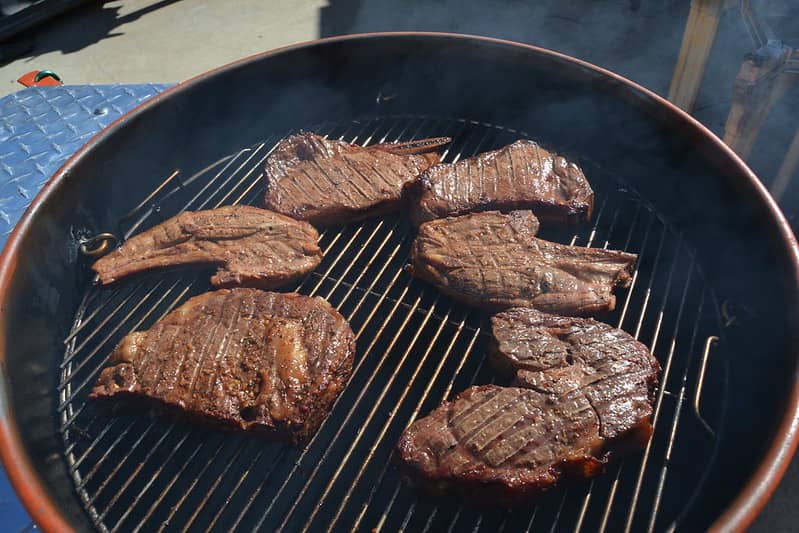 Smoking isn't just a great cooking method for ribs and chicken wings. It's also an ideal way to produce a flavorful, juicy steak that is tender without falling off the bone. That makes the smoker a tasty way to cook your favorite T-bone steak cut. Since it's a hearty cut of beef with a bone in the center to give it support and extra depth of flavor, the T-bone is a good choice for smoking. Learn the right way to handle this steak when giving it a slow and long cook with the addition of your favorite wood chips or pellets.
What Type of Smoker Should I Use to Smoke Steak?
Almost any smoker or grill will work well for smoking steak, especially the T-bone. Charcoal grills easily double as smokers when the right chips are added to the coals. Since steaks only need a relatively short smoking time, a charcoal or pellet grill can work just fine. Propane and charcoal smokers may be overkill just for steaks, but if you already own one for briskets and other big pieces of meat, feel free to use it. Pellet and electric smokers can work particularly well because they offer some of the most precise controls over both the temperature and the length of cook time. If you want a rare or medium-rare smoked steak, stick to a basic grill, pellet grill/smoker, or electric smoker.
Tips and Tricks to Smoking T-Bone
Knowing how to smoke T-bone steak will guide you in preparing the meat. Each smoker is different. Practice smoking larger pieces of meat first with any new equipment since they're more forgiving and you'll be ready to handle this task.
How to Prepare the Smoker
Check out the instructions from the manufacturer to learn the correct start-up process for your smoker. Most models, regardless of fuel type, need cleaning and filling of the water tray before you begin pre-heating it. If your model calls for soaking the wood chips before use, start that process about 12 to 24 hours before starting up the smoker.
How to Season Your T-Bone
Smoking is a flavorful cooking method that imparts plenty of its own seasoning to the meat. Since you determine the flavor by choosing a specific wood, you don't want to add a lot of marinade or seasoning to compete with the smokiness. Most grill masters call for only adding salt and pepper to season a steak destined for the smoker. For a more flavorful twist, try a barbecue or brisket rub recipe to amp up the taste.
What Temperature Should Steak Be Smoked At?
This slow and low cooking method calls for a lower temperature than you'd use in the oven. Set the smoker for around 225 degrees Fahrenheit for the best results. Even if you want your steak more well-done, you leave the steak in the smoker longer rather than turning up the heat. Using a higher temperature will only result in too much crisping at the edges and a dry texture.
How Long to Smoke a T-Bone For
The length of smoking time depends on the level of doneness you have in mind. For a medium steak, aim for around 45 minutes. Well done requires an hour to an hour and a half. Use a meat thermometer and check regularly every 10 minutes after the 45-minute mark. This allows you to catch the steak at the perfect internal temperature. A rare steak will be done at 115 degrees F, medium rare at 125 F, medium at 135 F, and 145 for medium well. It's not recommended to smoke steaks past this point due to the risk of dryness.
Smoked T-Bone Steak Recipe
Ingredients
1 T-bone steak, 1.5 inches thick or thicker
Salt and pepper to taste
High-heat oil such as avocado or peanut oil
Instructions
1. Preheat the smoker to 225 degrees Fahrenheit. Fill the water tray as much as possible and use soaked wood chips if your smoker calls for them.
2. Let the T-bone steak come to room temperature. Rub the salt and pepper on the surface, making sure you cover the sides as well.
3. Place the steak in the smoker and let it smoke at 225 degrees F for around 45 minutes to an hour. Use a meat thermometer rather than a timer to know when the steak is done to your preferred level of cooking.
4. Once the steak reaches the right internal temperature, take it out of the smoker. Heat up a cast iron skillet or grill pan, coating it with a little high-heat oil. Sear all sides of the T-bone steak for a few minutes on each side, then let it rest for 10 minutes before serving.
Conclusion
A T-bone steak can handle a long turn in the smoker because of the marbling in the meat. Make sure you choose a Choice or Prime cut to ensure a tender and juicy result.
Smoked Steak FAQs
Both are slow-cooking methods that increase the flavor of the finished steak. However, smoking adds a depth of flavor that baking just can't offer.
It depends on the thickness and the cut, but most T-bone steaks only take about 45 minutes to 1 hour to smoke.
Technically, you can safely smoke any cut of beef. However, lean cuts are more likely to turn out dry and tough, while marbled cuts like the T-bone steak are a better choice for this cooking method. A smoked T-bone should be juicy and soft.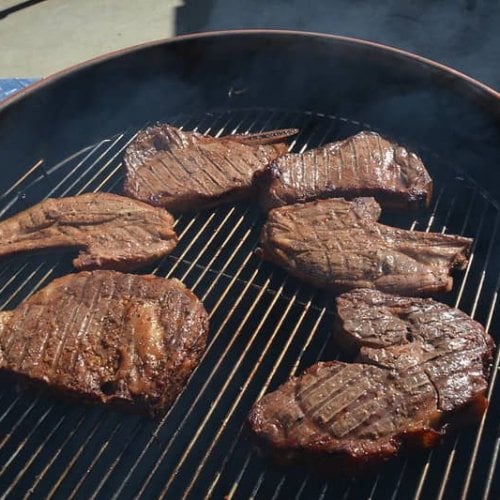 Smoked T-Bone Steak
Ingredients
1

t-bone steak, 1.5 inches or thicker

salt, to taste

pepper, to taste

high heat oil such as avocado or peanut oil
Instructions
Preheat the smoker to 225 degrees Fahrenheit. Fill the water tray as much as possible and use soaked wood chips if your smoker calls for them

Let the T-bone steak come to room temperature. Rub the salt and pepper on the surface, making sure you cover the sides as well

Place the steak in the smoker and let it smoke at 225 degrees F for around 45 minutes to an hour. Use a meat thermometer rather than a timer to know when the steak is done to your preferred level of cooking

Once the steak reaches the right internal temperature, take it out of the smoker. Heat up a cast iron skillet or grill pan, coating it with a little high-heat oil. Sear all sides of the T-bone steak for a few minutes on each side, then let it rest for 10 minutes before serving