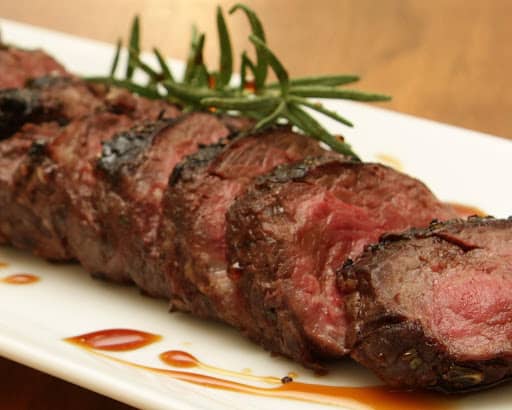 Skirt steak is a long piece of beef cut from just under the cow's rib section. It's relatively thin compared to other steaks. Unfortunately, some people quickly write it off as being a tough, chewy piece because of its appearance. While that can be true, its tenderness ultimately relies on the way you cook it.
And, contrary to popular belief, you can cook skirt steak in the oven and get juicy, flavorful results. Learn how to cook skirt steak in the oven without compromising its tender texture.
Preparing Skirt Steak for the Oven
Remove skirt steak from the refrigerator 45 minutes before you're ready to pop it in the oven. Salt the steak on both sides, rubbing the salt into the meat with your fingertips. Move the steak to the side.
About 5-10 minutes before you're ready to cook, spray a rimmed baking sheet with cooking spray and preheat the oven to 450 degrees.
Oven-Cooked Skirt Steak Cooking Time
Because of its thin profile, skirt steak doesn't take much time to cook in the oven. You also use high heat with skirt steak to get it to crisp up on the outside quickly without overdoing the middle. Expect skirt steak to take 10-15 minutes to cook in the oven, depending on how done you like your steak. For medium-rare, it should take closer to 10 minutes.
Final Temperature
The temperature chart below can help you determine when your steak is done based on your preferred doneness level. Refer to the first set of temperature ranges to know when to remove skirt steak from the oven and the second set to make sure it reaches the right temperature after resting.
| | | |
| --- | --- | --- |
| Doneness | Temperature to Remove from Oven | Final Temperature |
| Medium-rare | 120-125℉ | 130-135℉ |
| Medium | 130-135℉ | 140-145℉ |
| Medium-well | 140-145℉ | 150-155℉ |
| Well-done | 150-155℉ | 160-165℉ |
Medium Rare Skirt Steak
We highly recommend cooking skirt steak to medium-rare to avoid chewiness that can occur with higher doneness levels. To achieve it, preheat the oven to 450 degrees. Add steak to a rimmed baking sheet and place in the oven on the middle rack. Cook for 5-6 minutes until the steak becomes browned. Flip the skirt steak over and cook for another 4-5 minutes. Use a thermometer to check that the temperature reaches 120-125℉. Rest for 5 minutes on a plate tented with foil.
Oven Cooking Tips for Skirt Steak
We're almost ready to learn how to cook skirt steak in the oven. First, read through these helpful tips.
Know How to Slice It
If you plan to use skirt steak for fajitas, salad, sandwiches, or a similar dish in which thin slices of steak work best, then you'll probably want to slice the steak. Here are a few tips to keep in mind:
Let the steak cook before slicing. Cutting it before cooking can cause it to overcook quickly.
Allow the full resting period before slicing. Slicing before resting will cause the steak to lose a lot of its juices that haven't been reabsorbed yet.
Slice against the grain. To find the direction of the grain, look for the long lines running through the steak. Cut perpendicular to those.
Check Its Temperature
Skirt steak cooked in the oven can look done on the outside but not be cooked to your liking on the inside. Use a digital meat thermometer to check the temperature of the thickest part of your steak using the chart above as a guide. Remove the steak from the oven when it reaches the temperature range in the first column for your preferred doneness. After resting, it should reach the second temperature range.
Choosing the Right Cut
When it comes to skirt steak, especially, choosing a quality cut is crucial. The best skirt steak should have excellent marbling that, when cooked, renders into the meat to tenderize it. Look for Wagyu or USDA Prime cuts of skirt steak, if possible. Premium Angus is also a great option at a more affordable price.
Also, consider skirt steak labeled as either dry-aged or wet-aged. This indicates that they've gone through an aging process that helps steaks reach their optimal flavor and tenderness.
Oven Cooking Skirt Steak Instructions
Before following along with the recipe below, we suggest checking out these more in-depth instructions as you prepare for cooking skirt steak in the oven.
You might notice that, unlike a lot of other steak cuts, we don't mention searing skirt steak first before putting it in the oven. That's because its thin profile cooks quickly in the oven in high heat, which also allows the outside to crisp just like it would in a pan.
Step 1: Prepare for Cooking
Seasoning your skirt steak with salt helps it crisp in the oven. Salt your steak and leave it at room temperature for 45 minutes. During this time, the salt draws out some moisture, bringing it to the surface to mix with the salt. That moisture goes back into the steak to improve its texture while leaving just enough on the outside to help it crisp.
Spray a rimmed baking sheet with cooking spray. About 10 minutes before cooking, preheat the oven to 450 degrees. Add pepper to both sides of the steak just before cooking.
Step 2: Oven-Cook It
Transfer the steaks to the baking sheet and place them in the oven on the middle rack. Give them 5-6 minutes to cook. You should notice a golden-brown crust forming on the outside. Flip the steaks over and cook for another 4-5 minutes until a crisp crust forms.
Check the temperature of the steaks with a digital thermometer by inserting the probe into the thickest part of the meat. Use the temperature chart above as a reference.
Step 3: Rest the Skirt Steak and Enjoy
Move the steaks to a clean plate or cutting board. Place a piece of foil over the plate, loosely tented. Rest for 5-10 minutes before serving. If slicing, wait until after the steak rests; then, slice against the grain.
Oven-Cooked Skirt Steak Recipe
Serves: 2
Prep Time: 45 minutes
Cooking Time: 15 minutes
Ingredients:
Instructions:
Salt steaks generously on both sides. Leave at room temperature for 45 minutes. Meanwhile, lightly spray a rimmed baking sheet with cooking spray. Preheat the oven to 450 degrees.
Season steaks with pepper. Place steaks on the baking sheet and transfer them to the oven on the middle rack. Cook for 5-6 minutes until a golden-brown crust forms. Flip to the other side, and cook for another 4-5 minutes.
Move steaks onto a clean plate tented with foil and rest for 5 minutes.
Other Ways to Cook Skirt Steak
We love a simple oven-cooked strip steak, but these cooking methods are also excellent ways to cook this tasty cut of beef:
Skewered skirt steak
Sous vide skirt steak
Reverse seared skirt steak
Pan-seared skirt steak
Slow-cooked skirt steak
Your Guide to Cooking Skirt Steak in the Oven
If you love skirt steak, be sure to try our flat iron steak, which you can conveniently order online. Like skirt steak, you can enjoy flat iron steak on its own or sliced thinly to add to salads, sandwiches, tacos, or fajitas. Find it available in Wagyu-Kobe, Premium Angus, and USDA Prime.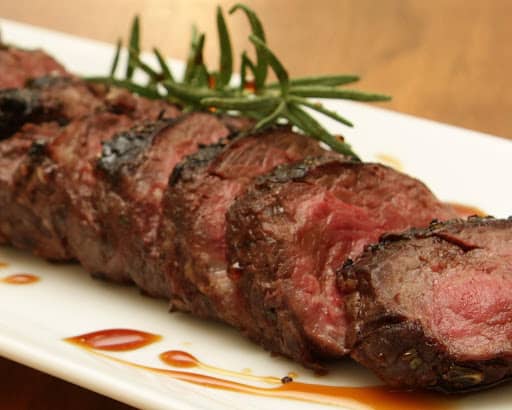 Oven-Cooked Skirt Steak
Instructions
Salt steaks generously on both sides. Leave at room temperature for 45 minutes. Meanwhile, lightly spray a rimmed baking sheet with cooking spray. Preheat the oven to 450 degrees

Season steaks with pepper. Place steaks on the baking sheet and transfer them to the oven on the middle rack. Cook for 5-6 minutes until a golden-brown crust forms. Flip to the other side, and cook for another 4-5 minutes

Move steaks onto a clean plate tented with foil and rest for 5 minutes