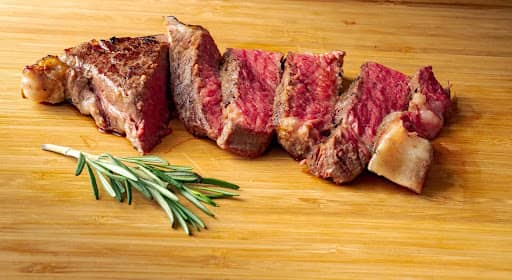 Ribeye is easily one of the most beloved types of steak, and it's easy to find a way to cook it that yields tons of flavor every time. The sous vide method isn't one of the most common to use for home cooks, but it's definitely one you should try, especially if you like saving some time and hassle in the kitchen.
Sous vide ribeye cooks in a precision cooker for a couple of hours. Then, you take a few minutes to sear it in a pan before enjoying it at your table. Learn how to sous vide ribeye like the professionals do.
Preparation for Sous Vide Ribeye
Before you cook sous vide ribeye, gather what you'll need:
Ribeye steaks
Salt and pepper
Precision cooker
Vacuum-sealing bags or sealable food storage bags (1 per steak)
Fresh aromatics, like thyme or rosemary
1 tablespoon oil or butter
Cast-iron skillet
Clean plate or cutting board for resting
Start by adding salt and pepper to both sides of the steak as you preheat the precision cooker. Then, prepare the bags by adding one steak and one or two sprigs of aromatics to each bag before sealing them.
Cooking Time
In most cases, you can cook a ribeye steak to medium-rare using sous vide in about two hours. For medium or higher doneness levels, you may need 2-3 hours. 
Final Temperature
Knowing the final temperature your steak should reach is super important for sous vide cooking, which relies on setting the water to the proper temperature to achieve your level of doneness. Here are the temperatures to follow when cooking ribeye sous vide.
| | | |
| --- | --- | --- |
| Steak Doneness | Cook Temperature | Final Temperature |
| Medium-rare | 130°F | 130°F-135°F |
| Medium | 140°F | 140°F-145°F |
| Medium-well | 150°F | 150°F-155°F |
| Well-done | 160°F | 160°F-165°F |
Cooking to Medium Rare
Set the precision cooker to 130 degrees for medium-rare ribeye. Add the steak and aromatics to a sealable bag. Seal it and place it carefully into the preheated cooker. Cook for up to two hours. Remove steak from the bag and pat completely dry. Preheat a cast-iron skillet with olive oil or butter, and sear the steak for 2-3 minutes on each side. Then, rest at room temperature on a foil-tented plate for 5-10 minutes.
Ribeye Sous Vide Tips
Before jumping into sous vide cooking, consider the following tips to cook your ribeye.
Use Aromatics
Aromatics are herbs that can enhance the flavor of your ribeye during the sous vide process. We love fresh aromatics, like rosemary and thyme, with flavors that complement the beefiness of steak. Add a sprig or two of your chosen herb to the bag with a piece of steak before sealing the bag and placing it in the precision cooker. The steak will soak up some of that flavor during the cooking process.
Don't Cook for Too Long
There are no hard and fast rules on how long to cook sous vide ribeye. The beauty of this cooking method is that you're cooking the steak in moisture on an even cooking temperature, so it's much less likely to dry out or become tough. However, there's somewhat of a sweet spot for sous vide ribeye. We suggest cooking the steak for no longer than two hours for medium-rare to avoid overcooking it or having it lose its signature chew. You can go closer to three or four hours if you'd like a higher doneness level.
Sear It After
This is completely optional, but consider searing your ribeye steak after cooking it with the sous vide method. Searing crisps up the outer edges to enhance the overall texture and flavor of the meat. Remember to rest your ribeye steak for 5-10 minutes after searing.
Choosing the Right Cut
Sous vide can really bring out the best in your ribeye. Still, it's important to choose a quality cut from the beginning to ensure you get the final results you want. 
We suggest looking for Premium Angus, USDA Prime. or Wagyu ribeye for this dish. These are steaks that yield the highest qualities of marbling, coloring, and texture. When shopping for ribeye, check the label for one of these titles.
Also, opt for dry-aged ribeye when possible. Dry aging allows ribeye to age for as long as six weeks. The aging process improves the texture and flavor of the steak, giving you the absolute highest quality steaks you can buy.
Sous Vide Ribeye Instructions
Sous vide is a cooking method that might seem a little confusing at first, but we promise that it's easy to pick up once you get a feel for your precision cooker. Follow these steps to learn how to sous vide ribeye. 
Step 1: Prepare for Cooking
Preheat your precision cooker. Use the chart above to determine the temperature to set your water bath to based on your desired level of doneness. For example, set the cooker to 130°F for medium-rare. As it heats, sprinkle salt and pepper on both sides of the steaks, being sure also to cover the edges.  
Step 2: Sous Vide Ribeye
Add steaks separately to vacuum-sealable bags. Place a sprig of thyme in each bag with the steak. Seal the bags. Lower bagged steaks into the water bath carefully, ensuring that they're fully submerged. Cook for 2-4 hours, depending on your desired doneness level. For medium-rare, we recommend no more than 2 ½ hours.
Step 3: Sear
Preheat a cast-iron skillet with one tablespoon of olive oil. Remove the steaks from their bags and pat them dry with a paper towel. Transfer steaks to the preheated skillet. Sear on each side for 2-3 minutes, flipping only once. 
Step 4: Rest and Enjoy
Remove steaks from the pan and place them on a clean plate. Tent steaks with foil and rest for 5-10 minutes before serving. 
Sous Vide Ribeye Recipe
Serves: 2
Prep time: 10 minutes
Cooking time: 2 ½ hours
Ingredients:
Salt and pepper
2 sprigs of fresh thyme
1 tbsp olive oil
Instructions:
Preheat the precision cooker using the temperature chart above for your level of doneness. Add salt and pepper to both sides of the ribeye. 
Place one steak in each vacuum-sealable bag along with a sprig of thyme. Seal the bags and place them carefully into the water bath once it's reached the right temperature. Cook for 2 hours.
Remove steaks from their bags and pat them dry on both sides. Preheat a cast-iron skillet with oil. Sear steaks on each side for 2-3 minutes.
Rest for 5-10 minutes before serving. 
Sous Vide FAQs
How long does it take to sous vide a ribeye steak?
Ribeye steak typically takes between 2-4 hours to sous vide. We recommend cooking in a precision cooker for two hours, but you can cook your steak longer if you'd like to cook it past medium-rare. Account for another 4-6 minutes to sear and 5-10 minutes to rest after cooking.
Is ribeye good for sous vide?
Ribeye is one of the best cuts for sous vide cooking because of its thickness and natural flavors. However, most steak cuts work well with sous vide, as this cooking method offers slow, controlled cooking to help steaks reach optimal levels of tenderness.
How long is too long for sous vide ribeye?
We recommend avoiding cooking steaks under 130 degrees for longer than 2 ½ hours. Doing so can cause the steak to lose some of its natural chew.
Can I sear sous vide ribeye under an infrared broiler?
Yes, you can use an infrared broiler rather than a cast-iron skillet to sear sous vide ribeye. Be sure to watch the steak closely, as it should only need 1-2 minutes to broil on each side.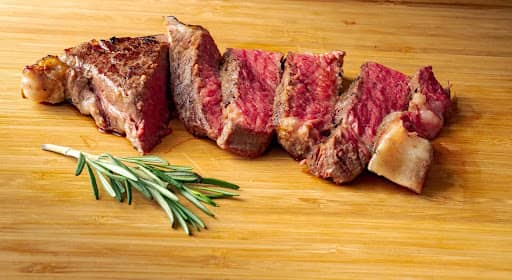 Sous Vide Ribeye Steak
Ingredients  
2

ribeye steaks

salt and pepper

2

sprigs

fresh thyme

1

tbsp

olive oil
Instructions 
Preheat the precision cooker using the temperature chart above for your level of doneness. Add salt and pepper to both sides of the ribeye

Place one steak in each vacuum-sealable bag along with a sprig of thyme. Seal the bags and place them carefully into the water bath once it's reached the right temperature. Cook for 2 hours

Remove steaks from their bags and pat them dry on both sides. Preheat a cast-iron skillet with oil. Sear steaks on each side for 2-3 minutes

Rest for 5-10 minutes before serving