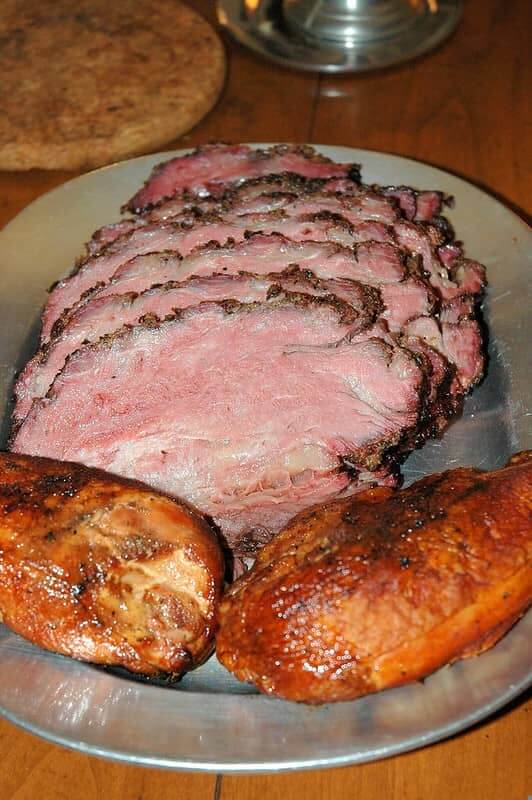 A smoked ribeye roast is an incredible addition to your weekly dinner menu. It's extremely flavorful and tender, appeasing even the pickiest eaters. And, it's definitely a showstopper if you're looking for something that perks up the senses of your guests at the dinner table. Even though it's a meal that you can practically "set and forget" until it's done cooking, smoked ribeye roast is perfect for special occasions.
Tips For Making The Best Smoked Ribeye Roast
Let it rest…twice: About 45 minutes before cooking, salt the roast and let it rest at room temperature. After smoking, give the roast another 10-15 minutes to rest before slicing, keeping it loosely covered with foil for the resting period.
Check the wood: Check your smoker every 30 minutes or so to ensure that you have enough wood chips to continue smoking the meat. Add more as necessary.
Keep the strings: Keep the strings in place as you cook the ribeye roast, as they hold the bones and meat together. You can season the meat while it's tied.
Check the temperature: Keep an eye on the internal temperature of your roast to ensure you cook it to your desired doneness level. If possible, use an in-oven thermometer to keep inserted in the meat as it cooks for easy monitoring.
How Big a Ribeye Roast Should I Buy to Smoke?
The size of ribeye roast you buy generally depends on the number of people you feed. A good rule of thumb is to buy about ½ a pound per person you'll serve. So, for example, if you plan to serve four people, you'll need at least a two-pound roast. For eight people, you need at least four pounds. This gives you plenty of meat for your meal with the potential for leftovers.
How to Prepare a Ribeye Roast for the Smoker
To prepare your ribeye roast for the smoker, season it generously on all sides before leaving it at room temperature for 45 minutes to one hour. Remember to leave the strings on the meat. Heat the smoker to 225 degrees Fahrenheit, and allow it to heat up fully before placing the roast inside.
Top Seasonings and Marinades for Smoked Ribeye Roast
Smoked ribeye roast is already full of flavor and extremely tender, so marinades aren't necessary. However, if you do want to use one, go with a mild balsamic or similar marinade that won't overpower the meat's flavor. You can also season the meat simply with salt and pepper or go a little bolder with garlic, thyme, paprika, or steak seasoning.
Best Smoking Wood Choices for a Ribeye Roast
We suggest using a hardwood oak for robust flavors when smoking ribeye roast. Top choices include hickory, mesquite, alder, and cherry. However, you can absolutely experiment with other flavors if you have a specific smoking wood you like to use. This meat pairs well with most woods.
Best Times and Temperatures for Smoking a Ribeye Roast
There is no one perfect time or temperature for smoking a ribeye roast. However, many people find that smoking the roast at a low temperature, like 225 degrees, for a longer time produces the best results. Others find that smoking the roast at a high temperature for a shorter time results in a more flavorful roast. Ultimately, it is up to the individual to experiment to see what produces the best results.
Whether you have a small or large ribeye roast, we suggest a smoking time of at least 3-4 hours. Smoking for even longer — say, 5-8 hours — can work even better if you can spare the time. The longer cook produces meat that falls right off the bone and soaks up as much smoky wood flavor as possible for the best results. When smoking ribeye roast, the winning combination is often longer times and lower temperatures.
Ribeye Roast Temperature Chart
Remove ribeye roast from the smoker when it reaches the following temperature based on your desired doneness level:
Rare: 115-120℉
Medium rare: 120-125℉
Medium: 130-135℉
Medium well: 140-145℉
Well done: 145-150℉
If you plan to broil your roast in the oven after smoking, remember to remove your roast from the smoker when it's about 5-10 degrees lower than these temperatures to allow the rise in temperature from the oven.
Setting up your Smoker for a Smoked Ribeye Roast
The way you prepare to smoke a ribeye roast depends on the equipment you use:
Vertical Smoker: Make sure the smoker is away from any other structures, leaving plenty of space around all sides. Also, ensure that the door is in an easy-to-access spot. Then, add charcoal, wood chips, or a combination of both to light your smoker.
Electric Smoker: Coat the smoker racks with oil before heating. Then, insert wood chips into the smoker's base and preheat the smoker.
Pellet Grill: Season the grill grate with oil. Add wood pellets to the bottom of the grill before preheating it.
Gas or Charcoal Grill: Use oil to season the grill grates. Light the grill and allow it to preheat to about 225 degrees while covered.
Smoked Ribeye Roast Recipe
Try this easy herbed smoked ribeye roast recipe using our bone-in heart of rib roast.
Ingredients
Ribeye roast, at least 3-4 pounds
Salt
1 tablespoon black pepper
1 tablespoon thyme
1 tablespoon sage
1 tablespoon garlic powder
Instructions
Salt the ribeye roast and leave it at room temperature for 45 minutes. Meanwhile, prepare the smoker and preheat it to 225 degrees.
Mix thyme, sage, garlic powder, and black pepper together. Sprinkle it evenly on all sides of the roast, using your fingertips to press it into the meat gently.
Place roast rib side down into the smoker. Set a timer for 5-6 hours.
Remove roast when it reaches 110-115 for medium rare.
Preheat the broiler to 500 degrees.
Place the roast under the broiler for 2-5 minutes. Check that its temperature reaches 120-125 degrees if cooking to medium rare. Otherwise, follow the temperature chart above.
Cover the roast loosely with foil and leave at room temperature to rest for 10-15 minutes before slicing.
How to Carve and Serve a Smoked Ribeye Roast
After your ribeye roast has rested for 10-15 minutes, cut the ties from the roast using food scissors. Then, slice the roast against the grain, which cuts the fibers down and leads to a tender chew with every bite.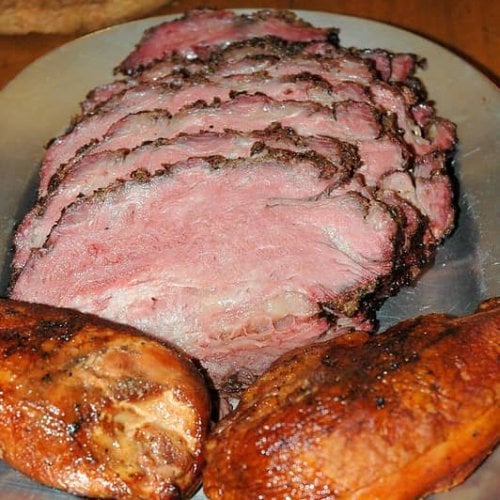 Smoked Ribeye Roast
Ingredients
at least 3-4

lbs

ribeye roast

salt, to taste

1

tbsp

black pepper

1

tbsp

thyme

1

tbsp

sage

1

tbsp

garlic powder
Instructions
Salt the ribeye roast and leave it at room temperature for 45 minutes. Meanwhile, prepare the smoker and preheat it to 225 degrees

Mix thyme, sage, garlic powder, and black pepper together. Sprinkle it evenly on all sides of the roast, using your fingertips to press it into the meat gently

Place roast rib side down into the smoker. Set a timer for 5-6 hours

Remove roast when it reaches 110-115 for medium rare

Preheat the broiler to 500 degrees

Place the roast under the broiler for 2-5 minutes. Check that its temperature reaches 120-125 degrees if cooking to medium rare. Otherwise, follow the temperature chart above

Cover the roast loosely with foil and leave at room temperature to rest for 10-15 minutes before slicing
Smoked Ribeye Roast FAQs