Salisbury steak isn't technically a steak, but more like a patty. In fact, it's similar to meatloaf but usually without as many ingredients, shaped into a patty rather than a loaf, and served with a mushroom and onion gravy. If you like meatloaf, you'll probably love Salisbury steak. This guide includes everything you need to know to make it in your own kitchen.
Why Is It Called a Salisbury Steak?
Salisbury steak is named after Dr. James Henry Salisbury, who touted the nutrition factor of minced beef patties in the 1800s. Dr. Salisbury researched the health effects of eating ground beef on soldiers during the Civil War, noting that this type of beef was easily digestible and, therefore, led to overall health. Although these claims may be disputed today, Salisbury's research was well-received, and Salisbury steak eventually became a staple on many dinner tables.
Key Elements for Salisbury steak
Salisbury steak needs a few ingredients to make it a true Salisbury steak: ground beef, eggs, breadcrumbs, and spices, especially salt and pepper. The eggs and breadcrumbs work together to bind the meat together, preventing it from falling apart while cooking. Mushroom and onion gravy tops the finished meat. It's common to make a quick, easy gravy from scratch using the browned bits left over from browning the patties.
Make Ahead Tips
Salisbury steak is a good dish to make ahead if you have some time to prepare the patties but aren't ready to cook them yet. To prepare them ahead of time, make the patties as you normally would. Then, place them in a single layer on a baking sheet lined with parchment paper. Put the tray in the freezer for 2-3 hours until the patties are fully frozen. Then, transfer the patties to an airtight container or freezer bags with a piece of parchment paper between each patty to store in the freezer for up to 3-4 months. Thaw the patties overnight in the refrigerator to cook them the next day.
You can also make the patties ahead to cook on the same day. Instead of putting them in the freezer, cover the tray with plastic wrap and place it on the bottom shelf of the refrigerator. Allow patties to rest at room temperature for about 15-20 minutes before cooking.
Salisbury Steak Recipe
If you know how to make meatloaf, you can successfully make Salisbury steak. Here's how to do it:
Ingredients
Salisbury steaks:
1 pound lean ground beef
¼ cup breadcrumbs
1 egg, beaten
1 tsp Worcestershire sauce
1 tsp salt
1 tsp black pepper
½ tsp oregano
1 tbsp olive oil
Gravy:
4 tbsp butter, split in half
1 cup sliced white mushrooms
½ cup onions, thinly sliced
2 tbsp flour
1 cup beef stock
½ cup french onion soup
1 tsp black pepper
Instructions
Preheat a nonstick skillet with olive oil.
Mix all remaining steak ingredients together in a large bowl. Form them into four oval-shaped patties.
Cook patties for 3-4 minutes on each side until the outside is crisp, flipping just once. Move to a plate tented loosely with foil.
Using the same pan, reduce the heat to medium. Add 2 tbsp of butter; allow to melt. Add mushrooms and onions, cooking until softened. Transfer to a plate.
Add the remaining butter to the skillet and allow it to melt. Whisk in flour until well combined.
Slowly pour beef stock and french onion soup into the pan, stirring frequently. Allow the mixture to come to a soft boil; then, turn the heat to low to simmer until it thickens into a gravy. Add black pepper; stir.
Stir the mushrooms and onions back into the gravy. Then, place the steaks back into the gravy, spooning gravy over each patty. Continue cooking on low for another 10-15 minutes until the steaks reach 160 degrees.
Recipe Variations
There are a few ways you can make Salisbury steak all your own by experimenting with other ingredients and additions for different flavors. For instance, adding Worcestershire sauce to the meat mixture before cooking gives the meat a brighter, bolder flavor, similar to meatloaf. You can also swap ground beef for ground turkey, ground pork, or a blend of meats, each of which adds their own unique flavor to Salisbury steak.
Switch up how you serve Salisbury steak, too, for something different. For example, serve the meat over a layer of pasta rather than mashed potatoes. Or, make a creamy garlic butter sauce to serve over the top of your steaks rather than mushroom and onion gravy.
What goes well with Salisbury steak?
Here are a few potential side dishes to consider serving with Salisbury steak:
Mashed potatoes: Mashed potatoes is one of the most popular dishes for most meals made with beef, and Salisbury steak is no exception. In fact, some people prefer to place their Salisbury steak patty over a scoop of mashed potatoes to combine the two flavors in every bite.
Italian parmesan roasted potatoes: If you're looking for a healthier potato option, try Italian parmesan roasted potatoes tossed with herbs like parsley or basil. Drizzle oil on the potatoes, along with a sprinkle of salt and pepper, before roasting. Swap regular potatoes for sweet potatoes, if desired.
Easy tossed salad: A fresh, light salad also pairs well with the bolder flavor of Salisbury steak. Toss it with a tangy balsamic or red wine dressing.
Brandy glazed carrots: Boil baby carrots until crisp-tender before sauteeing them in a mixture of butter and honey. Add brandy once carrots are tender, cooking until the liquid reduces and forms a glaze. This sweet-and-savory dish rounds out a Salisbury steak meal well.
Conclusion: Your Guide to Salisbury Steak
Salisbury steak can be an affordable meal if you're craving the flavor of beef but don't want to splurge on pricier steak. It can also be a great way to use up ground beef you might have sitting in the refrigerator or freezer, leftover from another meal. This versatile steak is fully customizable, so have fun experimenting with different additions, gravy flavors, and spices to please your palate.
Visit Steak University for more recipes, cooking tips, and suggestions of other meats to add to your cooking routine.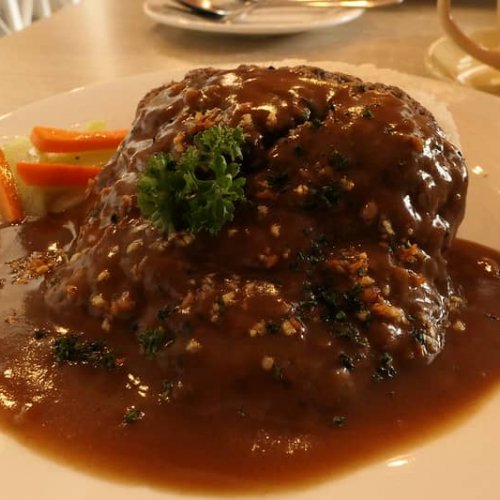 Salisbury Steak
Ingredients
For the Salisbury Steaks:
1

lb

lean ground beef

1/4

cup

breadcrumbs

1

egg, beaten

1

tsp

Worcestershire sauce

1

tsp

salt

1

tsp

black pepper

1/2

tsp

oregano

1

tbsp

olive oil
For the Gravy:
4

tbsp

butter, split in half

1

cup

sliced white mushrooms

1/2

cup

onions, thinly sliced

2

tbsp

flour

1

cup

beef stock

1/2

cup

french onion soup

1

tsp

black pepper
Instructions
Preheat a nonstick skillet with olive oil

Mix all remaining steak ingredients together in a large bowl. Form them into four oval-shaped patties

Cook patties for 3-4 minutes on each side until the outside is crisp, flipping just once. Move to a plate tented loosely with foil

Using the same pan, reduce the heat to medium. Add 2 tbsp of butter; allow to melt. Add mushrooms and onions, cooking until softened. Transfer to a plate

Add the remaining butter to the skillet and allow it to melt. Whisk in flour until well combined

Slowly pour beef stock and french onion soup into the pan, stirring frequently. Allow the mixture to come to a soft boil; then, turn the heat to low to simmer until it thickens into a gravy. Add black pepper; stir

Stir the mushrooms and onions back into the gravy. Then, place the steaks back into the gravy, spooning gravy over each patty. Continue cooking on low for another 10-15 minutes until the steaks reach 160 degrees
Salisbury Steak FAQs