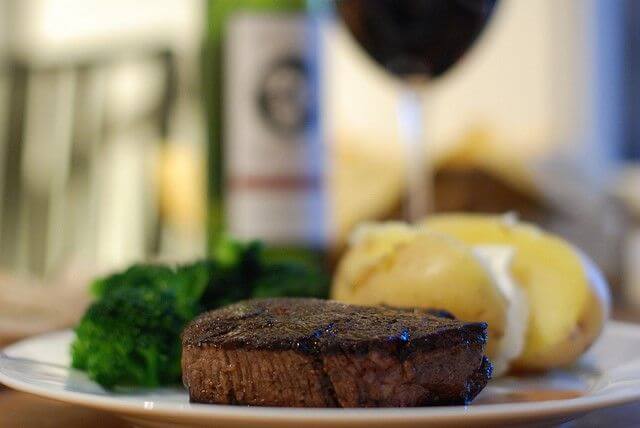 Once you get the hang of it, steak is actually one of the quickest and easiest foods to cook. Using the traditional cooking methods of grilling or pan-searing, you can cook most steaks under 20 minutes, ready for you to place on a plate and enjoy. Why throw another cooking method into the mix to learn?
The reverse sear method for steaks is one you won't want to skip if you're eating a thick steak like filet mignon. It sounds trickier than it is, so don't get discouraged. The reverse sear is an excellent way to make sure your thick filet mignons come to the perfect temperature, finished off with the most delicious sear you can imagine.
What is the Filet Mignon Reverse Sear Method?
Filet mignon is one of the thickest cuts of steak, so it can be one of the trickiest to cook. It's tough to get the internal temperature just right without having to keep poking the insides with a meat thermometer and letting the juices escape.
The filet mignon reverse sear method can take some of the guesswork out of getting the right temperature by letting the meat cook slowly to medium-rare and then giving it a sear in the skillet right before enjoying it. When you reverse the traditional cooking method of searing and then baking a filet mignon, you can get a more accurate internal temperature without risking a too-crispy outer crust.
A reverse sear gives filet mignon the time it needs to cook without drying up. A quick sear in the pan after baking delivers just the right amount of crispy crust to elevate its flavor.
Choosing the Best Filet Mignon for Reverse Seared Steak
You've decided you want to reverse sear filet mignon. Great! Your first step should be to look for the best tenderloin to find stand-out filet mignon steak that's perfect for the reverse sear method. 
The first thing you'll want to look for is coloring. Fresh, healthy filets will have a deep red color compared to ones that aren't as fresh, which will usually be paler. Preferably, you can ask the butcher to slice some filets fresh for you.
Also, check out the marbling. Filet mignons naturally have less fat than other cuts, like ribeye. However, some tenderloin steak has more fat marbling than others. You can usually tell by looking at it. Marbling is the lighter-colored strands that run through the meat. It might even give the filet an overall lighter appearance compared to others. With more fat content typically comes more flavor.
Maybe you don't want to spend time at the supermarket or butcher looking for the perfect beef tenderloin for your reverse sear steak recipe. No worries — Chicago steak company has some of the best beef tenderloin filet mignon ready to ship to your home. Order filet mignon online from us, and receive hand-cut and hand-selected filets vacuum-sealed and packed with care.
How to Reverse Sear Filet Mignon
Have we piqued your interest yet? Good! The reverse sear method is as easy to learn as the others you're used to, and it may even become your new go-to way to cook filet mignon at home. Here's how to do it.
Prepare the Filet Mignon
To begin, remove the filet mignon steaks from the refrigerator and place them on a plate. Then, pat the filet mignon steaks dry and season generously with salt. Allow to sit for 30-45 minutes at room temperature. This ensures a more even cooking temperature when you're ready to cook them and gives them a chance to brine, which results in a crispy sear.
Before cooking, spray a thin layer of cooking spray on your oven-safe pan or cast iron skillet. Place the pan in the oven while you preheat it to 250 degrees. Then, sprinkle pepper on all sides to taste. We also recommend trying out Chicago Steak Seasoning, which adds bold flavor to filet mignon.
Cook the Reverse Seared Filet Mignon
Remove the pan from the oven, add the filets, and place the pan back in the oven. Cook for 45-60 minutes. A thicker steak may need a bit more time. If desired, all a little garlic butter or olive oil on top of the filets and in the pan to keep the reverse seared steak juicy.
Check the internal temperature of each filet with a meat thermometer. The ideal cook for filet mignon is medium-rare, and for this cook, you'll want to remove steaks from the oven when the thermometer reads between 125 to 130-degrees (130 to 135-degrees for medium and about 120-degrees for rare).
Now, it's time to make reverse sear beef tenderloin. Once the steaks hit your desired internal temperature, place them on a plate tented with foil for 10 minutes to rest. Meanwhile, preheat a cast iron skillet over high heat with a couple of tablespoons of garlic butter or olive oil.
Add the beef to the heated pan. Sear steak for 2-3 minutes on the bottom side until a golden-brown crust forms. Then, flip to the other side to sear for another 2-3 minutes. If desired, hold filets on their sides to crisp up the edges too.
What To Do After Cooking Reverse Seared Filet Mignon
Your filet mignon is almost ready to dig into. After using the reverse sear method to crisp up the outside of the filets, transfer the seared steak to a cutting board or plate tented with foil. Allow to rest again for 5-10 minutes to let the steak's juices absorb back into the meat. 
Then, the choice is yours. Add a sprinkle of steak seasoning and kosher salt, if desired. Or, add a pat of herbed or garlic butter to the top of each filet just before serving. Most importantly, enjoy!
Conclusion: Reverse Sear Filet Mignon
The filet mignon is a steak cut that can go either very wrong or very right, depending on how you cook it. Since one of the most challenging aspects of cooking filets is preventing it from overcooking, you may want to try the reverse sear method to make the process a little easier. You'll also have the benefit of getting a fresh crust on the outside edges of the steak, which ups the already-tasty factor of filet mignon. Check out our Premium Angus Filet Mignon, or USDA Prime Wet Aged filets, or American Wagyu filets and order them online for home delivery!