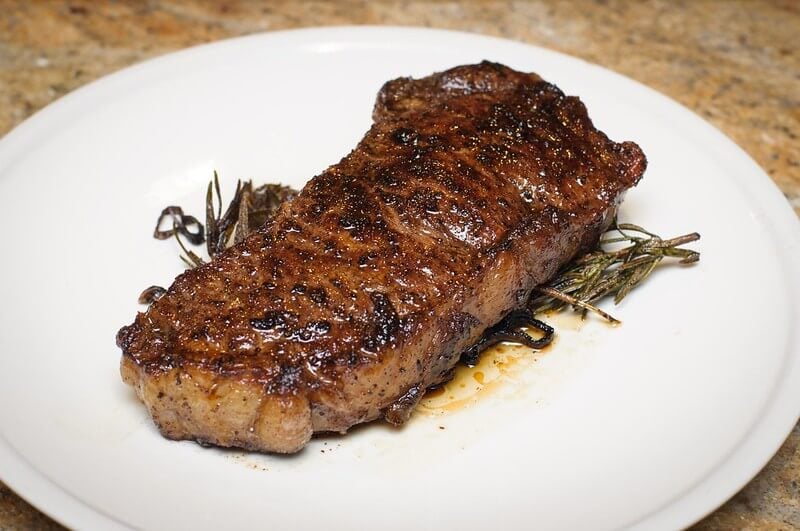 Photo by Ernesto Andrade licensed under CC BY-ND 2.0
Steak is simple. You throw it on the barbeque or in the oven, flip it over half way through, and when it's finally done cooking you cut into it and find that it's grey, chewy, and bland. You see, steak really isn't that simple, and that's why so many rave over a good quality steak.
So how do you take a good steak and make it great? Many people find that the reverse sear method is a simpler way of ensuring a perfectly cooked steak. Not sure what that means? Here are the basics:
Cooking in the Oven
Before you begin preparing, preheat your oven to 260-270° F. Next, line a baking sheet with tin foil (this will help speed up cleaning.) Then, take a grill rack and place it on top of the baking sheet. This should leave about an inch between the grill and the tin foil. Once the oven is fully heated, place your seasoned steak on the rack and put it in the oven. With an instant-read thermometer you will need to check that the steak hits an internal temperature of 130° F for medium rare. Of course, if you prefer your steak more well done, or less done, you can take the steak out sooner or later. For medium rare, it typically takes about 40 minutes. Once your steak is cooked to your preference, take it out and let it sit for 5-10 minutes. Next, in a hot (and we mean HOT) skillet, sear the steaks for one minute on each side. You should be left with a steak that has that has a tasty coating with a tender inside.
Reverse Sear Oven Instructions
1. Preheat oven to 260° F
2. Place grill rack on top of baking sheet
3. Put seasoned steaks on grill rack and place in oven
4. Cook in oven until internal steak temperature reaches 130° F, typically takes 40-45 minutes
5. Remove steaks and let sit for 5-10 minutes
6. Preheat skilled to max temperature
7. Sear each side of steak for one minute
8. Enjoy
Reverse Sear on the Grill
For grill masters (and grill amateurs) there's also a reverse sear method. Using a two-tone heat, you will need to have all the hot coals pushed to one side of the grill. Place your seasoned steak on the section of the grill that doesn't have any hot coals. Allow the steak to cook to 120° F (this is 10 degrees away from medium rare. Adjust accordingly to have the steak reach an internal temperature that is about 10 degrees short of your desired doneness.) Then, sear the steaks for one minute on each side directly over the half of the grill that has the hot coals below. Remove the steak from the grill after checking that the final internal temperature is correct, and then leave steaks to rest for 5-10 minutes. You'll be left with a perfectly cooked steak that has that charcoal crust that barbeque connoisseurs' love, with a juicy center.
Reverse Sear – Charcoal Grilling Instructions
1. Light the charcoals and move to one side of the grill when hot
2. Place seasoned steaks on opposite side of charcoals
3. Grill steaks until internal temperature reaches 120° F
4. Move steaks right on top of the hot coals
5. Sear steak for one minute on each side
6. Let steaks sit for 5-10 minutes and enjoy
The reverse sear method is a fan favorite. Not only is it fairly simple, but it ensures a perfectly cooked steak every time so that even the pickiest steak eaters will be raving with joy. One thing to keep in mind is that steaks should always be at least one inch in thickness. We have a wide range of cuts suitable for the reverse sear method that will be sure to please any palate. Check out our selection of gourmet steaks that you can cook to perfection with the reverse sear method.
To reverse sear steak for medium-rare, you'll cook it for a total of about 30-60 minutes, depending on the type of steak cut and its thickness. Most of this time will be in the oven or on the grill, while only about 3-6 minutes will be searing in a pan.
To ensure a steak is reverse seared to medium-rare, check that its temperature is 125-130 degrees before pulling it from the pan. As it rests at room temperature, it will rise about 5-10 degrees, allowing it to come to a final temperature of about 135 degrees for medium-rare.
Yes. Learning how to reverse sear steak is much like learning how to sear steak regularly, but in reverse. To reverse sear, you'll cook the steak first and sear it second. However, you'll use the same one-time flip process when searing reverse-seared steak that you would for the traditional searing method.