Photo by George N licensed under CC BY 2.0
Dig into your pantry, and you'll find everything you need to make this quick and easy steak marinade that makes the incredible, well-marbled flat iron steak even more flavorful and tender than it already is. Whip up the ingredients below in just a few minutes, marinate the steak overnight in the refrigerator, and have steak ready to cook for tomorrow's dinner. Add some baked potato and your favorite roasted vegetables for a well-rounded, healthy meal.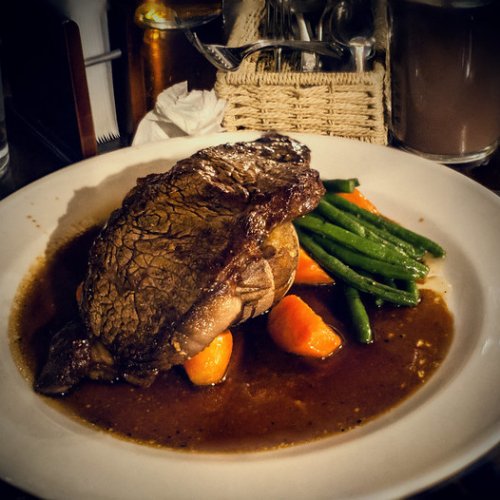 Sweet Balsamic Steak Marinade Recipe
Ingredients
1 1/2

lbs

Flat Iron Steaks

1/4

cup

Balsamic Vinegar

1/4

cup

Worcestershire Sauce

2

tbsp

Dark Brown Sugar

1

tbsp

Honey

1

tbsp

Dijon Mustard

1

tsp

Garlic Powder

1

tbsp

Minced Onion

2

tbsp

Olive Oil
Instructions
In a medium bowl, stir together balsamic vinegar, Worcestershire sauce, brown sugar, honey, Dijon mustard, garlic powder, and minced onion. If it's runny, stir in another tablespoon of brown sugar.

Put the steak in a shallow container or zippered freezer bag and pour the marinade over it so that it covers the steak. Place the container or bag in the refrigerator overnight. If you don't have that much time to spare, allow the steak to marinate in the fridge for at least one hour.

Before cooking, remove the steak from the bag and allow to sit on a cutting board at room temperature for 30 minutes.

Meanwhile, preheat a cast-iron skillet over medium-high heat with oil.

Add the steak to the pan and sear for 3-4 minutes on each side. The internal temperature should reach 135 degrees for medium-rare.

Place the steak on a cutting board and allow to rest for 5 minutes before slicing into thin strips and enjoying.
Notes
Tip: This marinade also makes the perfect steaks for steak sandwiches if you're looking to go a more casual route for dinner. Add slices of cooked steak to a toasted hoagie roll or ciabatta bread and top with onions, peppers, and mozzarella for a fulfilling, easy dinner!
Are you feeling indulgent? We have American Wagyu Flat Iron Steak in stock, too! This American-raised Kobe beef is about as tender and delicious as it gets.
You can find more recipes and cooking ideas for all our steak products over at Steak University.