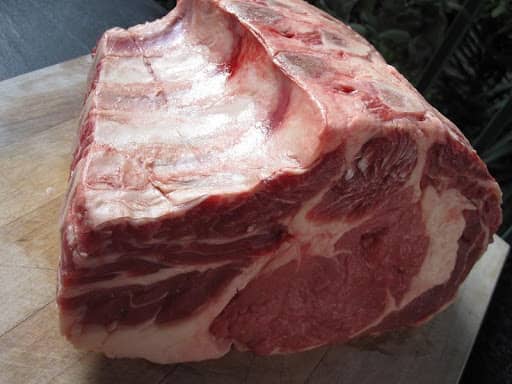 Are you torn between cooking steak and a roast? A bone-in ribeye roast combines several steaks in one, making it a good option for a family dinner. However, it is more time-consuming to cook than pan-frying individual steaks. 
This guide will explain everything you want to know about a ribeye roast and how to cook it.
What is Bone-In Ribeye Roast?
A bone-in ribeye roast comes from the rib area of the cow, which is the same part that's known for producing the tender, flavor, popular ribeye. Essentially, a ribeye steak is cut from the ribeye roast area. Like a ribeye, the ribeye roast can either be cut into a boneless roast or a bone-in roast when it's removed from the cow.
You might also know bone-in ribeye roast as its more common names: prime rib or prime rib roast. This cut results in the flavor and texture you'd expect from a ribeye steak, but because it's a full roast, you get several steaks in one. Therefore, buying a bone-in ribeye roast could be the way to go if you plan to feed multiple people. Just be warned that it will take longer to cook than ribeye cut into steaks, so be sure to have some extended time available for its preparation.
Bone-in Ribeye Roast vs. Boneless Ribeye Roast
There's also the option of buying a boneless ribeye roast. Is one better than the other? Not necessarily, but here are a few key differences you should know about them:
Boneless can be easier to carve. You won't need to navigate around the bones as you carve your ribeye roast when it's ready to serve if you choose one that already has the bone removed.
Boneless can lose its shape. Although you can keep your boneless ribeye roast wrapped in cooking twine to hold it together while cooking, you can avoid misshapen meat altogether by opting for a bone-in roast.
Bone-in takes longer to cook. Because the bone takes longer than meat to heat up, the meat near the bone typically takes longer to cook than if the bone were removed. You might need another 20+ minutes for a bone-in ribeye roast to finish.
Bone-in roast produces more tender results. The bone may take the meat longer to cook, but it also creates a barrier between the meat and direct heat, allowing the inside of your roast to remain juicy and tender. 
Different ways to Cook Bone-In Ribeye Roast
There are a few options for cooking bone-in ribeye roast, each of which yields different results and flavors. Before using any method, prepare the roast by salting it on all sides and allowing it to rest at room temperature for 45 minutes. Then, season with your choice of herbs and spices before cooking.
Bone-In Ribeye Roast in the Oven
When you think of a roast, you probably automatically think of the oven. It's true that cooking a bone-in ribeye roast in the oven is the most common method. It's straightforward and doesn't require much skill, making it a good option for a beginner to an intermediate cook who wants a simple way to cook their roast.
When using the oven, start with a high temperature of 450 degrees for a few minutes to sear the roast. Then, reduce the temperature to 325 degrees for the remainder of the cooking time.
Bone-In Ribeye Roast on the Grill
A bone-in ribeye roast tastes delicious with some smoky flavors from the grill. Whether you use a charcoal or gas grill, you can cook bone-in ribeye roast successfully. Always start by searing the roast over direct flame, followed by a longer period of cooking over indirect heat until it reaches your desired doneness level.
Bone-In Ribeye Roast in a Smoker
Use the smoker when you have plenty of time to cook your bone-in ribeye roast and want to infuse wood-smoked flavor into the meat. We recommend smoking the ribeye roast for about 3-4 hours at a temperature of 250-275 degrees.
Bone-In Ribeye Roast in a Crock Pot
If you have a slow cooker with ample space to house your bone-in ribeye roast, try it as your cooking method. Slow-cooked ribeye roast gets so tender that it practically falls off the bone. Plus, it's one of the easiest methods, as you don't need to do anything during the cooking process. A ribeye roast needs about 3-4 hours in the slow cooker if cooking to medium rare, so be sure to prepare your meal accordingly.
Bone-in Ribeye Roast Recipe
Are you ready to attempt a bone-in ribeye roast? We promise it's not as challenging as you might think. Try our oven-roasted bone-in ribeye roast recipe that you can have ready in about 3-4 hours.
Ingredients
6-10 pounds of bone-in ribeye roast
Salt
2 tbsp olive oil
Pepper
2 tbsp dried thyme
2 tbsp dried rosemary
Instructions
Remove ribeye roast from the refrigerator. Salt the roast generously on all sides, and leave at room temperature for 45 minutes.
Preheat the oven to 450 degrees about 10 minutes before you're ready to cook. Brush the roast with olive oil and sprinkle it with black pepper on all sides. Mix together the thyme and rosemary and sprinkle it on the roast.
Place the roast in a shallow baking dish with the fat side facing up. Bake at 450 degrees for 30-45 minutes until the outside begins to crisp. Then, lower the heat to 325 and continue cooking until the roast reaches 125 degrees for medium rare. Depending on your roast's size, this should take about 1 ½ to 2 hours.
Remove the roast from the oven and cover loosely with foil. Rest for 15-20 minutes before slicing and serving.
Bone-in Ribeye Roast Cooking Times
As you prepare your bone-in ribeye roast for cooking, get familiar with typical cooking times for each cooking method:
In the oven: Oven-cooked ribeye roast generally needs about 20 minutes per pound to cook to medium rare. Therefore, a 6-8 pound bone-in ribeye roast may need 2-3 hours to cook in the oven.
On a charcoal grill: A bone-in ribeye roast may need more time on a charcoal grill than in the oven, typically between 2 ½ – 3 ½ hours.
On a gas grill: Gas grills can speed up the process of cooking a ribeye roast a bit because they allow more control over the heat. Expect your roast to take 2-3 hours on a gas grill.
In a smoker: Smokers can cook a bone-in ribeye roast in about 3 hours, but you can choose to smoke the meat for 4-6 hours if you have time.
In a Crock Pot: Cook a bone-in ribeye roast in a slow cooker for 3-4 hours for medium rare. 
Measuring Doneness
Have a meat thermometer ready when cooking bone-in ribeye roast, regardless of the cooking method you choose. A meat thermometer is the most accurate way to ensure doneness. A medium-rare roast should be removed from the cooking source when it reaches 125 degrees with the thermometer inserted in its thickest part. 
Cooking Bone-In Ribeye Roast
To sum up, bone-in ribeye roast is worth considering when feeding multiple people as an alternative to buying several steaks. Simply cook the roast in the oven for a few hours while you prepare the rest of the meal, and it'll be ready to cut and serve as individual steaks. Our bone-in standing rib roast is available as dry-aged or wet-aged and USDA Choice or Prime grades, each weighing 8-9 pounds. Order today before 4 PM CST to have your order shipped the same day.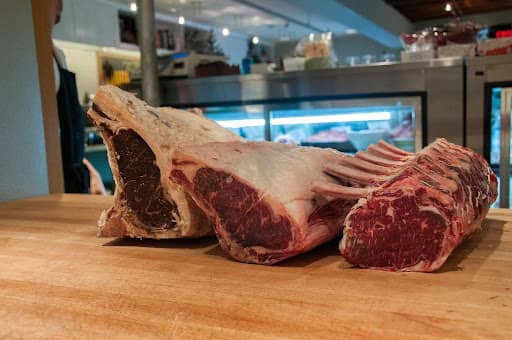 Bone-In Ribeye Roast
Ingredients  
6-10

lbs

bone-in ribeye roast

salt, to taste

pepper, to taste

2

tbsp

olive oil

2

tbsp

dried thyme

2

tbsp

dried rosemary
Instructions 
Salt all sides of the roast, and leave it at room temperature for 45 minutes before you're ready to cook

Ten minutes before the end of the resting period, preheat the oven to 450 degrees. Brush the roast lightly with olive oil. Then, sprinkle the pepper, thyme, and rosemary on all sides of the roast

Transfer the roast fat side up to a baking dish and put it in the oven on the middle rack. Bake for 30-45 minutes until the outside begins to crisp before reducing the heat to 325 degrees. Continue cooking for another 1 ½ to 2 hours until the thickest part of the roast reaches 125 degrees if cooking to medium rare

Remove the roast from the oven, and tent it loosely with foil. Rest for 15-20 minutes before slicing and serving