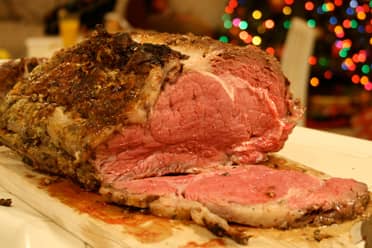 While cooking prime rib in a slow cooker or crock pot might sound uncommon to some, it is actually an amazing way to deliciously prepare this cut of steak. Slow cooker prime ribs are incredibly tender, juicy, and heavily infused with intense flavors.
So whether you're cooking for yourself or for a whole lot of guests, this slow-cooked prime rib will definitely impress everyone. In this article, we'll walk you through the steps on cooking prime rib in a slow cooker or crockpot so you can enjoy this meal quickly and at any time.
Why cook prime rib in a slow cooker/crockpot?
There are some benefits to cooking prime rib in a slow cooker or crockpot instead of traditional oven roasting. First, slow cooking breaks down tough connective tissues, which makes the meat really tender and juicy. Secondly, because the meat cooks in its juices and the rub used, it becomes intensely infused with rich flavors. Lastly, using a slow cooker or crockpot is highly convenient – just set the timer and temperature and forget it until mealtime, freeing you for more important things while the meat cooks.
Preparation:
Preparing the slow cooker
Before you start preparing the prime rib, make sure the slow cooker or crockpot is clean and ready for use. If not, just give it a thorough washing with warm water and soap. To prevent electrocution risks, completely dry it before plugging it in. Like other cooking methods, preheat before adding your prime rib.
Preparing the prime rib
Gather all the necessary ingredients, including the meat, seasonings, and whatever herbs or vegetables you'll be using. Thaw the prime rib for at least 30 minutes before you cook it, allowing it to come to room temperature.
Liberally season the meat with your preferred ingredients. Searing the meat in a skillet to get a nice crust is also an option before you transfer your prime rib to the slow cooker.
Finally, place the prime rib into the slow cooker, and add any fruits, vegetables, or additional ingredients (beef or vegetable broth or wines) you want around the meat. Set your slow cooker to the desired temperature and cooking time, and wait until it's ready to eat.
Tips and Trips to the perfect crockpot prime rib
Here are some tips and tricks you can use to get the perfect slow-cooked prime rib every time.
Make sure that your prime rib fits your slow cooker or crockpot perfectly. The general rule is that a 6-quart slow cooker can hold a 4-5-pound prime rib.
Use an easy-read thermometer to check the internal temperature. If you want it medium rare, aim for 135 F.
Rest the prime rib before you slice and serve. This will allow the juices inside the meat to redistribute so you get equally tender cuts.
Best prime rib seasonings and sauces for slow cooking
Here are some tried and tested slow cooker prime rib recipes you can follow to get the best results.
Classic Seasoning – Get that classic prime rib flavor by seasoning the meat with salt and pepper, and a blend of favorite herbs such as thyme, rosemary, garlic powder, and onion powder. If you have access to bay leaves, add some for more flavors.
Italian Seasoning – To get that sophisticated Italian twist, use herbs such as oregano, basil, thyme, and rosemary. If you want to wake up the taste buds, add garlic, onion, and a splash of balsamic vinegar.
Barbecue Sauce – Smoky, sweet, and a bit spicy, this tangy barbecue sauce packs a punch suitable for any age group. Add a dash of liquid smoke for more intense smoky flavors.
Horseradish Sauce – For a zesty and bright flavor, this horseradish sauce combined with horseradish, sour cream, mustard, lemon juice, and a pinch of salt will give your prime rib a kick that's hard to miss.
These recipes can and will transform your slow-cooked prime rib into a delicious and unique culinary masterpiece you can share with the world.
Slow-cooked prime rib with a red wine sauce
Ingredients
4 to 5-pound prime rib
2 teaspoons salt
1 teaspoon black pepper
1 teaspoon dried thyme
1 teaspoon garlic powder
1 cup beef broth
1 cup red wine
2 tablespoons cornstarch
2 tablespoons water
Instructions
Season the prime rib liberally with a dry rub of salt, pepper, thyme, and garlic powder.
Heat a large skillet or pan over high heat and sear the prime rib until browned.
Remove the prime rib from the skillet and place in the slow cooker.
Pour in the beef broth and red wine.
Cook on low for 6 to 8 hours or until the internal temperature reaches 135 F for medium-rare results.
Once the prime rib is fully cooked, remove it from the crock pot or slow cooker and let it rest.
Whisk together cornstarch and water in a small dish, ensuring no lumps.
Cook the juices from the slow cooker and the cornstarch mixture in a saucepan and bring to a simmer. Ensure you mix continuously until the sauce thickens but is not sticky or too creamy.
Serve the sliced prime rib and pour the red wine sauce on top for presentation and flavor.
Conclusion
Learning how to slow cook prime rib or any prime steak cut can be a game-changer in your home. The tender and flavorful meat slices will leave a lasting impression on your guests. Remember to start with high-quality prime rib, so make sure you source it from a trusted steak shop or order prime rib online from a reputable store. Don't be afraid to try new seasonings and sauces to make your prime rib unique-tasting and simply amazing. Whether you're a beginner or a seasoned professional, this method is perfect for elevating your home cooking. So be daring, enjoy cooking, and enjoy every single bite!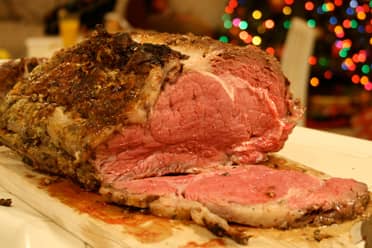 Slow-cooked prime rib with a red wine sauce
Ingredients
4-5

lbs

prime rib

2

tsp

salt

1

tsp

black pepper

1

tsp

dried thyme

1

tsp

garlic powder

1

cup

beef broth

1

cup

red wine

2

tbsp

cornstarch

2

tbsp

water
Instructions
Season the prime rib liberally with a dry rub of salt, pepper, thyme, and garlic powder

Heat a large skillet or pan over high heat and sear the prime rib until browned

Remove the prime rib from the skillet and place in the slow cooker

Pour in the beef broth and red wine

Cook on low for 6 to 8 hours or until the internal temperature reaches 135 F for medium-rare results

Once the prime rib is fully cooked, remove it from the crock pot or slow cooker and let it rest

Whisk together cornstarch and water in a small dish, ensuring no lumps

Cook the juices from the slow cooker and the cornstarch mixture in a saucepan and bring to a simmer. Ensure you mix continuously until the sauce thickens but is not sticky or too creamy

Serve the sliced prime rib and pour the red wine sauce on top for presentation and flavor