Source: rpavich licensed under CC BY 2.0
When you buy prime rib online, you run the risk of it being frozen without using quality freezing standards, or even arriving completely thawed before it reaches your home. That is, if you don't order it from Chicago Steak Company! Our standards are set so high that we'd only do to your products what we'd expect to have done for our own families. That includes a high-quality flash freezing process, quick shipping, and ridiculously delicious steaks delivered conveniently to your door after being carefully shipped the whole way. Here are a few reasons you should consider buying prime rib online from Chicago Steak Company:
1) You Know Exactly What You're Getting
When you order anything from Chicago Steak Company, you know it comes with the quality that we pride ourselves on. Our rib roast and ribeye steaks are USDA Prime certified or Premium Angus, so you'll receive only the very best cuts your money can buy. When you visit the grocery store or your local butcher, can you say the same? Once you buy our prime rib online, you'll taste the difference!
2) It's Just as Fresh as the Butcher's
When you buy prime rib online, it comes frozen, which means it can't possibly be as fresh as the local butcher's cuts, right? Wrong! If there's one thing Chicago Steak Company is known for, it's delivering your steaks and other products to you using only the best freezing methods to keep your meat as fresh as it was when it was first hand-cut from the animal. Just like our other steaks and meats, our USDA rib roast is flash frozen and then vacuum-sealed in its own juices to preserve every ounce of flavor and texture that you'd expect to enjoy. Once you thaw your rib roast, you'll notice that its freshness doesn't vary at all from what you'd get from your butcher.
3) You Can't Freeze Prime Rib from the Butcher
Just because people place their steaks in the freezer after they pick them up from the butcher doesn't mean they should. Freezing meats at home can leave them freezer-burnt because air pockets between the packaging and meats dry them out. What you end up with is steak with altered flavor and texture, and a lot of money down the drain. But our freezing process makes sure this doesn't happen. Since our rib roast is flash-frozen, it freezes ridiculously fast, leaving no room for ice crystals to form – which means it stays fresh and maintains its flavor and texture perfectly.
4) Buying Prime Rib Online is Ridiculously Convenient
Buying steak online from Chicago Steak Company couldn't be more simple. There's no reason to leave the house and make a trip to the butcher. You can find the best prime rib right on your computer and order it in just a few clicks. Do you have a special occasion coming up where you'd like to serve your guests the finest prime rib? Order from us on Monday by 4:00 PM Central time, choose Standard Overnight Delivery, and you'll get your delicious steaks at your door on Wednesday. Chicago Steak Company also has Standard and Express Delivery options if you're not in as much of a rush. It's so convenient that you can come back as often as you want for regular steak deliveries, and the whole process will take you less than 10 minutes!
Are You Ready to Buy Prime Rib Online?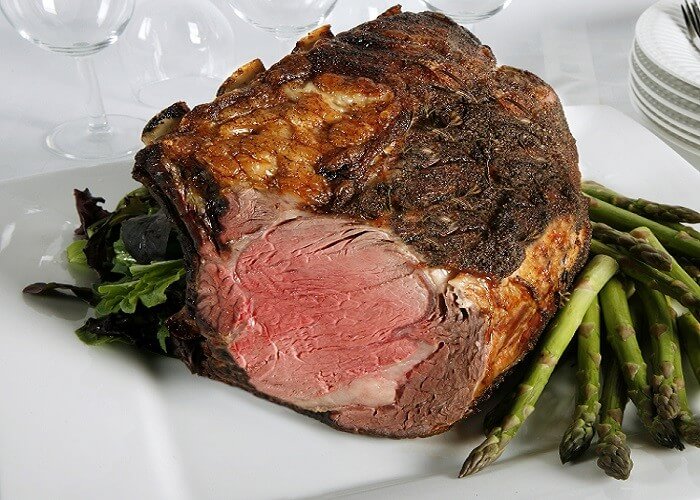 Are you ready to see why buying prime rib online is the way to go? If so, we invite you to check out our selection of USDA Prime and Premium Angus prime rib and ribeye steaks. Our steaks always arrive frozen or partially thawed and are packed in a reusable, insulated cooler that will keep them completely fresh the whole way there.