Admittedly when you think of Miami and food, gourmet steak isn't exactly the first thing that comes to mind.  Empanadas, Latin flavors, seafood and enough citrus to cure the world of scurvy are the more typical flavors you'd expect to find in this ocean-centric city.  Letting the foodie-reputation of Miami discourage you from trying out the top local steak restaurants, however, would be nothing short of beef sacrilege.
Miami is home to plenty of tasty gourmet steak restaurants, perfect for snagging a juicy, tender cut of beef when you're taking a break from your Chicago Steak Company dinner in.  From traditional steakhouses with plush leather booths to modern joints that take their flavor influences from local cuisine, if its steak you're craving there is sure to be a place to pull up a chair.  To start you out on your beef inspiration for the Miami area, we've done the hard work, compiling a list of the area's top ten steakhouses.
Methodology
When preparing our list of top ten Miami steakhouse restaurants we applied our own high standards, first and foremost, weighting the scores heavily in favor in those who source only the finest quality beef.  Selection of available cuts and variety of sides and accompaniments were our next highest factors.  Finally, we took into consideration the fine details such as ambience, reputation and service.  To break the inevitable close call between these fine establishments we applied the subjective yet all important "Would We Take a First Date Here" test; a time-honored method for evaluating any potential gourmet dinner meal, punched up by Miami's energy, music and unique cultural flair.  What we came up with was a list of 10 of the best Miami area steakhouses, with five more that earned a spot on our honorable mentions list by mere inches of meaty judgement.
The quality of the fine steak-centric establishments in the area speaks volumes about the Miami food and culinary scene.  Unique flavors, dining approaches and restaurant scenery ensure that, no matter your particular beef craving, you're sure to find a restaurant just right for your next meal.  While we've ranked our picks on our top ten Miami steakhouse list, you certainly couldn't go wrong dining at any or all of these fine establishments.
The Top 10 Miami Steakhouse Restaurants
1.    Meat Market
Address: 915 Lincoln Rd, Miami Beach, FL 33139
Dry Aged Beef: Yes
What to Order: Gourmet Meat Sampler
The Breakdown: It takes guts to emblazon the front of your restaurant with the word "Meat".  This bold statement is the culinary equivalent of throwing down the gauntlet and sets the expectations high for diners looking to chow down on the signature offering.  The Meat Market in Miami meets and exceeds these expectations, packing the menu full of beef-tastic offerings and complimentary steakhouse sides that are each only a gourmet punch up away from being classic steak restaurant fare.  The sophisticated, sleek and downright sexy décor will set the stage for your meal but it's the food that truly steals the show at this popular spot, conveniently located on Lincoln Road in Miami Beach.
Ceviche's and steak tartare dots the cold starter menu and warm appetizers are full of meaty delicacies such as escargot, sliders and lamb ribs.  If you're looking for a variety of cuts and types of beef, you've come to the right place.  The Meat Market offers everything from USDA dry-aged prime traditional steaks to quality Angus options to certified Wagyu.  If you've brought your appetite and just can't decide on a favorite, give the steak sampler a try, just be sure to add on the prime grilled bone marrow as an optional accompaniment.  With a variety of cuts and preparations all on one plate it'll be like a beefy tour that your taste buds will more than enjoy.
2.    Stripsteak by Michael Mina
Address: 4441 Collins Avenue, [Chateau Lobby], Miami Beach, FL 33140
Dry Aged Beef: Yes
The Breakdown: What to Order: If you're looking for a place to check out the wide variety of culture, personality and unique flair that is Miami while dining on the best gourmet steak dinner money can buy, look no further than Stripsteak.  Whether you're visiting or a Miami local, the location of this popular restaurant in the premiere Fountainbleau resort, is incredibly convenient.  Matching the elegant resort, the comfortable leather seats and deeply colored dining room are elegant with hints of resort style that are instantly approachable.
If you're asking what you should order, consider giving one of the seafood menu options a try, especially as a starter in tower form, with two options that are perfect for sharing with a group.  All of the restaurant's fresh and raw seafood are brought in daily from the restaurants own fishing yacht.  When it comes to steaks, the standard options are on full display.  USDA prime cuts of meat are dry-aged in house.  When its time to cook, steaks are first poached in butter then cooked up over a wood-fire flame, imparting smoky and distinctive flavors to the meat.  Wagyu in several forms also graces the menu, along with a host of potato and vegetable based sides.  Be sure to save room for desert a Stripsteak as the donuts with chocolate dipping sauce are sure to satisfy even the pickiest sweet tooth.
3.    Red the Steakhouse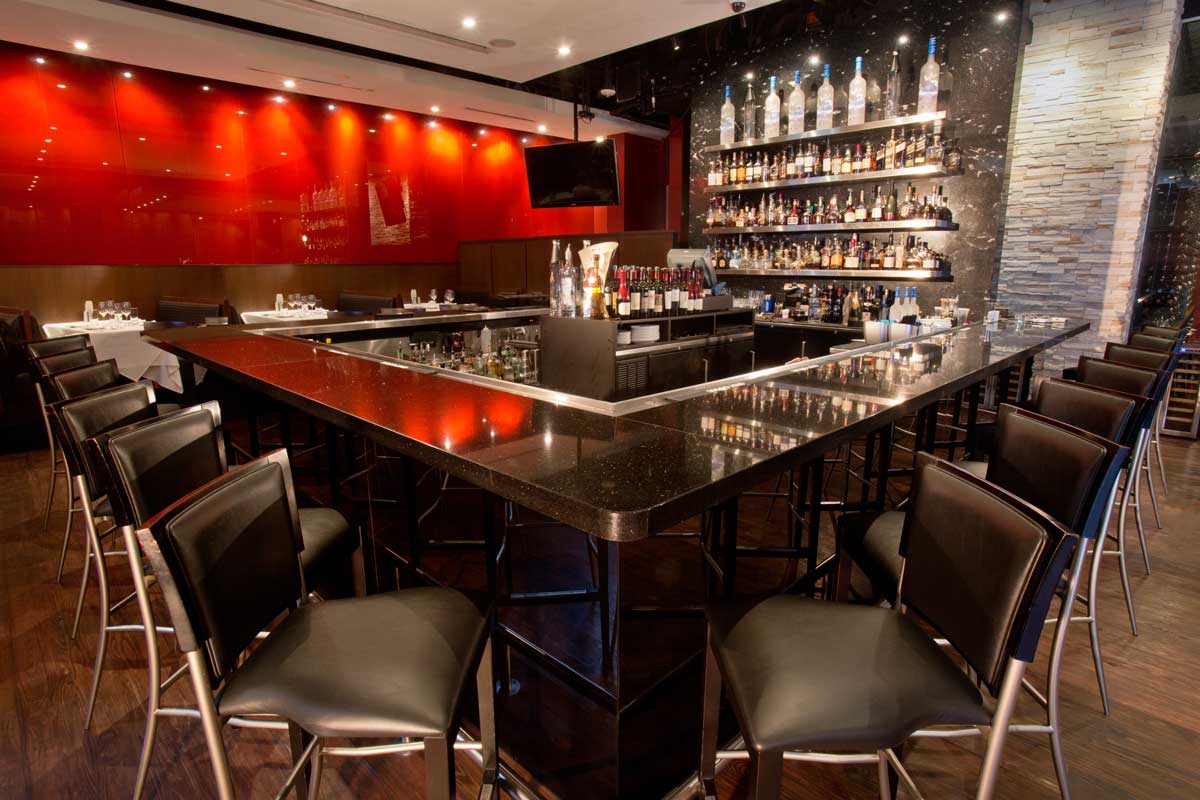 Address: 119 Washington Ave, Miami Beach, FL 33139
Dry Aged Beef: Yes
What to Order: Dry Aged Certified Angus Beef Bone-In Tomahawk
The Breakdown: It's one thing to make Chicago Steak Company's list of top ten Miami steakhouse restaurants.  It's another entirely to make the cut yearly for one of the country's best steak dining experiences.  Red the Steakhouse in Miami is on both of these prestigious lists and deservedly so.  Cleveland residents may recognize the name of this rising small-time steakhouse chain as the restaurant began its storied history in the Midwest, the perfect place to source only the best USDA Prime beef, if we do say so ourselves.
The menu at Red in Miami is loaded with steaks in all cuts and varieties and also includes a few tasty Italian dishes for those not in the mood for beef.  All steaks are C.A.B., or certified angus beef for those in need of acronym assistance, and well-marbled, juicy and grilled to perfection no matter how busy this upscale and popular restaurant may be.  While at Chicago Steak Company we're not normally big sauce fans, we highly recommend trying the chilis and garlic accompaniment on for size.  For your side dishes, wild mushrooms and a decadent risotto are our favorite picks, but that's only if you still have room in the appetite after chowing down on the massive meaty portions of your main course.
4.    Prime One Twelve
Address: 112 Ocean Dr, Miami Beach, FL 33139
Dry Aged Beef: Yes
What to Order: 14 oz. Meyer Natural NY Strip
The Breakdown: When you think of celebrity sightings hot spots in places such as Los Angeles, Hollywood or New York may come to mind.  Overlooking Miami for its people watching scene, however, would be a mistake.  One of the best spots to snag a gourmet steak dinner and take in the sights and sounds of some of Miami's most famous residents and visitors alike is the centrally located Prime One Twelve restaurant.  Located in the historic Brown's hotel, Prime 112 touts itself as the first modern steakhouse in the U.S.  While at Chicago Steak Company can't exactly vouch for that title, we can attest to the quality and inventiveness of each and every dish on this marvel of a beef-centric restaurant.
Not starting off your dinner with a tasting of the appetizer list at Prime One 12 should be a crying shame.  Deviled eggs and prime steak tartare are two of our favorites and become only more enjoyable when followed up with a tasty pre-dinner cocktail crafted by one of the experts at Prime 112's signature bar.  Each and every steak on the Prime One Twelve menu is USDA Prime Beef and dry-aged a minimum of 30 days, making this place right up the alley for fans of the best quality cuts money can buy.  If you're looking for add-ons, potatoes are available in just about any conflagration you can imagine but we're especially impressed by the sweet potato and vanilla bean mash, a desert and side all wrapped up into one.
5.    Bourbon Steak
Address: 19999 W Country Club Dr, Aventura, FL 33180
Dry Aged Beef: Yes
What to Order: Florida Grass-Fed Filet Mignon
The Breakdown: Typically, when a restaurant touts itself as contemporary, modern, sophisticated or cutting edge we tend to view the code-words with suspicion when it comes to dining on a quality steak dinner.  Modern conventions aside, there are few finer ways to enjoy a fine cut of USDA Prime, grass-fed beef than seared to perfection and flavored with little more than salt and pepper.  Bourbon Steak in Miami, however, proves our prejudices against modernity wrong when it comes to serving up plate after plate of gourmet beef.  The second Michael Mina establishment to make our Chicago Steak Company list of top ten Miami steakhouses (see Stripsteak above), Bourbon Steak certainly freshens up its flavors, preparations and accompaniments with contemporary influences but still manages to stay true to the essential beefy-goodness that is a perfectly cooked steak.
If you're still in the mood for innovation, you'll find plenty to dig into among the appetizers that start off your meal at Bourbon Steak.  Spicy Thai coconut soup and Ahi tuna tartare with Asian pear and mint both provide brand new takes on old-school steakhouse favorites.  As with any good steakhouse though, beef is king here and all menu cuts are USDA Prime, certified Angus beef or A5 graded Wagyu, ensuring plenty of options for even the pickiest of foodies in your party.  We especially love the unconventional cooking method at Bourbon which features steaks being poached in butter before hitting the wood fired grill, a decadent and tasty combination if ever we've heard of one.
6.    Christy's
Address: 3101 Ponce De Leon Blvd, Miami, FL 33134
Dry Aged Beef: Yes
What to Order: 20 oz Dry-Aged Ribeye
The Breakdown: As evidenced by our list, Miami is certainly home to some of the finest dining establishments that are redefining the classic steak dinner.  Sometimes, though, you want a taste of tradition to go along with your meal.  In the Miami area the place to hit for a gourmet steak dinner is classic steakhouse surroundings is Christy's.  With plush leather booths, dim lighting and wood paneled walls, walking through the doors of this top-tier restaurant will take you straight back to an older, quieter and simpler time.  If you think that tradition means a lack of style, flair or downright delectability, think again.
The steaks at Christy may be smaller in terms of variety but in the size and flavor department huge things await.  USDA Prime, grass-fed and dry-aged beef is the only type of beef served on the menu, and the preparations are simple but delicious. When it comes to sides, we are particular fans of the roasted cauliflower and the spicy kick of the brussels sprouts, courtesy of jalapeno aioli.  Whichever combination of steaks, appetizers and sides you may try, you're sure to have a night to remember in this classic Miami steakhouse.
7.    The Forge
Address: 432 W 41st St, Miami Beach, FL 33140
Dry Aged Beef: Yes
What to Order: 16oz Dry Aged Prime NY Strip "Super Steak"
The Breakdown: When you think of Miami's vibrant restaurant scene, few places are as iconic or as full of history as the glamorous, elaborate and over the top Forge restaurant.  What started out as an actual "forge" in the early 1920's has since morphed into one of Miami's best loved and well-known restaurants.  The recent upgrades to the restaurants interior, service and menu ensure that diners will continue to experience only the best in gourmet experiences for years to come.
While the Forge certainly tops our list of top steakhouses with its rich ambience, including fresco ceilings, marble columns and ornate seating, the food is surprisingly simple and dedicated more to excellence than showmanship.  The Forge's head chef was inspired by the farm to table movement, meaning that ingredients are seasonal and sourced directly from surrounding farms whenever possible.  The result is some of the freshest produce and juiciest steaks money can buy.  The dry-aged beef is expertly prepared and comes with an optional "rub" and a wide list of accompaniments. While we tend to like our beef simple, it's hard to pass on the duck egg and smoke bacon topper, a match made in heaven if ever we've heard of one.
8.    BLT Prime
Address: 4400 NW 87th Ave, Miami, FL 33178
Dry Aged Beef: Yes
What to Order: Cowboy Bone-In Ribeye
The Breakdown: Miami is a well-known destination for its gorgeous weather, vibrant nightlife and, of course, its sprawling resorts and golf courses.  Perhaps the best well-known of these storied venues is the Doral golf course.  Nestled in the confines of Doral's acclaimed resort walls, BLT Prime is a    steakhouse that lives up to the reputation of the surrounding venue.  Luxurious white finishes, deeply padded leather chairs and sparkling views that overlook the course all set the dining scene.  Whether a power dinner or romantic date, BLT Prime certainly has the surroundings to please a variety of diners.
The food at BLT Prime is equally on par.  Each of the menu's extensive selection of steak cuts are either USDA Prime or Certified Black Angus, the finest beef that money can buy.  The steaks are dry-aged for maximum flavor and tenderness before being grilled up at 1700 degrees and finished off with herb butter.  For those looking to punch the flavor up, there are no fewer than seven steak sauces to choose from, each complimenting and adding their unique qualities to already tasty meat.  Being Miami, there is also an extensive seafood addition to the menu, perfect for building your very own surf and turf dinner.
9.    Quality Meats
Address: 1501 Collins Ave, Miami Beach, FL 33139
Dry Aged Beef: Yes
What to Order: Seared Three Filets
The Breakdown: The name of this fine establishment speaks for itself.  When it comes to USDA Prime, gourmet beef, served up to an expert level of precision, Miami's Quality Meats has their game down pat.  Meat is the primary focus of this distinctly modern restaurant.  Cured selections make the perfect charcuterie starter and are a fine accompaniment to the house made ricotta to whet your carnivorous palette.  The steaks on the menu are all USDA Prime and aged to bring out that distinctly focused beef flavor that comes with the removal of excess moisture from the meat over time.  For a tour of steak preparations, we highly recommend the seared three filet's dish, featuring the most tender and juicy portion of the steak, barely sizzling with three different toppings to please your palette.  Founded by one of the original purveyors of Smith & Wollensky in New York, one meal at Quality Meats will convince you the chef knows his stuff.
The ambience of Quality Meats is a bit sparse and modern, with a focus on simple hanging globes and square symmetry that could have stepped out of a 70's era design magazine.  While you won't find old world charm here, the service is exceptional and the wine list extensive.  What the décor lacks is certainly made up for by the focus on gourmet beef, making Quality Meats a must-dine spot when in Miami.

Photo by Four Seasons licensed ©Four Seasons Hotels Limited 1997-2019
10. Edge Steak & Bar
Address: Four Seasons Hotel Miami,1435 Brickell Avenue, Miami, FL 33131
Dry Aged Beef: Yes
What to Order: C.A.B. Saw Cut Ribeye
The Breakdown: If you find yourself staying at Miami's posh four-seasons hotel you'll want to be sure to make a pit stop at the Edge Steak & Bar for one of the best gourmet steak meals you'll find in Miami.  Casual and modern, but still sophisticated enough to impress on that all-important date night, Edge takes the idea of the hotel restaurant to new heights.  Fries and chips are delivered in wire baskets by servers who are less stuffy than those at neighboring Miami steakhouse spots.
If the surroundings are a touch more casual, don't let that fool you into thinking the food is anything but serious business.  Locally sourced certified black angus cuts feature strongly, along with Australia selections and, of course, the delicate flavors of certified wagyu beef.  Bring a friend and mix and match cuts for a tour de force of nuanced flavor and tenderness differences between regions.  If you've managed to save room after dinner, be sure to try out one of their signature deserts (bread pudding anyone?) or one of their host of chocolates as a sweet ending to the perfect steak meal.
Honorable Mentions
Graziano's Market
The Beefy Bottom Line: Sure, sometimes you have the time, budget and energy to sit down to a gourmet steak dinner.  Other times you simply want a quality piece of steak, cooked to perfection on the go or to enjoy at home.  If you're in the mood for the latter, head on over to the meat market at Miami's own Graziano's.  Whatever the cut, your beefy tastes are sure to be satisfied with the selection and impeccable pickiness when it comes to flavor and marbling.  While you're there do yourself a favor and pick up an empanada or a dozen to enjoy as an accompaniment to your gourmet steak dinner.
STK Miami Beach
Steak and Stats: If your pace is a little more clubby, a little less traditional and staid, head on over to STK Miami.  Friday night DJ's, clubby leather booths and deep wood tones infiltrate this popular spot.  While some places may rely on their ambience to sell patrons, it's the dedication to providing quality, gourmet steak dinners, night after night, that cut through all the fuss.  STK sells itself as "not your daddy's steakhouse" and proves that sometimes that can definitely be a good thing in a meal experience.
"The Original" Shula's Steakhouse Miami
The Meat of the Matter: It's a fact that the celebrity chef craze is an oft hyped concept that rarely lives up to expectations.  When it comes to Shula's original Miami steakhouse, however, the commitment to quality steak and an upscale but approachable dining experience shines through the name to the heart of the matter.  Linen tablecloths, signature steaks and a reputation for consistency and quality, wherever the location, greet Miami guests of this praiseworthy Florida hot spot.
The Palm Miami
In Chicago Steak Company's quest for the top ten Miami steakhouses, occasionally one or two will just barely miss a spot on our main list.  Such is the case of the Palm Miami.  From its storied roots among New York City's top steakhouses, the Palm is definitely a Florida transplant.  Along with its quality steaks, the Palm also brings a certain elegance and sophistication to the Miami dining scene.  Impeccable place settings and attentive wait staff are the perfect backdrop to USDA prime, dry-aged steaks available in a variety of cuts.  Don't let the honorable mention ranking fool you, the Palm is among the best of the best when it comes to gourmet steak dinners in the Miami area.
Wolfgang's Steakhouse
Some restaurants are more than dining spots, they are like close, comfortable friend on which you can rely time after time.  With acclaimed restaurateur Wolfgang Zwiener's name on the front door, you can be sure that Wolfgang's Steakhouse is one of the top spots to grab a quality meal when only the finest in beefy selections will do.  A classic steakhouse establishment, items such as lobster and lump crabmeat cocktail dot the sophisticated menu.  For your meaty entrée, try out the Prime NY Strip for guaranteed juiciness and flavor.
The Miami Steak Restaurant Bottom Line
A true reflection of the personality and culture of the city in which they reside, the Miami steak restaurant scene speaks to the diversity you'll find in shopping, dining and people.  From Latin American inspired flavors to a host of seafood dishes that'll satisfy even the pickiest crustacean lover, we've accumulated only the crème de la crème of gourmet steakhouse dining experiences.  Think we've missed an essential spot or maybe we overlooked one of your personal favorites.  Be sure to drop us a line and maybe you're recommendation will help out future Chicago Steak Company readers connect with one of Miami's finest steak joints for their next dinner out.