Ten-gallon hats, cowboy boots, cattle ranches and that good ole southern drawl…few cities in the U.S. can lay claim to as many iconic cultural and historical traits as Dallas, Texas.  With a booming economy and year-round outdoors friendly weather it's easy to see why newcomers are flocking to the regional powerhouse of a city, bringing with them modern takes on culture, nightlife and, most importantly, the foodie scene.  Despite Dallas racing to embrace modern trends in dining, there's one meal that remains quintessentially Texas and a staple to residents and visitors alike.
The steak dinner is long rooted in Texas' ranching and cattle industries and is the meal that any Dallas restaurant worth its salt should be measured by.  While a quality slab of gourmet steak is a mainstay option in a variety of restaurants, it's the Dallas steakhouse that continues to embrace the Texas heritage of superb beefy goodness.  In fact, if you're in the Dallas area and looming for the best steakhouse experience you may be overwhelmed with the sheer number of options.  Don't worry, at the Chicago Steak Company we've got you covered.  We've done the research, scoured the city and samples the meaty fare to bring you the top 10 Dallas steakhouses that your appetite just can't afford to miss.
Methodology
When preparing our list of top ten Dallas steakhouse restaurants we applied our own high standards, first and foremost, weighting the scores heavily in favor in those who source only the finest quality beef.  Selection of available cuts and variety of sides and accompaniments were our next highest factors.  Finally, we took into consideration the fine details such as ambience, reputation and service.  To break the inevitable close call between these fine establishments we applied the subjective yet all important "Would We Take a First Date Here" test; a time-honored method for evaluating any potential gourmet dinner meal.  What we came up with was a list of 10 of the best Dallas steakhouses, with five more that were so good they deserved a nod to their beefy wonders on our honorable mentions list.
The establishments that made the cut feature a broad range of style, aesthetic and cultural influences.  Despite these differences, each Dallas restaurant adheres to Texas' time honored tradition for being one of the top producing and consuming beef regions in the country.  Feel free to check any of these fine establishments out for a representative feast of what Dallas has to offer when it comes to steak.
The Top 10 Dallas Steakhouses

Photo by Pappas Bros
1.    Pappas Bros. Steakhouse
Address: 10477 Lombardy Ln. Dallas, TX 75220
Dry-Aged Beef: Yes
What to Order: 18 oz Prime Ribeye
The Breakdown
From the moment you walk in the door you can't help but know you've stepped into steakhouse heaven in this acclaimed, Dallas gem of a steakhouse.  Forget hiding the meat in the back, the wood lined refrigerator proudly displays the wide variety of cuts and sizes of gourmet, USDA Prime beef.  Each of their cuts are also dry-aged on premises, allowing for a superb level of control over every aspect of the flavor and cooking process.
High marks are also given for the unique ambience on display at Pappas Bros.  Tall, gold decorated pillars grace cherry wood bases and elaborate carpeted floors.  You'll wonder if you've stepped back into the dinner and dancing era before being brought back to reality by the superbly prepared steaks and exceptional steakhouse sides.  And whatever you do, don't leave without trying the lobster deviled eggs appetizer.  You can send us your thanks after.

Photo by Del Frisco's Double Eagle Steakhouse
2.    Del Frisco's Double Eagle Steakhouse
Address: 812 Main Street, Fort Worth Texas 76102
Dry-Aged Beef: Yes
What to Order: Prime Porterhouse
The Breakdown
Some chain restaurants use the acclaim and selling power of their name to scrimp on quality and service.  Del Frisco's Double Eagle Steakhouse certainly doesn't fall into that mold.  Quality, USDA Prime, dry-aged steaks grace this comfortable and familiar menu along with all of the gourmet sides your heart could desire.
While the meat certainly lives up to Del Frisco's high standards, it's the ambience and décor of the North Dallas location that vaulted the steakhouse to near the top of our list.  Multi-tiered seating with elaborate woodworking and conveniently placed walls for privacy make this the perfect spot for any steak lover's celebratory occasion.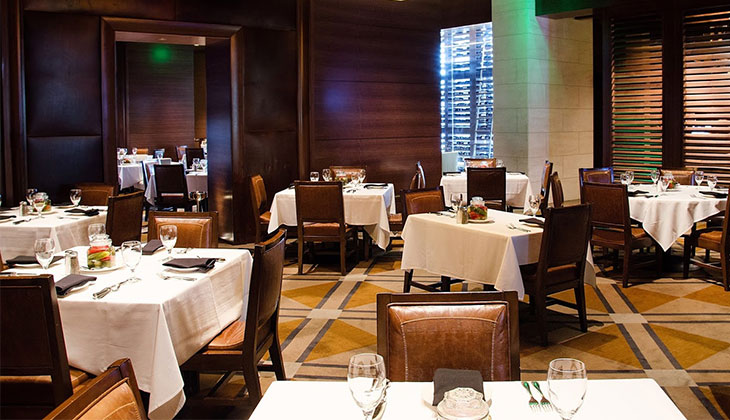 Photo by Bob's Steak and Chop House
3.    Bob's Steak and Chop House
Address: 4300 Lemmon Ave. Dallas, TX 75219
Dry-Aged Beef: Yes
What to Order: 16 oz Prime Filet Mignon
The Breakdown
If you're looking for that iconic steakhouse atmosphere with luscious, juicy, dry-aged steaks to match, look no further than the central Dallas location of this up and coming chain steakhouse.  Dark wood paneling and elegant white linen tablecloths certainly create an impressive ambience for anyone looking to impress a date.
That being said, it's the steaks that will keep you coming back for more.  With a menu full of any cut your carnivorous heart may desire, in sizes ranging from manageable to improbable, all prime and aged to perfection this Dallas staple certainly makes the Chicago Steak Company grade.  In case the meat portions aren't big enough to satisfy you, each steak comes with a vegetable and potato offering which is a welcome departure from most high-end steak restaurant's trend towards a la carte dining.
4.    III Forks
Address: 17776 Dallas North Pkwy. Dallas, TX 75287
Dry-Aged Beef: Yes
What to Order: Tomahawk Ribeye
The Breakdown
Proudly touting its status as serving only USDA Prime beef, the top 2% of all beef produced, III Forks certainly gets points in the Chicago Steak Company handbook for committing to serving only the finest gourmet steaks money can buy.  And with filets that come in three sizes, a lovely peppercorn steak option and a downright decadant Tomahawk ribeye on the menu, 3 Forks certainly follows up on its promises of a luxurious steak dinner.
Less traditional steakhouse and more modern spot to see and be seen, III Forks perfectly meets our date night tie breaker.  The decoration is eclectic, with traditional western wear and antlers on the wall providing an interesting contrast with deep wood paneling and white linen tablecloths.  Overall a perfect spot to satisfy that essential meaty craving.

Photo by Chamberlain's Steak and Chop House
5.    Chamberlain's Steak and Chop House
Address: 5330 Belt Line Rd Dallas, TX 75254
Dry-Aged Beef: Yes
What to Order: 40 Day Dry Aged Prime Ribeye
The Breakdown
If you're looking for the perfect mix of innovation and adherence to time-honored details, look no further than Chamberlain's Steak and Chop House.  A long time area staple that consistently makes the list of best Dallas steakhouse restaurants, Chamberlain's certainly knows their meat and flavor pairings.  One of our favorite items on the menu is a trio of filet options, each perfectly accompanied by a sauce or spice blend and rare to find in high end steakhouses.
An extensive wine list is sure to liven your party up and service is top notch, whichever day of the week you may choose to dine.  While we're generally focused on the beef, leaving the establishment without sampling their smoky meets spicy shrimp cocktail would be a crying shame.
6.    Knife
Address: 5300 E Mockingbird Ln Dallas, TX 75206
Dry-Aged Beef: Yes
What to Order: 240 Day Dry Aged 103 Niman Ranch Rib Eye
The Breakdown
Many restaurants talk the talk when it comes to modern and sustainable trends in dining.  Dallas based Knife backs those promises up with action, serving only the best in ethically raised, sustainable and natural USDA Prime gourmet beef.  This attention to detail shows off in silky textures and flavorful marbling, bite after scrumptious bite.
If you're feeling a bit adventurous, the 240 Day, Dry Aged ribeye is incredibly earthy, meaty and borderline funky; a must-try experience at least once for any true steak lover.  With upscale ambience, an innovative cocktail menu and deserts that will satisfy even the pickiest sweet tooth, Knife certainly cuts through the competition for Top 10 Dallas Steakhouses.

7.    Dakota's
Address: 600 N Akard St Dallas, TX 75201
Dry-Aged Beef: Yes
What to Order: Prime Aged Cowboy
The Breakdown
Stepping into Dallas's Dakota's steakhouse, diners are forgiven for being a bit confused as to locale.  The elegant, French inspired settings would seem more at place in a New Orleans dining room than a Dallas meat lover's paradise.  While surprising, the atmosphere of this subterranean restaurant is striking and instantly memorable which is the perfect setting for that hard to forget first date.
While we could go on about décor, it's the food that Chicago Steak Company readers are really after.  If you've brought an appetite, be sure to splurge on the sublime pork belly or silky foes gras.  The steaks are nothing to scoff at.  Exceptional marbling with a variety of cuts and styles, including a true Japanese Wagyu, means that diners will never lack for options at this Dallas favorite.
8.    Nick & Sam's
Address: 3008 Maple Ave, Dallas, TX 75201
Dry-Aged Beef: Yes
What to Order: Dry Aged Long Bone Cowboy
The Breakdown
Definitely not the place for those looking for a mellow evening out, Nick & Sam's is a Dallas favorite steakhouse well known for its ambience and upbeat atmosphere.  Don't confuse noise with low quality.  The steaks and service at Nick & Sam's are second to none.
The commitment to quality beef shows instantly as waiters proudly display raw cuts of beef tableside.  This educational and interactive process lets you learn while you sample some top notch, gourmet beef. Leave with a full belly and the ability to distinguish a ribeye from a porterhouse.

Photo by Chenjack licensed CC BY-NC-ND 2.0
9. Dallas Chop House
Address: 1717 Main St #100 Dallas, TX 75201
Dry-Aged Beef: Yes
What to Order: Bone in Cowboy Ribeye
The Breakdown
While many steakhouses offer up the delicacy that is USDA Prime, dry-aged beef, fewer maintain their own private dry-aging rooms on premises.  Even fewer still use only the finest quality Himalayan sea salt and an exacting process of rotation to create that silky, concentrated beefy flavor Chicago Steak Company enthusiasts will recognize as distinctive to dry-aged beef.
Dallas Chop House offers all of this and more.  A truly Texan experience, everything on the menu is BIG.  From flavors to portion sizes of both steaks and sides, you certainly won't leave hungry.  The décor is classic western luxury and we highly recommend sliding up to your date in one of the plush, horseshoe shaped booths that grace the dining room floor.


10. Steve Fields' Steak and Lobster Lounge
Address: 5013 W Park Blvd, Plano, TX 75093
Dry-Aged Beef: Wet Aged Only
What to Order: Chef's Filet with Crab and Béarnaise
The Breakdown
While we may have a preference for the subtle, luxurious flavors imparted by dry-aging beef, at Chicago Steak Company we certainly aren't against a little judicious wet aging action.  The Dallas area's Steve Fields' Steak and Lobster Lounge still starts with quality USDA Prime beef.  From their they diverge opting for a minimum 28-day wet aging process that imparts its own flavor profile.
The steak cuts on the menu may be less varied, but that is probably a purposeful omission to make room for the countless options when it comes to filet.  From blue-cheese stuffed to drenched in butter and mushrooms, if you're a fan of the most tender and delicate cut of beef you'll certainly find nothing to scoff at during your dining experience at Steve Fields'.
Honorable Mentions
The Capital Grille
The Nitty Gritty – A steakhouse staple, we love the fact that no matter where you are you can grab a high-quality gourmet steak at this acclaimed chain restaurant.  Have a favorite at your LA home?  You'll find the exact same preparation in Dallas for comfort and convenience.
Kirby's Prime Steakhouse
Oversized ribeye's at this Dallas residents' favorite steakhouse take up so much room on the plate you'll be questioning why you ordered sides.  You also can't help but love the classic Texas style décor that only adds to the elegance of your dining experience.
Ruth's Chris Steakhouse
Another quality chain restaurant, Ruth's Chris Dallas location more than lives up to the brand's reputation for high quality, USDA prime cuts of meat.  Bonus points awarded for an attractive and wallet friendly happy hour menu and an extensive wine list.
SER Steak & Spirits
While the steaks are certainly nothing to scoff at, it's the view that sets SER Steak & Spirits apart from other Dallas steakhouse restaurants.  Located high atop the Hilton Anatole hotel, diners are privy to some of the most spectacular views Dallas has to offer while feasting on their meals of gourmet beef.
Al Biernat's
An upscale Dallas staple, the steaks are cooked perfectly and the drinks are poured strong.  Stop in more than once and you're certain to have the bartender calling you by name.  The owner also takes personal pride in the restaurant, regularly showing up tableside to check on the quality of your dining experience.