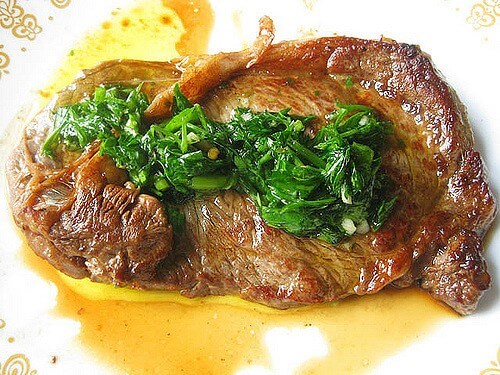 Photo by Jason Lam licensed under CC BY-SA 2.0
Does the thought of someone adding steak sauce or ketchup to a perfectly seared steak make you cringe? Or, perhaps you are one of the many steak enthusiasts who does occasionally dip pieces of ribeye in a tangy steak sauce, but you want to expand your horizons. If that's the case, then this article will introduce you to some unique sauces that compliment beef rather than overpower it.
Herb Butter
Herbs pair well with steaks because they bring in some extra flavors without drowning out the beefy flavor you want to experience it. Add some herbs to creamy, melted butter and you've got yourself a tasty sauce that pairs exceptionally well with steaks that might need a little flavor boost, like filet mignon. Don't believe us? Test out our Bacon Garlic Herb Butter Marinade and you'll never want a plain filet again.
Aioli
Aioli is a rich, creamy sauce made from eggs, oil, and garlic – the same main ingredients that make up mayonnaise – so people tend to shy away from it for use on beef. However, this is one topping you might want to pay more attention to. Top your seared steak with a small dollop of fresh aioli and you'll experience flavors like you never have before.
Salsa Verde
If you like traditional Mexican flavors, then you'll probably love adding some salsa verde to your meat. There are lots of ways to make it, but a blend of herbs, anchovies, oil, capers, and Dijon mustard are the main components. Salsa verde pairs seamlessly with some thinly sliced flank steak.
Chimichurri
Chimichurri is a version of salsa verde that's a little bit tangier and incorporates South American flavors. Chimichurri is a staple in Argentinian kitchens and actually has been dubbed Argentinian barbecue sauce! You won't need a lot of this stuff on your steak – just a spoonful should do the trick, giving your meat a tangy kick and unique taste.
Peppercorn Sauce
There's something about fresh peppercorns and our favorite cuts of beef that pair perfectly together. They're two bold flavors, so one doesn't tend to overpower the other. Instead, they work together to create a strong taste that just makes sense. Our Peppercorn Sauce recipe is one we love for filet mignon, but it can work with a variety of other steaks too.
Garlic Cilantro Sauce
There's a reason that most steak sauces have high garlic content in them: garlic and steak live in perfect harmony. Some enthusiasts even cook their meat in garlic butter or mince up some garlic to throw in the pan as they sear. The intense flavor of garlic clings to the meat and elevates its taste in all the right ways. Try our Garlic Cilantro Steak Sauce – you'll probably want to replace all your store-bought sauces in no time.
Conclusion: Elevate Your Meat
Now that you know what to use to do something different with your favorite cuts of beef, you can head over to Steak University to check out our collection of recipes and cooking tips for even more inspiration and to snatch up some of our sauce ideas. Don't forget to order your favorite steaks online, so they'll be at your door waiting for your next steak dinner!