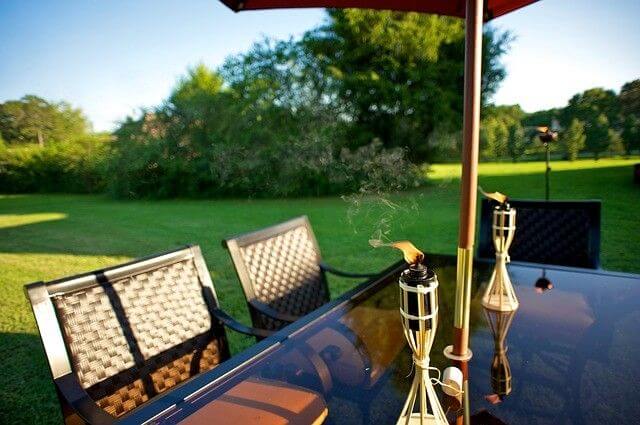 Photo by noahherrera licensed under CC0 1.0
Nothing says summer like a surf and turf cookout with all the flavors of summer made right on your grill. Hot dogs, hamburgers, lobster tails, and shrimp are just some of the foods you can serve to your guests, but a traditional surf and turf meal includes steak and shellfish. Believe it or not, though, there's a lot more that goes into a successful surf and turf party than just making sure you don't overcook the food. Here's what you need to make this outdoor bash a success:
Cheery, Summer Decorations
There's no reason to go overboard on decorations. In fact, that can make your beautiful outdoor area look cluttered and tacky. But the right decorations can create the perfect atmosphere for fun at your cookout with a summery vibe.
When people think of surf and turf, they think of bright colors with a beachy vibe. Colorful sun umbrellas at the tables, beach chairs, and bright utensils, plates, and napkins can all do the trick. You can even get creative and bring in some color with the foods you make, like serving fruits of all colors of the rainbow on skewers as a grab-and-go appetizer (think: watermelon, cantaloupe, pineapple, kiwi, blueberries, and purple grapes!).
An Incredible Selection of Meats
The meat is the star of a surf and turf party since your guests are expecting the steak and shellfish that will make their mouths water. To make the process of finding the best meats as easy as possible for you, you can always shop online with Chicago Steak Company.
Choose from a wide selection of steaks, or you can even purchase some surf and turf bundles that include lobster tails, crab cakes, and the ever-popular filet mignon. Order from your computer and you can get everything delivered to your door in a few business days!
An Enticing Display of Sides Perfect for Grazing
Your sides are almost as important as the main dish because they'll keep guests full while letting them graze as they socialize. Snacks and sides for a cookout should be easy to grab and eat.
To fit with the surf and turf theme, you can choose some crabmeat, which works wonders for appetizers. Make a crabmeat stuffing and serve it on cucumber slices, in halved peppers, or on top of crackers. Crab dips for veggies is also a quick and easy snack that will keep guests happy.
Of course, stock up on fruits, veggies, and staples, which are always crowd-pleasers at cookouts.
Kid-Approved Snacks and Activities
As the party-thrower, you want all your guests to have a great time, even the tiniest ones. You can do that by making sure you have both food and activities that will please your youngest guests.
Water activities are usually a hit, and you won't have to spend a ton of money on water balloons, water sprayers, a sprinkler, or even a kiddie pool for them to splash around in.
Bite-sized foods are perfect for little ones during cookouts, so they can graze between playing. Make mini sandwiches on skewers by slicing up some bread, cheese cubes, and lunch meats for a fun snack. If you have some extra time, you can even make some super fun cupcakes that fit the theme, like these festive Octopus Cupcakes from The First Year.
A Punch That Keeps Guests Coming Back for More
You can have a lot of fun with the ice-cold punch you serve at your surf and turf party because there are so many tastes that scream summer.
Tropical flavors will fit your theme perfectly, so think of pineapple, orange, lemon, mango and other Hawaiian-inspired flavors as your focus. This Aloha! Party Punch recipe from The Frugal Girls includes pineapple juice, fruit punch, and orange sherbet, perfect for that summer vibe.
Conclusion: Make Your Summer Surf & Turf Bash a Hit!
A surf and turf party is one of the best ways to ring in the summer, or say "Cheers!" to the ending of an incredible summer full of fun, family, and festivities. Chicago Steak Company can help make your cookout a hit. Check out our popular Surf & Turf packages, starting at just $97.95.