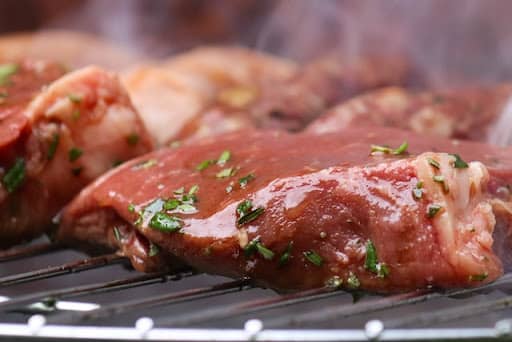 Marinating is one of those food practices that has gotten a little controversial over the last few years. While it was once believed to work miracles in transforming tough cuts into tender and juicy meat, modern food science has shown that it's a little less powerful than previously thought. Still, plenty of steak fans rely on marinating to add flavor and soften up the beef at least a little before it goes on the grill. The key to effective marinating is using a strong acid or enzymatic ingredient that can penetrate the meat fibers and soften them. While the Strip steak doesn't strictly need marinating before cooking, the cut certainly benefits from it.
What Do You Use to Marinate Strip Steak?
The majority of your marinade liquid should be designed to add flavor to the steak. Only a relatively small amount of the liquid needs to be an acid or enzyme designed for softening the meat. The surface of the steak can only absorb so much liquid, even if you used all acids or enzymes. This means that using too much of an active softening ingredient will negatively affect the surface of the meat, leaving it gummy and hard to properly sear for flavor and texture. Keep your active meat-tenderizing ingredients to just a small proportion of the total Strip steak marinade so it's not too powerful for your intended purpose.
While many people add small amounts of various dried spices and herbs to their marinade, they're often surprised to find the flavors are undetectable in the cooked steak. For a big flavor impact, choose just one or two herbs and spices and add a larger amount of each of them. A few teaspoons full of your dried ingredients will contribute more to the flavor profile than just a pinch of this and that. Since very little of the marinade actually stays on the surface through cooking, you won't have to worry about whole peppercorns or bay leaves getting left behind when serving the meal.
Benefits of Marinating Strip Steak
The Strip steak cut of beef in particular can benefit from an overnight soak in the right marinade. First, most Strip steaks are cut at least 1.5 inches thick or thicker. This means the flavor of the marinade won't penetrate to the center, but you can add interesting layers of flavor that help spice up the eating experience. Second, this cut of meat can run a little on the tough side, especially when grilled or cooked in the oven at a high temperature. Softening it slightly with an acidic marinade helps prevent toughness. Third, this steak will remain much juicier and hold its natural liquids better with the addition of some salt, which penetrates into the meat due to osmosis even when the other liquids don't reach the center.
Tips and Suggestions
Keep your marinade simple. Dumping every spice and flavored liquid you enjoy in the same marinade will likely just make a muddled flavor that's hard to detect on the finished steak. Stick to a specific flavor profile, such as a smoky Strip steak marinade combining Worcestershire sauce, apple cider vinegar, and smoked paprika. Experiment with sweet additions like honey, molasses, or brown sugar to your marinades for a greater depth of flavor than from acidic and salty ingredients alone. Strip steak usually isn't too tough when cooked properly, so you'll likely only need a mild acidic ingredient rather than enzymes that soften the meat more aggressively. It's fine to use a meat tenderizing mallet or sharp probe like a meat thermometer to break up the surface a little so the marinade penetrates deeper, but not necessary.
Strip Steak Marinade Recipe
There are so many ways to make a good marinade, it's impossible to list them all. Here's a well-balanced, general-purpose marinade that works particularly well for the Strip steak. It also relies primarily on everyday ingredients you likely already have in the kitchen. Give it a try on your other favorite thick-cut steaks as well, then experiment with adding more spices and flavors to it to find your own secret recipe.
Ingredients
2 tablespoons of olive oil
3 tablespoons of soy sauce
1 teaspoon of Dijon mustard
2 tablespoons of balsamic vinegar
½ teaspoon of molasses or ¼ teaspoon of brown sugar
2 tablespoons of Worcestershire sauce
½ teaspoon of whole black peppercorns or ¼ teaspoon of cracked black pepper
2 cloves of garlic, minced
1 Strip steak, trimmed of excess fat
Instructions
1. Let the steak stand for about 15 minutes so it comes to room temperature. Add all the ingredients to a glass dish or other non-metal container with a lid. Look for a container just larger than the steak so the liquid isn't too spread out to cover the meat. Mix well.
2. Add the steak to the liquid. If the liquid isn't sufficient to cover it, add enough water to extend the marinade until both sides of the steak are covered.
3. Marinate in the refrigerator for at least 24 hours, flipping every few hours if there are any concerns about the steak being uncovered on one side. Remove the steak from the marinade and cook before 48 hours pass or the texture and flavor may be compromised.
Notes
If you want a sweeter marinade, double the amount of molasses or brown sugar you add. Keep in mind that sugary ingredients in the marinade will speed up browning on the surface of the steak, potentially leading to some blackened edges during oven roasting or grilling. Make sure to dispose of the marinade after you take the steak out of it since the bacteria in the mixture makes it unsafe to reuse. If you want to transform the leftover marinade into a sauce, add it to a small pan and let it come to a boil for at least 10 minutes for sterilization. Extended heating for thickening purposes will also suffice as long as the liquid boils for at least 10 minutes as part of the cooking process. Don't try to freeze marinades to reuse later after the meat has been added since the bacteria can continue to multiply when it's defrosted again.
Conclusion
A marinated Strip steak is juicy, full of flavor, and easy to cook without worrying about toughness or drying out. Use this simple home marinade mixture the next time you're preparing for a steak dinner with friends and family. They'll be wowed by your cooking prowess and ready to return for yet another enjoyable meal. Just keep ordering from Chicago Steak Company to make sure you're serving the very best steaks to your guests.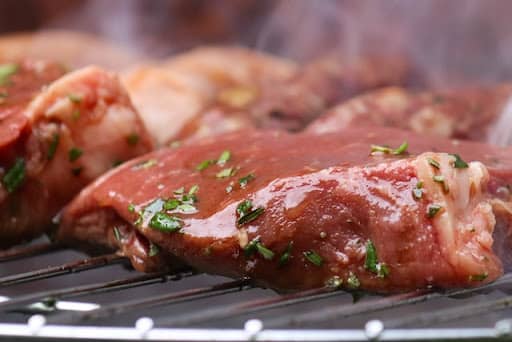 Strip Steak Marinade
Ingredients
2

tbsp

olive oil

3

tbsp

soy sauce

1

tsp

Dijon mustard

2

tbsp

balsamic vinegar

1/2

tsp

molasses or 1/4 tsp brown sugar

2

tbsp

Worcestershire sauce

1/2

tsp

whole black peppercorns or 1/4 tsp cracked black pepper

2

cloves

garlic, minced

1

strip steak, trimmed of excess fat
Instructions
Let the steak stand for about 15 minutes so it comes to room temperature

Add all the ingredients to a glass dish or other non-metal container with a lid. Look for a container just larger than the steak so the liquid isn't too spread out to cover the meat. Mix well

Add the steak to the liquid. If the liquid isn't sufficient to cover it, add enough water to extend the marinade until both sides of the steak are covered

Marinate in the refrigerator for at least 24 hours, flipping every few hours if there are any concerns about the steak being uncovered on one side

Remove the steak from the marinade and cook before 48 hours pass or the texture and flavor may be compromised
Notes
If you want a sweeter marinade, double the amount of molasses or brown sugar you add. Keep in mind that sugary ingredients in the marinade will speed up browning on the surface of the steak, potentially leading to some blackened edges during oven roasting or
grilling
. Make sure to dispose of the marinade after you take the steak out of it since the bacteria in the mixture makes it unsafe to reuse. If you want to transform the leftover marinade into a sauce, add it to a small pan and let it come to a boil for at least 10 minutes for sterilization. Extended heating for thickening purposes will also suffice as long as the liquid boils for at least 10 minutes as part of the cooking process. Don't try to freeze marinades to reuse later after the meat has been added since the bacteria can continue to multiply when it's defrosted again
*

Photo

by

Sam Field

on

Unsplash