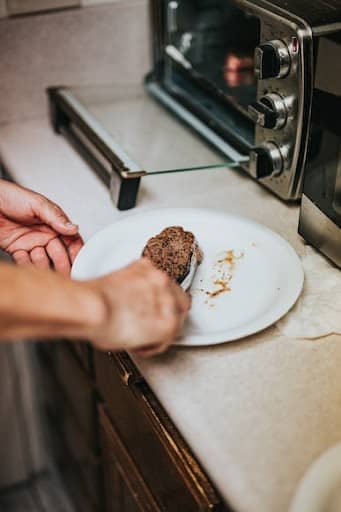 Grilling up larger cuts of beef like the Porterhouse, T-bone, or New York strip steak can leave you with leftover steak. When your eyes are bigger than your appetite, it's easy to store the leftovers for use later in a wide variety of tasty dishes. It's particularly helpful to grill up some extra steak for dinner and save it for lunches over the course of the week since many of these recipes travel well and only need a small amount of meat added to them. Get more protein in your diet while emptying out the fridge with these leftover steak recipes.
How Many Days is Leftover Steak Good For?
Many people will keep a steak for up to five days in the refrigerator before using it. This may be acceptable, but the United States officially recommends only keeping cooked beef for three to four days at the most.* Bringing the steak's temperature down and refrigerating it shortly after cooking will give it the longest lifespan in storage.
How to Reheat Leftover Steak
For most of the following recipes, you can simply let the leftover steak warm up slightly on the countertop while you prepare the rest of the dish. For other dishes, reheat the leftover steak while it's still as whole as possible. Wrap the steak in aluminum foil and put it in the oven at 250 degrees F for about 15 minutes. If you need to use a microwave, put the steak in an enclosed microwave-safe dish with a splash of beef broth to hydrate it. If you want a crisper texture before slicing for sandwiches, try warming the steak in a pan with a tablespoon of oil or butter.
15 Best Ways to Use Leftover Steak
Even leftover USDA Prime Wet Aged beef deserves a recipe that showcases the well-developed flavor and texture of the meat. Try one of these popular ideas the next time you have leftover steak in your fridge.
Steak and Egg Breakfast Burritos
Scrambled eggs, salsa, and chopped onions are the perfect pairing for sliced or chopped leftover steak. Reheat the steak before preparing the burrito, taking care to slice the meat across the grain so it's easy to chew. Both flour and corn tortillas can work well for this recipe.
Steak Quesadillas
If you prefer more cheese and a crispier tortilla, try steak quesadillas. You'll want to chop the steak finely for this dish so each bite gets some meat without leaving the tortilla too thick to cook evenly. Sprinkle your cheeses on both sides of the meat so it becomes encased in melted goodness.
Steak Enchiladas
Steak as an enchilada filling pairs well with red, green, and mole sauces equally well. Consider adding black beans to the filling along with the meat for an earthy counterpart that brings out the richer side of the steak. Don't forget the cheese on top, either something that will melt or a crumbly cheese like cojita for a more traditional touch.
Steak Fajitas
Fajitas are often made with thin slices of Flank or Skirt steak, cooked on a piping hot cast iron pan until the meat is charred at the edges. If you have a properly grilled or smoked steak already, you can slice the meat thinly and toss it in a cast iron pan for a quicker cooking experience. Give the onions and peppers plenty of time to get well-cooked before you add the meat since it won't need more than a few minutes to warm up.
Steak Tacos
The simplest dish from Mexican cuisine to put your leftover steak to good use involves little more than some street-style tortillas, reheated and sliced steak, and any of your favorite toppings. Cilantro, sour cream, various kinds of cheese, and pico de gallo are all good options.
Steak Fried Rice
The key to steak fried rice is having rice already on hand as well that was cooked a day or two before. This allows the rice to dry out slightly so it absorbs oil and crisps up for the right texture. You'll need a wok for the best results, but a large pot or saucepan can also work well if you have a gas stove with a high heat setting.
Steak Sandwich
This is one recipe for leftover steak where you'll need to reheat it thoroughly first since there's no cooking step. Aim for thin slices across the grain of the meat after heating the meat whole. Aioli is a classic pairing, as is an au jus sauce for dipping.
Steak Soup
There are so many great options for steak soup. Grab a carton of beef broth to transform leftover meat into beef and barley, creamy steak and baked potato soup, and steak and vegetable soup.
Saucy Beef with Broccoli
Feeling inspired by your favorite takeout restaurant? Make some white rice, then stir fry broccoli with the sliced steak and cover it with a soy sauce-based sauce. Teriyaki is also an easy addition if you don't feel up to making your own cornstarch sauce.
Steak and Quinoa Bowl
Quinoa is a grain you might not be familiar with, but this easy dish is a great introduction to it. Toss in your favorite chopped greens and roasted vegetables for a complete meal in a bowl.
Steak & Mushroom Stroganoff
Steak is often slow-cooked for this dish, but you can skip that step by cooking the mushrooms by themselves first and then adding the pre-cooked leftover meat. Use a complex red wine to add depth to the sauce that is often missing.
Loaded Steak Nachos
Top crispy tortilla chips with your chopped leftover steak, roasted poblano peppers, melted nacho cheese, and any other toppings you enjoy. This is a fun way to turn a small amount of leftover beef into a meal for two or more people.
Steak Pasta Salad
For a dish that doesn't require any reheating, try a cold pasta salad based on your chopped steak. Try blanched asparagus, green onions, red and yellow bell peppers, and a creamy dressing for a pasta salad everyone will enjoy.
Beef Pot Pie
Mushrooms and the addition of a little stout beer are both key to a traditional steak pot pie. For a creamy twist, try layering cream cheese inside the pastry along with the meaty filling.
Steak and Cheddar Mac & Cheese
When adding steak to a mac and cheese dish, make sure to use a stronger flavored cheese like cheddar. It'll stand up better to the rich flavor of the leftover beef.
Conclusion
There are so many options to choose from for using up leftover steak that you'll never run out of inspiration. Order some extras from the Chicago Steak Company to ensure there are always plenty of leftovers after your next cookout.