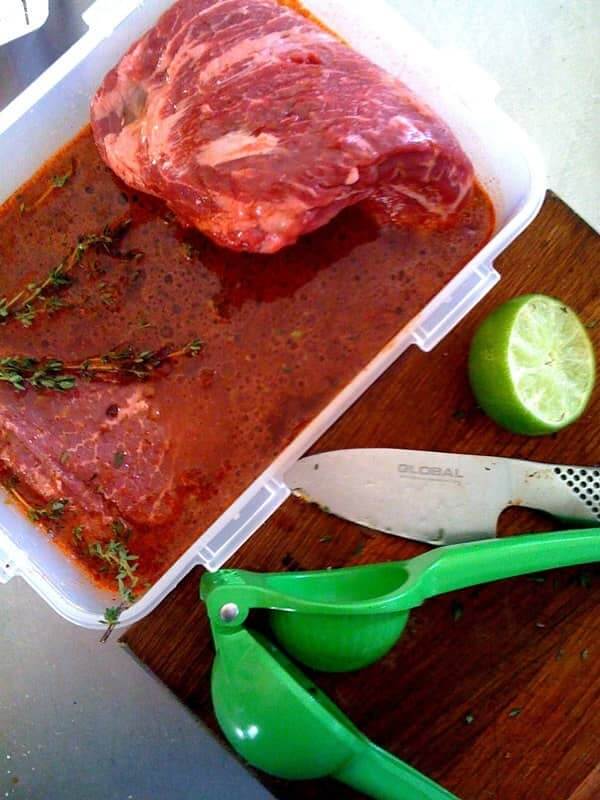 Marinades were originally made from seawater, hence the marine part of the name. Today's mixtures bring far more to a steak than just some water and salt. Flavorful mixtures based around acidic or enzymatic ingredients help soften the meat in addition to adding flavor. For Flank steak in particular, the dense texture and thick grain of the meat make it ideal for pairing with the right marinade. Marinating this cut for just the right amount of time will keep it juicy and tender no matter how you plan to cook it. Choose the right marinade recipe to bring out the best flavor from Flank steak with our tips.
Why Choose the Flank Steak?
While it's not quite as popular as a Porterhouse, the Flank steak still has plenty of good features to make it worth considering. First, this is one of the most affordable cuts of beef you can find. It's taken from part of the lower abdomen where the muscle tissue gets a lot of exercise. This gives it a thick-grained texture and a good amount of bite, but proper cooking keeps it tender. Second, it's a very flavorful cut when treated with care. Part of bringing out the flavor is marinating the meat, which also helps keep it tender. Finally, the sheer versatility of this cut makes it very useful. It's tasty when sliced or cut up and used for everything from steak sandwiches to curries and fajitas.
Best Marinades for Flank Steak
Some steaks are tender enough that they don't need a lot of acidic or enzymatic ingredients to soften them up. The Flank steak definitely benefits from plenty of one or the other to give it a better texture. Common acids used in marinades include:
Vinegar, especially balsamic or red wine vinegar
Citrus juices like lemon, orange, or lime juice
Wine, specifically red wine for beef but sometimes white wine.
If you want to avoid these flavors for a particular reason, you can turn to various enzymes instead. Popular options for adding to marinades are:
Dairy products like yogurt or buttermilk, which are slightly acidic along with enzymatic
Papaya-based meat tenderizing powders or liquids, commonly labeled as papain.
Don't combine too many softening ingredients in one marinade, even for Flank steak. Stick to one or two acidic ingredients or a single enzymatic ingredient per marinade. When it comes to flavors, you can add a depth of flavor by using soy sauce, plain black coffee, and all sorts of herbs and spices.
How to Marinate Flank Steak for Tenderness
You'll need a large zip-top bag or a container with a lid. Some people swear by using plastic food storage containers, while others only use glass for marinating. It's up to you, as long as the steak stays covered by the liquid. Since the marinade is discarded after the meat comes out of it for safety reasons, you don't want to mix too much up. Try to find a container for marinating that is only slightly larger than the Flank steak to maximize coverage from the marinade.
Best Cooking Methods for Marinated Steak
Once the steak has spent the night in a bath of flavorful liquids, it's a little wetter than most Flank steaks when they come out of the refrigerator. While you may experience a little more smoking or flare-ups when putting the meat on the grill, it's still a great option for cooking this kind of steak. Slow-and-low cooking methods like the oven or slow cooker also work well and give you the option of basting with the marinade. It's a little tricky to cook a marinated Flank steak in a frying pan without toughening it, but it can work if you keep the heat to medium or lower and don't flip the meat too much.
How Long to Marinate Flank Steak
As long as your marinade mixture includes at least one tenderizing ingredient, you should get good results from a 24 to 48-hour soak in it. Soaking the meat beyond 48 hours will just leave the surface too soft and mushy. Short soaks don't do much for the texture, even if they add flavor. Make sure to let the meat marinate at least overnight for 12 hours before cooking if you want a more tender Flank steak. If you need to make the meat softer and you have 8 hours or less before it's time to fire up the grill, try the tip listed below that involves piercing the surface of the meat before marinating it.
Can you marinate flank steak overnight?
Overnight marinating is the shortest period of time recommended for this cut. If you can't marinate it for at least a full night, you won't get much benefit in terms of tenderness. Still, a short marinade may be worth your effort if your main goal is to add flavor rather than adjust the texture of the meat.
Should you poke holes in Flank steak before marinating?
Technically, you can help the liquid penetrate the meat by poking holes in it with a sharp knife, metal fork, or bamboo skewer. However, reconsider this idea if you plan to marinate for 24 hours or longer. Since this method softens the meat itself, you could end up with too much tenderness after an extended soak. Try poking holes for better penetration when you only have a short time for marinating the meat. It'll help maximize tenderness in the Flank steak without risking too much of a good thing.
Can you freeze steak in the marinade?
Dreaming of a Flank steak you can grab from the freezer and defrost without worrying about more time for marinating? You're in luck. The trick to freezing Flank steak with marinade is storing it all in a zip-top freezer bag. Let the meat sit in the refrigerator and marinade for just two to three hours, then squeeze the bag tightly so there is as little air inside as possible. Toss it in the freezer and make sure to use the steak within three months. When defrosting, don't let it marinate for any longer than the defrosting period to avoid over-softening.
Tips and Tricks
Start with a basic marinade recipe that you enjoy and tweak it by adding new ingredients and swapping out some of the standards. If you try to create a marinade from scratch, you may not like the balance of acidic, salty, and sweet flavors as much. Established marinades exist in thousands of different tested combinations, giving you the perfect springboard for finding your own unique and signature recipes. No one will know that you started with a steakhouse's famous marinade and added your own twist to it. Don't forget about classic flavor combinations like garlic and red wine, soy sauce and black pepper, brown sugar and smoked paprika.
Marinated Flank Steak Recipe
Ingredients
1 Flank steak, trimmed of any excess fat
1/3 cup olive oil
1 clove of minced garlic or ½ teaspoon garlic powder
1/3 cup soy sauce
3 tablespoons of red wine vinegar
2 tablespoons of honey or brown sugar
½ teaspoon black pepper
Directions
1. Mix up the liquid ingredients and seasonings in a zip-top storage bag or a storage container. You may need to heat the mixture slightly if adding brown sugar to get it to fully dissolve.
2. Add the Flank steak. Add up to ¼ cup of water if needed to cover the steak as much as possible. If the top surface of the steak remains exposed, flip the meat two to three times during the marinating time to ensure even absorption. Freeze the steak in the marinade after just two to three hours of marinating if desired.
3. Marinate the meat for up to 48 hours, then cook with your preferred method. Discard the marinade due to bacteria from the raw meat. If you want to turn the Flank steak marinade into a sauce, make sure to bring it to a boil for 10 minutes before thickening or reducing it. Don't store the marinade for reuse because it isn't considered a safe practice.
Conclusion
Your Flank steak meal will brighten up any busy evening, especially if you take the time to marinade it. This marinade also works great on other popular cuts of beef from Chicago Steak Company. From Filet Mignon to the massive Tomahawk, you can always add some new flavors to your favorite steak with the right marinade.
Marinated Flank Steak
Ingredients
1

flank steak, trimmed of any excess fat

1/3

cup

olive oil

1

clove

minced garlic or 1/2 tsp garlic powder

1/3

cup

soy sauce

3

tbsp

red wine vinegar

2

tbsp

honey or brown sugar

1/2

tsp

black pepper
Instructions
Mix up the liquid ingredients and seasonings in a zip-top storage bag or a storage container. You may need to heat the mixture slightly if adding brown sugar to get it to fully dissolve

Add the Flank steak. Add up to ¼ cup of water if needed to cover the steak as much as possible. If the top surface of the steak remains exposed, flip the meat two to three times during the marinating time to ensure even absorption. Freeze the steak in the marinade after just two to three hours of marinating if desired

Marinate the meat for up to 48 hours, then cook with your preferred method.

Discard the marinade due to bacteria from the raw meat. If you want to turn the Flank steak marinade into a sauce, make sure to bring it to a boil for 10 minutes before thickening or reducing it. Don't store the marinade for reuse because it isn't considered a safe practice