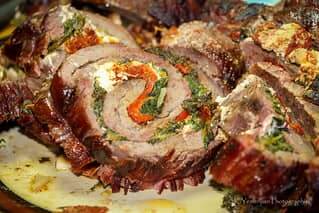 Do you have family or friends coming over, people you want to impress? Or maybe you just want a quiet night by yourself with an enjoyable and hearty meal?  Whichever you like more, you can make the perfect meal a reality by cooking spinach stuffed flank steaks. Learn all the basics of cooking stuffed flank steaks in this article.
How To Prepare the Flank Steak For Stuffing
Preparing a spinach mixture for stuffing your flank steaks is actually a lot easier than it sounds. You have to start with a good cut of flank steak and make sure that it's thin enough to be rolled even with the filling neatly tucked inside. You can grill the flank steaks or pan sear stuffed flank steaks, depending on how you want them to be cooked and what resources you have available in your kitchen. Some cooks prefer to broil flank steak, but ultimately, the final decision is yours.
Tips and Tricks
Here are some tips and tricks to guarantee a perfectly cooked stuffed flank steak every time:
Pound the steak thin but not too thin before stuffing. This ensures even cooking, plus you can do this with a meat tenderizer or even a rolling pin.
Stuffing that's too wet will turn your stuffed steak into a big soggy mess. Simple substitutions like using feta cheese instead of mozzarella can help you make a bulkier stuffing.
Creamy Spinach Stuffed Flank Steak Recipe
Ingredients
1 lb flank steak, pounded thin
2 cups fresh spinach leaves
2 tablespoons olive oil
1/2 cup ricotta cheese or feta cheese
1/2 cup grated parmesan cheese
Salt and pepper to taste
Instructions
Preheat your oven to 375F
In a large skillet, warm your oil over medium heat. Add the spinach and cook for about 3-4 minutes until the leaves are wilted. Season with salt and pepper. Remove from heat and set aside.
Place the thin pounded steaks on parchment paper or your cutting board.
Season one side liberally and spread an even layer of either feta cheese or ricotta over the top.
Cover with an even layer of your cooked spinach, and then add another layer of parmesan cheese.
Roll up the steak from one end. Make sure that you keep pressing along the seam to ensure a tight seal
Lightly grease a baking dish, place the rolls, and season with more salt and pepper
Bake until cooked through to your desired doneness. If it's your first time, use a meat thermometer to check the internal temperature
Serve warm, and enjoy!
Conclusion
To wrap things up (pun intended), a perfect spinach-stuffed flank steak is a delicious and healthy meal option for people who enjoy flank steak.  It's also pretty easy to make, and once it's in the oven, there's nothing else to do but wait for your feast. As long as you remember to follow our recipe to a T, you shouldn't have any issues making this exceptional dish.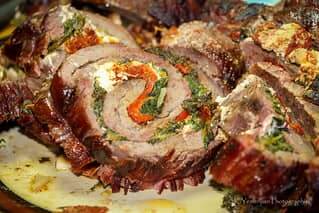 Creamy Spinach Stuffed Flank Steak
Ingredients
1

lb

flank steak, pounded thin

2

cups

fresh spinach leaves

2

tbsp

olive oil

1/2

cup

ricotta cheese or feta cheese

1/2

cup

grated parmesan cheese

salt, to taste

pepper, to taste
Instructions
Preheat your oven to 375F

In a large skillet, warm your oil over medium heat. Add the spinach and cook for about 3-4 minutes until the leaves are wilted. Season with salt and pepper. Remove from heat and set aside

Place the thin pounded steaks on parchment paper or your cutting board

Season one side liberally and spread an even layer of either feta cheese or ricotta over the top

Cover with an even layer of your cooked spinach, and then add another layer of parmesan cheese

Roll up the steak from one end. Make sure that you keep pressing along the seam to ensure a tight seal

Lightly grease a baking dish, place the rolls, and season with more salt and pepper

Bake until cooked through to your desired doneness. If it's your first time, use a meat thermometer to check the internal temperature