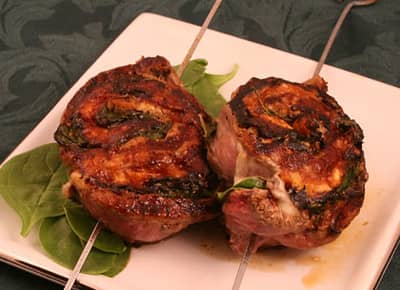 Flank steak pinwheels are fun, delicious, and an impressive dish to serve for any occasion. These savory bites are sure to impress your guests with their beautiful presentation and mouth-watering flavor. Plus, they're surprisingly easy to make. With just a few simple ingredients and some basic kitchen skills, you can create a dish that will have everyone asking for seconds. So fire up the grill or preheat the oven, and get ready to wow your friends and family with this crowd-pleasing flank steak pinwheels recipe.
What are pinwheels?
Steak pinwheels are stuffed with various fillings, then sliced into bite-sized pieces that resemble the shape of a pinwheel. For flank steak pinwheels, the filling typically consists of ingredients such as cheese, herbs, and vegetables. You can grill the pinwheels or bake them in the oven. They make perfect appetizers or even main dishes.
Different Flavor and Recipe Variations
There are many different recipe variations you can try to mix flank steak pinwheels – the possibilities are truly endless. Don't be afraid to get creative in the kitchen and experiment – you never know what delicious flavor combinations you might discover!
Steak Pinwheels with Bacon and Spinach
Steak pinwheels with bacon and spinach use thin slices of flank steak filled with a mixture of crispy bacon, wilted spinach leaves, and grated parmesan cheese before rolling the steak up tightly and baking to perfection. This dish is perfect for meat lovers looking for a flavorful and satisfying meal that's easy to prepare.
Garlic Parmesan Flank Steak Pinwheels
Garlic parmesan pinwheels are filled with a mixture of garlic, grated parmesan cheese, and fresh herbs. This dish is perfect for those who love bold yet creamy flavors and want to add some variety to their usual beef dishes.
Flank Steak and Pepper Pinwheels
Flank steak pepper pinwheels are filled with a mixture of sautéed bell peppers, onions, and garlic. This dish is perfect for those who love fresh flavors and want to add color to their plate.
Tortilla Pinwheels
Instead of using steak as the base, this recipe uses tortillas. Simply spread a mixture of cream cheese, salsa, and shredded cheddar cheese on top of a flour tortilla, add your favorite fillings such as grilled flank steak or vegetables, roll it up tightly, and slice it into bite-sized pieces. These pinwheels are perfect for parties or as a quick snack.
Garlic Parmesan Flank Steak Pinwheel Recipe
This recipe features thin slices of flank steak filled with a flavorful mixture of sautéed vegetables and cheese before being rolled up, tied by a kitchen twine, and grilled to perfection. Check out the recipe below.
Ingredients
1 1/2 pounds flank steak, thinly sliced
2 cups fresh spinach leaves
1/2 cup grated parmesan cheese
2 cloves garlic, minced
Zest of one lemon
Salt and pepper to taste
Olive oil for brushing
Instructions
Preheat your grill or grill pan to medium-high heat.
In a large skillet, sauté the spinach and garlic until wilted.
Remove from heat and stir in the parmesan cheese and lemon zest.
Lay out the flank steak slices on a cutting board.
Spread a thin layer of the spinach mixture over each slice of steak.
Roll up each slice tightly into a pinwheel shape.
Brush each pinwheel with olive oil and season with salt and pepper.
Grill the pinwheels for about 10 minutes, turning occasionally, until cooked to your desired doneness.
Remove from the grill and rest for a few minutes before slicing into rounds using a sharp knife.
Serve hot, and enjoy!
Notes
Grilling flank steak pinwheels is an excellent cooking method, but if you don't have much time, you can always cook the flank steak pinwheels in the oven for equal doneness throughout. You should also consider making different fillings and baking them all simultaneously. This gives you and your guests more options come dinner time. This is especially helpful if you have adults and young kids coming over. You can make kid-friendly pinwheel variants with more mellow flavors and grown-up-friendly pinwheels like the more spicy ones.
Conclusion
Overall, this flank steak pinwheel recipe will help you create a delicious and impressive dish perfect for any occasion. It's easy to make and can be served as an elegant appetizer or main course. The rolled-up steak is filled with a flavorful mixture, while the crispy crust complements the savory filling and delights the taste buds with a variation in texture. If you're looking for a new recipe, give this one a shot! We promise you won't regret it.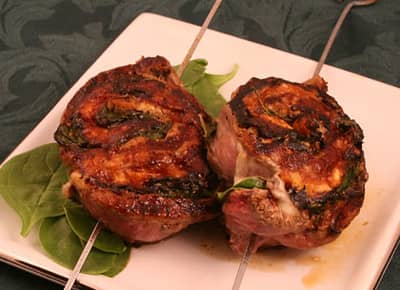 Garlic Parmesan Flank Steak Pinwheels
Ingredients
1.5

lbs

flank steak, thinly sliced

2

cups

fresh spinach leaves

1/2

cup

grated parmesan cheese

2

cloves

garlic, minced

zest of one lemon

salt, to taste

pepper, to taste

olive oil for brushing
Instructions
Preheat your grill or grill pan to medium-high heat

In a large skillet, sauté the spinach and garlic until wilted

Remove from heat and stir in the parmesan cheese and lemon zest

Lay out the flank steak slices on a cutting board

Spread a thin layer of the spinach mixture over each slice of steak

Roll up each slice tightly into a pinwheel shape

Brush each pinwheel with olive oil and season with salt and pepper

Grill the pinwheels for about 10 minutes, turning occasionally, until cooked to your desired doneness

Remove from the grill and rest for a few minutes before slicing into rounds using a sharp knife