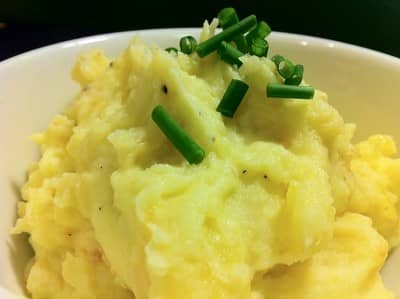 Tri-tip steak is a flavorful and tender cut of beef that can be cooked in various ways. Whatever preparation you decide on, choosing the right side dishes to go with your steaks will elevate the meal and make it even more unforgettable for you and your guests. There are plenty of different options for sides that work best with tri-tip steak, from hearty roasted vegetables to simple salads.
In this article, we'll help you explore some of the best side dishes to serve with tri-tip steak, so you can create a well-rounded meal that' everyone will love.
Potato and Rice Side Dishes
Some of the most popular and convenient options to serve with tri-tip steak are potato and rice. These delicious sides are versatile and can be mashed, baked, fried, and roasted to complement the flavor of the tri-tip. Now let's see what your options are.
Mashed potatoes
This creamy, buttery, and fluffy mashed potatoes are enjoyed by young ones and the young once. This side dish is probably one of those dishes that you can serve without issues because everybody loves it. It perfectly complements the savory flavor of tri-tip. Additionally, it can be served with herb-infused butter or gravy.
Baked potatoes
A baked potato is a timeless classic that never disappoints. You can serve this with butter and sour cream or load it with a sinful amount of bacon, cheese, and chives to please your palate.
Fried Sweet Potatoes
A slightly healthier alternative to potatoes, sweet potatoes are sweet and nutritious. When fried, they become crispy and caramelized, adding a beautiful contrast to the salty and savory flavor of your tri-tip steak.
Jasmine Rice
Jasmine rice is a fragrant and fluffy option that pairs well with tri-tip steak. This is perfect for those who want something to balance out the more intense flavors of beef.
Fried Rice
Fried rice is a versatile and flavorful side dish that can be personalized based on your taste and preferences. Its bold and savory flavors pair well with the rich and tender tri-tip steak.
Soups, Salads, and Vegetable Side Dishes
If you're looking for healthy side dishes to pair with your flavorful and juicy tri-tip steak, you can never go wrong with salads, soups, and vegetables. These options are healthy, and they go so well with the rich and robust flavors of the tri-tip. To help you enhance the nutritional value of your meal, consider the following options.
French Onion Soup
A rich and savory soup that goes well with a juicy tri-tip steak and is ideal for cooler weather. It contains toasted bread, salty broth, and caramelized onions and is a good source of fiber and antioxidants.
Classic Caesar salad
A classic salad that offers the ideal harmony of tastes and textures. It has crispy croutons, Parmesan cheese, fresh lettuce, and a tangy dressing. It also contains healthy fats, vitamins, and minerals.
Spicy green beans
A tasty and healthy side dish that gives your meal some heat and flavor. The spice aids in digestion and metabolism, while the green beans are low in calories and high in fiber. This combination makes this side dish a healthy and worthy steak partner.
Baked pinto beans
An incredibly filling dish high in protein and fiber. This dish, which is created with pinto beans, tomatoes, garlic, and spices, is a great choice for people who want to enjoy steak without guilt.
Steamed Broccoli
A straightforward but attractive side dish high in fiber, vitamins, and antioxidants. Broccoli benefits from steaming since it retains more flavor and nutrients while still being a simple and quick side dish to cook.
Roasted Veggies
Vegetables' inherent sweetness and taste are enhanced when they are roasted. Pick your preferred vegetables, such as bell peppers, carrots, zucchini, or eggplant, season them with herbs and spices, and roast them until they are soft and caramelized.
Grilled Mushrooms
In addition to being low in calories and high in nutrients, mushrooms pair beautifully with the beefy flavors of tri-tip steak. The mushrooms' umami flavor and crisp, smoky texture are enhanced by grilling.
Grilled Corn On the Cob
A summertime classic, corn on the cob gives your food a hint of sweetness and texture. The corn tastes better when grilled and has a satisfyingly slightly browned texture. In addition, corn has a lot of vitamins, fiber, and antioxidants.
Comfort Food Classic Side Dishes
While filling sides are always ideal for serving with tri-tip steak, don't overlook the hearty, traditional comfort food dishes that might bring back fond memories to your meal. These sides will sate your appetite and bring to mind the traditional flavors and aromas of home-cooked meals. To make a warm and inviting dining experience, we'll look at some of the top comfort food classic side dishes to serve with tri-tip steak.
Mac and Cheese
Mac and cheese is a traditional comfort food that can take your steak dinner to the next level because it is rich, creamy, and cheesy. The ultimate crowd-pleaser and a timeless classic, mac and cheese can be prepared in various ways, including on the stovetop, in the oven, or with bacon and breadcrumbs.
Garlic Butter Dinner Rolls
Garlic butter dinner rolls are the ideal accompaniment to any meat dish, especially tri-tip steak. They are soft, fluffy, and buttery. They're simple to create, may be served warm or fresh, and provide your food with a homey feel and warming aroma.
Cornbread
If you want to embrace the flavors of the South, serve cornbread with tri-tip steak. Cornbread is sweet, crumbly, and salty. To make it more to your liking, add more honey butter or jalapeno slices.
Conclusion
Tri-tip steak is a wonderful and adaptable beef cut that can be served with various sides to make a complete and enjoyable meal. There are options for everyone, whether they favor traditional comfort food dishes, wholesome sides, or dishes made with rice and potatoes. Discovering the top side dishes to pair with tri-tip steak can help enrich your meal, please your palate, and wow your guests. Next time you prepare a tri-tip, remember to try out new sides and taste combinations.