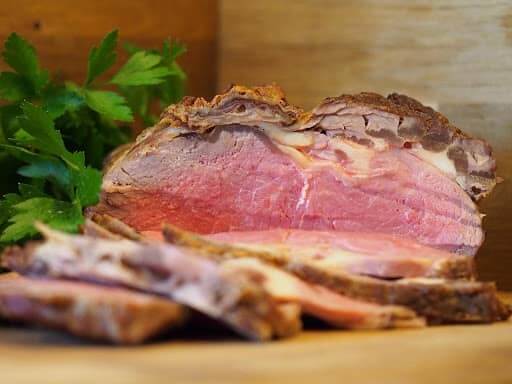 Are you looking for something new to add to your dinner list? Perhaps a top sirloin roast could be an option. Steak roasts like the top sirloin roast take some time to cook in the oven, but if you have some time to wait for dinner, they can make for a relatively simple dinner — and an incredibly tasty one.
In this guide, we'll introduce you to the top sirloin roast and walk you through the steps needed to prepare it and cook it. We also include tips for serving it and making sure it's cooked completely to your preferred doneness level. 
What is a Top Sirloin Roast?
Top sirloin comes from the sirloin area of a cow. This area sits in front of the round portion, also known as the rump. It's also behind the loin. The sirloin portion is split into two parts: top sirloin and bottom sirloin. Top sirloin is better known out of the two because it has some of the tastiest meat for grilling. You'll typically see top sirloin in steakhouses that grill their meat. It's also a popular cut in traditional Brazilian dishes, where it's more commonly known as picanha.
Top sirloin can be cut into steaks or as a roast. When it's cut as a roast, butchers leave its fat cap in place, which is a layer of fat on the top side of the cut. When the roast cooks, the fat renders down and moves into the meat. This gives the meat exceptional flavor and enhances its texture, adding tenderness and juiciness to each bite. 
Preparing the Roast
It's best practice to let a steak rest at room temperature for 30-45 minutes before cooking it, and the same is true for a top sirloin roast. During this time, the steak's temperature comes closer to room temperature, which helps it cook evenly when it's in the oven. 
If your top sirloin roast isn't holding together well on its own, you might consider trussing it. Trussing is a technique that uses food-safe string ties around the meat to hold it together while cooking and help it cook more evenly. 
How To Season a Top Sirloin Roast
Once you remove the sirloin roast from the refrigerator, add some salt to it on all sides. Press the salt into the meat with your fingertips. Then, allow the roast to sit at room temperature for its resting period before cooking. During this time, the salt brines the roast, helping it crisp in the oven and adding a little more flavor.
Aside from salt, we recommend sprinkling black pepper on the roast, ensuring that you distribute it on all sides. From there, choose your favorite steak-loving seasonings. A premade steak seasoning works extremely well to bring bold flavor to a top sirloin roast, but you can also sprinkle thyme, garlic powder, or a little cayenne pepper on the roast.
Tips And Tricks for Preparing a Top Sirloin Roast
Does your top sirloin roast include the fat cap on top? If so, score it before seasoning and cooking the roast by slicing it in a cross-hatch pattern. When you add seasoning, use your fingertips to press the seasonings into the fat cap and the meat. Place the roast in a roasting pan with the fat side up. As it cooks, the fat seeps down into the meat for added flavor and juiciness.
For even more flavor, use a knife to poke a few small holes into the top and sides of the roast. Then, place a half of a garlic clove in each hole. While cooking in the oven, the garlic releases its flavors directly into the meat.
Top Sirloin Roast Recipe
If you're interested in making a top sirloin roast in your own kitchen, here is an easy beginner recipe to follow.
Ingredients
3-4 pounds of top sirloin roast
2 tsp salt
2 tsp freshly ground colored peppercorn blend
4 cloves of garlic, minced
Instructions
Remove roast from the refrigerator. If the roast has a fat cap, score it in a cross-hatch pattern using a knife. Add salt evenly to all sides, pressing it into the meat with your fingertips. Let sit for 45 minutes.
Preheat the oven to 450 degrees. Mix the garlic and peppercorns in a bowl and sprinkle the mixture on all sides of the meat. 
Add the roast to a roasting pan and put it on the middle oven rack. Cook for 15-20 minutes until the outside becomes lightly browned.
Turn down the temperature to 350 degrees, and continue cooking for another 1-2 hours, depending on your preferred doneness level. The meat should be ready to remove from the oven when it reaches 125-130 degrees for medium rare.
Cover the roast with aluminum foil and rest it at room temperature for 15 minutes. Slice against the grain just before serving.
Checking Doneness
The best way to check the doneness of your roast is to use a digital meat thermometer. Place the probe into the thickest part of the meat and let it sit for a few minutes until the temperature stops moving. For a medium-rare roast, the final temperature should be between 130-140 degrees. 
How To Serve Top Sirloin
Before serving top sirloin, you'll need to slice it into individual pieces. Use a serrated knife to cut against the grain, the opposite direction of the lines in the meat. 
You can serve a top sirloin roast by itself or use some of the pan juices to drizzle across it. It also works well with beef gravy, sauteed mushrooms and onions, or laid atop freshly made mashed potatoes.
Conclusion: Top Sirloin Roast Recipe
Top sirloin roast is an excellent option for a family-sized meal, and it doesn't take a lot of time to prepare. Although you'll need to wait a couple of hours for it to finish cooking, you won't need to tend to the roast much while it cooks, so it's a good choice when you have other things to do simultaneously. 
Are you in the mood for steaks rather than a roast? Check out our premium Angus beef top sirloin available for online ordering. 
Top Sirloin Roast FAQs
A general rule of thumb when cooking top sirloin roast is 15-20 minutes per pound for medium rare. So, a five-pound top sirloin roast needs 75-100 minutes to cook, on average.
Yes, top sirloin is an excellent choice for roast. This cut stays incredibly tender, and its fat content cooks down well over time, leaving it juicy and flavorful for serving.
A top sirloin roast includes the same meat as top sirloin steaks. Both of these cuts come from the sirloin area of the cow. However, a top sirloin roast is larger than a steak, and you can get multiple steaks from one top sirloin roast.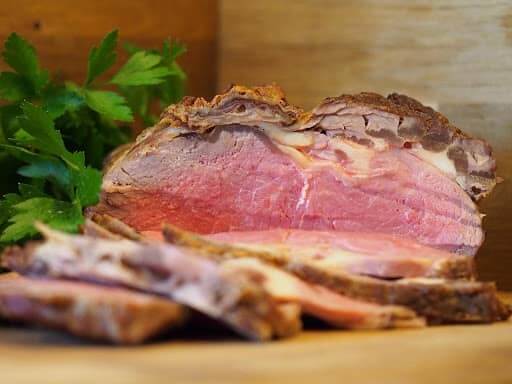 Top Sirloin Roast
Ingredients  
3-4

lbs

top sirloin roast

2

tsp

salt

2

tsp

freshly ground colored peppercorn blend

4

cloves

garlic, minced
Instructions 
Remove roast from the refrigerator. If the roast has a fat cap, score it in a cross-hatch pattern using a knife. Add salt evenly to all sides, pressing it into the meat with your fingertips. Let sit for 45 minutes

Preheat the oven to 450 degrees. Mix the garlic and peppercorns in a bowl and sprinkle the mixture on all sides of the meat

Add the roast to a roasting pan and put it on the middle oven rack. Cook for 15-20 minutes until the outside becomes lightly browned

Turn down the temperature to 350 degrees, and continue cooking for another 1-2 hours, depending on your preferred doneness level. The meat should be ready to remove from the oven when it reaches 125-130 degrees for medium rare

Cover the roast with aluminum foil and rest it at room temperature for 15 minutes. Slice against the grain just before serving