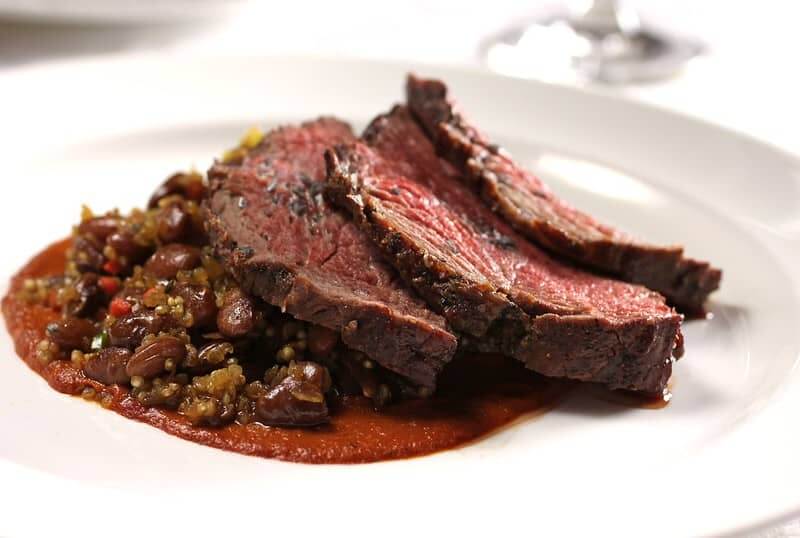 Smoked top sirloin roast is a delicious and delectable meal that you can prepare and serve for pretty much any occasion. The deep smoky flavor is so addicting, which makes it an ideal choice if your goal is to ultimately impress your family and friends and have them coming back for seconds. In this article, we'll teach you how to enjoy this tender and juicy smoked sirloin roast when you prepare it at home. But let's start with the basics first.
What Is a Top Sirloin Roast?
A top sirloin roast is a cut of beef taken from the back of the cow, somewhere between the rib and loin sections. The muscles on these sections are rarely used, making the cut tender. The top sirloin roast is best known for its marbling and deep, intense flavors. Its tenderness and fat levels make it perfect for grilling or roasting.
Flavor-wise,  the top sirloin roast has a richness complemented by a slightly tangy taste that makes it a few levels higher than other cuts of steak. Because of its fat content, the top sirloin roast stays moist throughout its cooking time. This means that even if you cook it at high temperatures, it will not dry out and stay juicy. When the smoke mixes with the melted fat and juices, they infuse the top sirloin roast with even more flavors.  Now that you know more about the top sirloin roast, let's discuss preparation details.
Preparing the Roast
Smoked top sirloin roast preparation is really an easy and simple process. Here's a step-by-step guide you can follow so you can start enjoying this tender and juicy cut of beef:
Trimming the Fat
Use a sharp knife to remove any excess fat around the edges. A little fat is nice, but too much can also cause excessive smoke, messing up the flavors of your smoked top sirloin roast.
Remove any tough membranes or cartilage that may be sticking out.
Cut off the silver skin on both sides of the roast so you don't end up with tough pieces when you cut your roast.
Seasoning
Season your roast with salt, pepper, garlic powder, and other herbs and spices to taste. Make sure you do so liberally, because many of your spices will rub off while cooking.
After seasoning the meat, rest for 10-15 minutes before cooking.
Tying it Up
Use a butcher's twine to tie up the roast so that its shape holds while cooking and the juices remain inside the meat.
Make sure you loop the twine 2 – 3 times around the roast from end to end.  Remember to secure the knots tightly in place after each loop of twine has been added on top of one another to make sure the roast doesn't unravel during cooking.
Preparing the Smoker
Smoking the top sirloin roast is all about infusing the steak cuts with that deep, smoky flavors. Here's how to prepare your smoker:
Smoking in a Charcoal Grill
Light the charcoal in your grill and let it burn until around half of the coals are covered with gray ash.
Replace the coals and make sure you have two sides – one hotter for direct heat and one cooler for indirect cooking or grilling.
Add the wood chips around the coals so the meat can absorb the flavor from the smoke.
Choosing Your Wood Chips
There are plenty of hardwood varieties you can use for cooking. There's hickory, cherry, apple, and many more. You can experiment with one or mix and match for unique flavors.
Soak the wood chips in water before adding them to the hot coal bed so they don't burn fast and have time to impart their flavors into your top sirloin roast!
Smoker Temperature – Going Low and Slow
For best results, use a low and slow cooking temperature between 225 F and 275 F. This will give you that irresistible fall-off-the-bone tenderness without your roast drying out!
Monitor both the smoker's temperature and the steak's internal temperature throughout the cooking process to ensure the roast doesn't get too hot or cold! Remember to aim for medium-rare doneness. 
Slicing the Roast
You can cook the perfect piece of smoked top sirloin roast, but if you don't slice it in an appetizing way, you may end up with people skipping your dish. Remember, serving a lip-smacking smoked top sirloin roast is an art. So here are some tips and tricks to make sure you're slicing it up the best way:
If your roast is freshly cooked, make sure you rest it for 10-15 minutes to allow the juices to redistribute evenly throughout the meat. This guarantees that the juices won't spill once you start cutting.
Use a sharp knife to achieve similar-sized cuts, about ¼ to ⅜ of an inch thick, for optimal juiciness.
Always cut against the grain for the most tender steak cuts.
Carve slices in larger portions if cutting from a significantly larger roast. For smaller roasts, slice smaller pieces of individual servings and cut thinner than you normally would to prevent drying.
Smoked Top Sirloin Roast Recipe
This delicious smoked top sirloin roast will be a staple at your barbecue parties. So don't wait; follow these steps, and you'll have a smoky, tender steak to serve your loved ones and, of course, yourself!
Ingredients
2 pounds top sirloin roast
1 tablespoon smoked sea salt
1 tablespoon garlic powder
1 tablespoon onion powder
2 teaspoons black pepper
2 tablespoons olive oil
¼ cup your choice of wood chips
Aluminum foil for wrapping
Instructions
Preheat your smoker to 250 F.
Mix the smoked salt, garlic powder, onion powder, and black pepper in a dish until well combined. Rub this mixture onto all sides of the top sirloin roast.
Heat the olive oil in a skillet until it starts to shimmer; use medium heat. Sear the seasoned roast for 3 minutes on each side, and cook for longer until browned on all sides.
Wrap the seared roast in aluminum foil and seal it tightly and place it into the preheated smoker.
Add your soaked wood chips to the smoker around the roast and let it smoke for 45 minutes or until the internal temperature is 145 F. This can take around 4 hours, depending on your smoker's temperature.
Once cooked, remove from the smoker and loosen the aluminum foil for 10-15 minutes. Cut into the preferred size of slices and serve.
Additional Tips and Tricks for Your Smoked Top Sirloin Roast
If you're using a gas or electric smoker, make sure the lid is kept close as much as possible. This should help the steak cuts retain the flavor of the wood chips.
When buying top sirloin, check the best-by date so you always work with fresh steak cuts.
Add wood chips to the smoker hourly for best results.
For a more intense flavor, marinate the roast with your favorite spices 12 hours before using your choice of rub.
If you don't have access to a smoker, use a grill instead. Just cook the seasoned roast over indirect heat and close the lid. Smoke for 15 minutes per side, then cook with direct heat until desired doneness is achieved.
You can add a few drops of liquid smoke to the marinade or rub if you don't have access to quality wood chips.
Conclusion
Smoked top sirloin roast is easy to make and is highly flavorful. Once you're comfortable, you can experiment with different cuts of beef and rub ingredients to create a unique flavor profile that works for you. Take the time to find quality top sirloin roast  – you won't be disappointed! With our tips and tricks, your smoked top sirloin roast will come out perfectly tender, smoky, and delicious every time.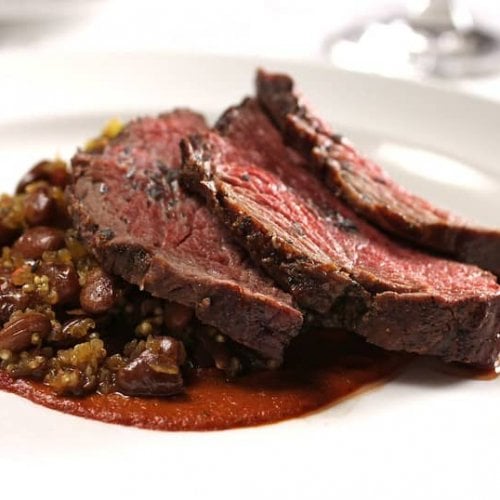 Smoked Top Sirloin Roast
Ingredients  
2

lbs

top sirloin roast

1

tbsp

smoked sea salt

1

tbsp

garlic powder

1

tbsp

onion powder

2

tsp

black pepper

2

tbsp

olive oil

1/4

cup

your choice of wood chips

aluminum foil for wrapping
Instructions 
Preheat your smoker to 250 F

Mix the smoked salt, garlic powder, onion powder, and black pepper in a dish until well combined. Rub this mixture onto all sides of the top sirloin roast

Heat the olive oil in a skillet until it starts to shimmer; use medium heat. Sear the seasoned roast for 3 minutes on each side, and cook for longer until browned on all sides

Wrap the seared roast in aluminum foil and seal it tightly and place it into the preheated smoker

Add your soaked wood chips to the smoker around the roast and let it smoke for 45 minutes or until the internal temperature is 145 F. This can take around 4 hours, depending on your smoker's temperature

Once cooked, remove from the smoker and loosen the aluminum foil for 10-15 minutes. Cut into the preferred size of slices and serve
Notes
If you're using a gas or electric smoker, make sure the lid is kept close as much as possible. This should help the steak cuts retain the flavor of the wood chips.

When

buying top sirloin

, check the best-by date so you always work with fresh steak cuts.

Add wood chips to the smoker hourly for best results.

For a more intense flavor, marinate the roast with your favorite spices 12 hours before using your choice of rub.

If you don't have access to a smoker, use a grill instead. Just cook the seasoned roast over indirect heat and close the lid. Smoke for 15 minutes per side, then cook with direct heat until desired doneness is achieved.

You can add a few drops of liquid smoke to the marinade or rub if you don't have access to quality wood chips
*photo by thehomeranch licensed under CC BY-SA 2.0