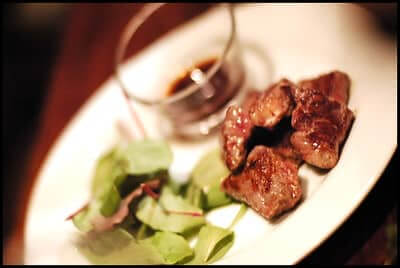 Looking for a hearty comfort food to satisfy your taste buds? How about some cube steak with gravy? This classic Southern dish is a crowd favorite and for good reason. The tender and flavorful cube steak, smothered in a savory gravy, will surely be a hit no matter where you serve it and who you make it for. It's also easy to prepare and pairs perfectly with various sides, making it a versatile dish for any event. Keep reading for a simple and tasty recipe for easy cube steak with gravy that will surely become a family favorite.
Different variations of gravy
Here are a few popular variations of gravy that you can try to elevate your cube steak or any other dish: 
Mushroom Gravy
This gravy has a rich and earthy flavor that is deep and savory. It also is popular for its distinct nutty and meaty undertone that pairs well with the tender cube steak. It's probably the best way to make meaty, even meatier.
Onion Gravy
The flavor of this gravy is sweet and caramelized, with a mild savory note. The slightly tangy finish gives the perfect balance to the cube steak's intense beef flavor.
Tomato Gravy
This gravy has a tangy and slightly sweet flavor, with a fresh and bright acidity. Its subtle herby and savory taste pairs well with the tender cube steak.
Red Wine Gravy
The flavor of this gravy is rich and intense, with a slightly tart and fruity note that comes from the red wine. The slightly sweet aftertaste provides a subtle yet wonderful contrast to the flavor of the cube steak.
Enjoy trying these different gravy variations to add new flavors to your dishes!
Savory cube steak recipe
Ingredients:
1/2 cup all-purpose flour
1 tsp garlic powder
1 tsp onion powder
1 tsp paprika
Salt and pepper, to taste
1/4 cup vegetable oil
2 cups beef broth
Instructions:
In a shallow dish, mix flour, garlic powder, onion powder, paprika, salt and pepper.
Coat each cube steak evenly with the flour mixture, pressing the flour into the meat to make sure the dry mixture sticks to all sides.
Heat the vegetable oil in a large skillet over medium-high heat.
Once the oil is hot, place the cube steaks on the pan and cook for 3-4 minutes per side or until golden brown.
Remove the cube steaks from the heat and place them onto a plate and cover them with foil to keep them warm.
Reduce the heat to medium-low and add the beef broth to the skillet.
Make sure to scrape the bottom of the skillet to release any browned bits.
Let the broth simmer for about 5 minutes or until it has thickened slightly and reduced in volume.
Serve the cube steaks with the gravy drizzled on top.
Tips and tricks for the perfect cube steak and gravy
Here are some tips and tricks to get the perfect cube steak with gravy:
Tenderize cube steak: Before coating the steak with flour, tenderize it by pounding it with a meat mallet. This will help break down the meat's fibers and make it more tender.
Use a meat thermometer: To make sure your cube steak is cooked to your desired level of doneness, use an easy-read thermometer. For a medium-rare steak, aim for an internal temperature of 145°F at the thickest part.
Let the cube steak rest: After cooking the steak, let it rest for a few minutes before cutting into it. This allows the juices to distribute evenly, producing a juicier and more flavorful steak.
Make the gravy in the same skillet: Once the steak is cooked, use the same skillet to make the gravy. This will allow the juices from the steak to mix into the gravy, giving it more flavor.
Season the steak and gravy separately: Always season the steak and gravy separately. Seasoning the steak with salt and pepper before cooking and seasoning the gravy with herbs and spices can make all the difference in flavor.
Remember, not all your guests will have steak with gravy. So if you under season your steak because you're relying on the saltiness of the gravy, then you could end up with some disappointed guests.
Use a whisk to avoid lumps: When making the gravy, use a whisk to avoid any lumps in the mixture. This will help achieve a smooth and creamy consistency. You don't want to bite into a ball of salty flour while having the best meal.
Conclusion
All in all, cube steak with gravy is a hearty and delicious meal perfect for any occasion. With its tender and flavorful meat covered in a rich and savory gravy, it's easy to see why this Southern classic is a favorite among many.
By using the tips and tricks above, you can prepare the perfect cube steak with gravy that will surely impress your guests. So go ahead and give cube steak with gravy a try – we promise you won't regret it!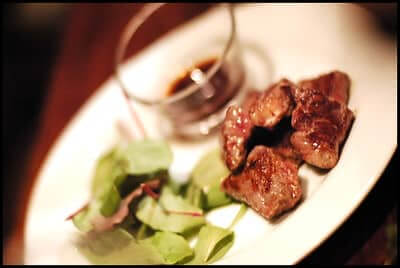 Savory Cube Steak
Ingredients  
4

cube steaks

1/2

cup

all purpose flour

1

tsp

garlic powder

1

tsp

onion powder

1

tsp

paprika

salt, to taste

pepper, to taste

1/4

cup

vegetable oil

2

cups

beef broth
Instructions 
In a shallow dish, mix flour, garlic powder, onion powder, paprika, salt and pepper

Coat each cube steak evenly with the flour mixture, pressing the flour into the meat to make sure the dry mixture sticks to all sides

Heat the vegetable oil in a large skillet over medium-high heat

Once the oil is hot, place the cube steaks on the pan and cook for 3-4 minutes per side or until golden brown

Remove the cube steaks from the heat and place them onto a plate and cover them with foil to keep them warm

Reduce the heat to medium-low and add the beef broth to the skillet

Make sure to scrape the bottom of the skillet to release any browned bits

Let the broth simmer for about 5 minutes or until it has thickened slightly and reduced in volume

Serve the cube steaks with the gravy drizzled on top