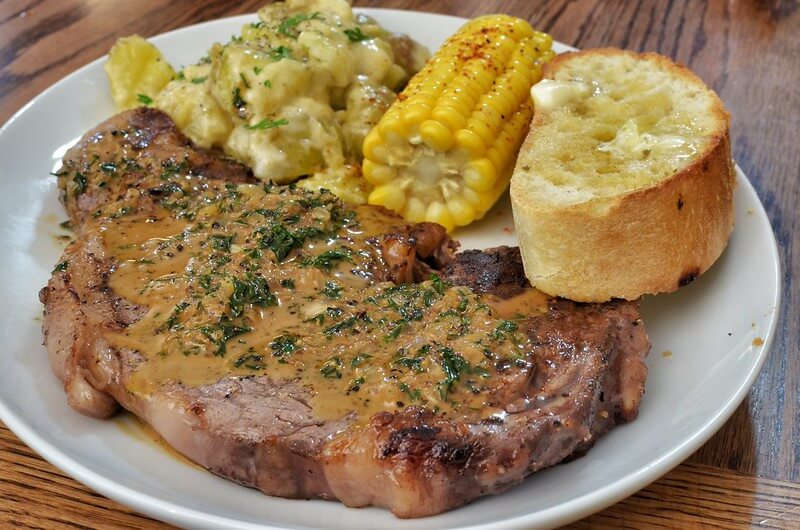 While it has been said that there is an art to cooking the perfect steak, there is also an art to knowing which side dishes to pair that steak with. Steak dinners always come with so many side dish choices, and so little room on the plate for each one! 
From salad and biscuits, to potatoes and green beans, this list of sides to serve will give you some creative options to explore when planning for your next steak dinner. These side dishes are all so appealing, and will take your steak dinner to another level!
Which sides do you enjoy preparing, and loading up your plate with? Below is a list of fabulous side dish suggestions to you and your dinner guests will indulge in with your next steak dinner!
1. Green Salad
A great way to start dinner is with a salad on the side. Not made with the typical romaine or iceberg lettuce varieties, this salad includes collard greens, red cabbage, kale, and sliced pear. It also includes many other delicious and healthy vegetables, fresh fruits and savory seasonings, all combined to complete this divine salad and dressing. 
Find this side dish here!
2. Creamed Corn
A true steak dinner would not be complete without a side of corn, especially creamed corn. This delightful, and simple recipe includes corn, heavy cream, salt, and sugar. With only a short list of other ingredients to combine, this creamed corn recipe still packs a lot of terrific taste! 
Find this recipe here!
3. Roasted Garlic Mashed Potatoes
Mashed potatoes are always an ideal partner to add to a delicious steak dinner!  Some kind of mashed potato is always a staple on almost every steak dinner menu! But, when you add some olive oil, garlic, pepper and salt to those mashed potatoes, you've got an even more irresistible mashed potatoes side dish!
Find this side here!
4. French Onion Green Bean Casserole
This casserole is a well- known classic tradition with any steak dinner! A very simple to make side, with ingredients including, of course, green beans, panko bread crumbs, onions and parmesan cheese, it's sure to be a favorite all of the way around the dinner table!
Find this side dish here!
5. Best Buttermilk Biscuits
One item you just can't ever forget to make with any steak dinner, are those light and flaky Buttermilk Biscuits. This recipe is easy and quick, with only a small amount of ingredients, and a very brief baking time. With this recipe, you will have a dozen delicious buttermilk biscuits, all in less than an hour.
Create this recipe here!
6. Roasted Butternut Squash
Here is another unique, yet tempting recipe to pair with your steak dinner. This recipe is also quite simple as well! Butternut Squash is the flavorful main ingredient. It is combined with olive oil, salt, pepper and garlic cloves. Then it is baked to perfection, and becomes an extremely tasty side to your steak! 
Create this dish here!
7. Baked Parmesan Cauliflower
A light and tasty cauliflower side dish, Baked Parmesan Cauliflower is a welcome addition to any line up of side dishes for your steak dinner! Included are cauliflower, olive oil, parmesan, parsley, cheese and several other appetizing ingredients. It's a dish that everyone partaking in your steak dinner will enjoy!
Create this side here!
8. Garlic-Butter Roasted Mushrooms
In saving the best for last, Roasted Mushrooms are always an anticipated and desired side dish, and this mushroom recipe is sure to be an absolute favorite! It combines white mushrooms, olive oil, garlic cloves, parmesan cheese, and several other indulgent ingredients. This recipe can be put together and prepared, set to impress, and ready to serve in about 30 minutes!
Create this dish here!
If you need help with grilling the perfect steak, check out this article here.