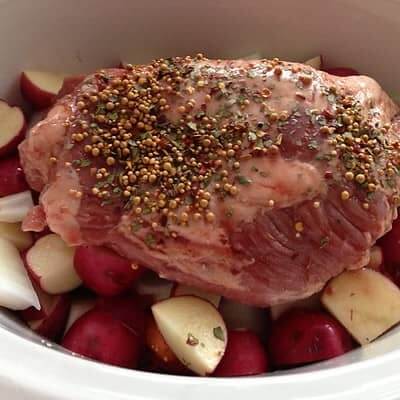 Originally a form of Jewish meat preservation, corned beef brisket became associated with Irish people and St. Patrick's Day in general only after the celebration had to adapt to the American way of life. Corned beef was more widely available than the bacon or salted pork originally eaten in Ireland, so it was a perfect replacement that still carried on the same tradition. Today's corned beef is as likely to be smoked or grilled as boiled. For a juicy and classic corned beef that cooks itself while you're working or waiting, try turning to a slow cooker for great results.
Why Cook Corned Beef in a Crockpot?
You get a chance to focus on other tasks without risking a fire by having an open flame or electric element operating on the stovetop for hours on end. If you need to whip up a corned beef dish while you're at work, this is the perfect method. There are many ways to cook beef brisket, but it's traditional to use a lot of water on this particularly salty brined piece of meat. The crock pot helps keep the meat moist while cooking it evenly without the risk of losing water over time. Salt is extracted from the meat by the water, ensuring the final dish isn't too salty. You get a chance to cook traditional sides like baby potatoes, carrots, turnips, and cabbage at the same time right in the crock pot. Simply add in root vegetables halfway through the cooking time and cabbage one hour before it's finished to ensure nothing is overcooked.
Which Cut of Corned Beef Is the Best?
Few people have a crockpot large enough for over 20 pounds of raw brisket. It's far more common to find pre-packaged corned beef in brine that's already trimmed down to half of the brisket's original size or more. When shopping for a 3 to 5-lb cut, it depends largely on how you want to serve the cooked meat. For a flavorful yet ultra-soft piece of beef that falls apart under the fork and shreds like a breeze, choose the point cut. You may want to trim and scoop some of the outer fat off before cooking, but leave most of it for a richer flavor. If clean slices for Reuben sandwiches or serving alongside vegetables is your goal, choose the flat cut of the brisket. Either way, you'll enjoy a strong beef flavor that you might get from a flat iron steak mingled with the taste of various pickling spices.
Tips and Tricks
Don't use any liquids with salt added to them, such as most beef or chicken broth products. This is likely to cause the meat to become so salty it's impossible to eat. Water may sound like a boring liquid to use for cooking corned beef, but it's the right choice to pull salt out so the meat is flavorful. You can add seasonings other than salt, like black peppercorns and bay leaves. Keep the brisket submerged at all times as well since it's the water actually transferring heat into the meat and cooking it. Letting the top become exposed will dry out the meat and slow down the cooking process, leading to uneven doneness.
Preparing the Crockpot
Most crock pots heat up quickly enough that little pre-heating is needed. For easier cleanup, put in a disposable liner if you prefer. However, keep in mind that the cleaning process involves dumping out the liquid and then washing the interior of the slow cooker. Unlike with dry cooking methods, you won't end up with a lot of blackened grease stuck on the inside. You can easily just add the meat and water to the slow cooker with no other preparations if you're in a hurry.
Preparing the Corned Beef Brisket
Consider your sensitivity and taste for salt when preparing the corned beef for cooking. Unless you prefer your meat very salty, you'll want to rinse it so there's not too much of the brine on it. For a less intense level of salt still, try soaking the meat for 2 to 4 hours in water while refrigerating it. Make sure to keep the water level high enough to completely submerge the meat during the whole cooking process. There's little point in adding a rub to the surface of a brisket cooked this way, but you can add pickling spices to the cooking water if you want a more concentrated flavor that helps it stand out from other beef roasts.
Crockpot Corned Beef Brisket Recipe
Ensure your crockpot or slow cooker is big enough for the brisket you want to cook before buying it. Not only will the meat need to fit inside with space for water to circulate on all sides, but the cooker also needs enough depth to keep the meat covered on top with liquid as well.
Ingredients
1 corned beef brisket, flat cut preferably, already brined
1 gallon of fresh water
2 tablespoons of pickling spice (optional)
Instructions
1. Take the brisket out of its packaging or brining container if you cured it at home. Rinse the meat off under running water to reduce the salt slightly, or soak it in the refrigerator for 2 to 4 hours to further reduce the salt content. Pat the meat dry after rinsing or soaking the brisket.
2. Place the brisket into the slow cooker. Pour the water in slowly until it fills the crockpot and submerges the top of the beef. Add the pickling spices if desired for a stronger flavor.
3. Turn the crockpot on High for a shorter cook time or Medium if you need it to take 8 hours or more without overcooking. Cook for 4 to 8 hours depending on the size of the brisket. Test the internal temperature and ensure it's at least 180 degrees F before removing it from the water.
4. Carve and serve immediately since the wet cooking method eliminates the need for a rest.
Notes
There's no need to rotate or flip the meat as it cooks as long as the water level stays high. Dump the cooking water when you're done since it'll be high in salt and relatively low in beef flavor.
Crockpot Corned Beef FAQs
You should definitely rinse a pre-packaged corned beef before cooking, even when surrounding it with water to draw the salt out. If you've found corned beef too salty for your tastes in the past, consider soaking it as well for up to 4 hours in the refrigerator to reduce the salt level.
Brisket should always be cooked with some amount of liquid when placed in the crockpot since that's what transfers the heat to the meat. A brisket put dry in this kind of appliance will cook unevenly and may become unsafe to eat. For corned beef in particular, you need enough liquid to cover the entire piece of meat. This is because it's not only there to cook the meat, but also to draw salt out so it has a more balanced flavor.
It's possible to overcook the brisket and end up with an overly soft piece of meat if you only use the High heat setting and leave it too long. Only use High heat if you plan to stay home with the slow cooker and check the meat regularly for doneness. A Medium heat level will prevent overcooking when you need to keep the meat in the slow cooker for up to 8 hours before eating.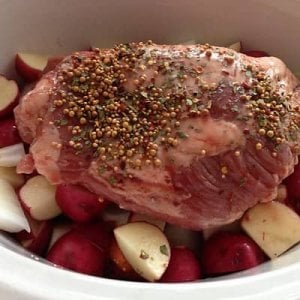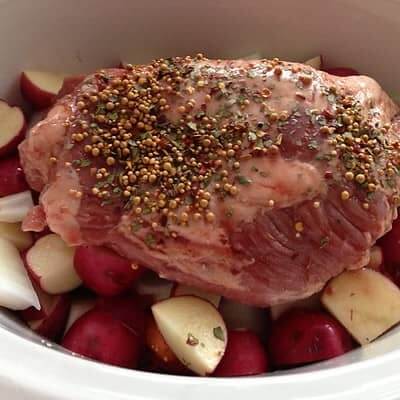 Crockpot Corned Beef Brisket
Ingredients  
1

corned beef brisket, flat cut preferably, already brined

1

gallon

fresh water

2

tbsp

pickling spice (optional)
Instructions 
Take the brisket out of its packaging or brining container if you cured it at home. Rinse the meat off under running water to reduce the salt slightly, or soak it in the refrigerator for 2 to 4 hours to further reduce the salt content. Pat the meat dry after rinsing or soaking the brisket

Place the brisket into the slow cooker. Pour the water in slowly until it fills the crockpot and submerges the top of the beef. Add the pickling spices if desired for a stronger flavor

Turn the crockpot on High for a shorter cook time or Medium if you need it to take 8 hours or more without overcooking. Cook for 4 to 8 hours depending on the size of the brisket. Test the internal temperature and ensure it's at least 180 degrees F before removing it from the water

Carve and serve immediately since the wet cooking method eliminates the need for a rest
Notes
There's no need to rotate or flip the meat as it cooks as long as the water level stays high. Dump the cooking water when you're done since it'll be high in salt and relatively low in beef flavor
*

Photo

by

Colleen Greene

licensed under

CC BY-SA 2.0