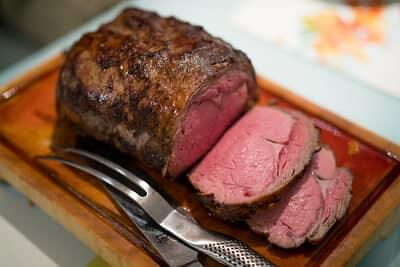 There are few cuts of beef that are more associated with luxury than the Prime Rib. Many families only enjoy it for Christmas or other important holidays, but you're free to cook one up any time you feel the urge. Once you have a hold of a high-quality hunk of meat, it's just a matter of prepping it and cooking it with care. Carve up a juicy, perfectly pink Prime Rib with these tips.
What Cut is Prime Rib Meat?
Also known as a standing rib roast, the Prime Rib is a large section of muscle attached to the upper part of the rib cage. When it's cut free and trimmed down, the bone-in roast includes the middle seven ribs. If you buy a Prime Rib with fewer than seven ribs, it's a partial cut of a full-sized roast. Full-sized Prime Rib will weigh around 20 pounds or more, which is why it's popular to trim them into two pieces. When buying a halved Prime Rib, look for the smaller end, also called the loin end.
Tips for Perfect Prime Rib
Leave plenty of fat on the surface, but trim any extra thick areas so they are no thicker than 1 inch over the meat.
Don't confuse the name Prime Rib with USDA Prime-graded meat. Most Prime Ribs are only USDA Choice graded, but you can find a truly Prime quality roast if you want better marbling and flavor.
Don't underestimate how long this piece of meat needs to rest after roasting. While many thinner steaks only need 5 to 10 minutes to reach their final temperature and stay juicy, the Prime Rib benefits from 30 minutes or more of resting time.
Try the dry-brining method to make your roast even more juicy and flavorful. Simply rub the surface with Kosher salt 12 to 24 hours before cooking, letting it sit in the refrigerator loosely covered.
The Best Prime Rib Seasoning Rub and Sauces
Aside from dry-brining the roast, you should consider using a rub to add seasoning to the surface of the meat. Since there is usually a decent amount of fat on the surface of this cut, the flavors will travel into the center of the meat along with the melting fat. Popular Prime Rib rub options include those based on barbecue flavors with smoked paprika and brown sugar, Italian seasonings mixed with garlic, or black pepper and salt for the minimalist cook. If you're a beef fan but prefer the flavor of medium meat with a spicy or sweet sauce, this is the perfect main entree for pairing with them. Consider sauces like red wine au jus, creamy horseradish, or a bold brown gravy.
How to Carve and Tie Prime Rib
Tying up Prime Rib is only necessary if you receive a roast that has been separated into the ribeye and bone section. For the average bone-in roast, the ribs should stay well-attached through cooking. If the ribs were detached by the butcher or have been trimmed to the point where you think they might get loose during cooking, you can use butcher's twine to gently secure them in place. Boneless rib roasts should also be tied to help keep them intact and round during cooking. Simply loop the butcher's twine around one end of the roast, making a basic square knot, then keep looping and knotting the roast in between each rib bone. If there are no ribs, try to space the loops and knots about an inch apart.
Once the meat is done, you'll need to polish up your carving skills. Start by cutting off any twine and removing it. For a boneless roast, hold it firmly in the center and start carving from the smaller end. Aim for slices around ½ inch thick. Use a long, serrated knife that's at least 12 inches in length to ensure smooth and clean cuts. If you're cutting a bone-in Prime Rib, tilt the bones upward and use them as a handle to keep a good grip. Slice between each bone first to create a number of large slabs, then hold the bone again as you cut thinner slices of meat from the slab.
Cooking Information Per Pound
The length of cooking time really depends on the size of the roast. You want a medium rare to medium consistency because a well-done Prime Rib recipe is on the tough and chewy side. Perfectly pink but not red interiors generally require an internal temperature of around 125 to 135 degrees F. Most cooking methods leave the meat rising another 5 degrees after it comes off of the heat, so you'll aim for around 120 to 130 degrees F when cooking. You'll need about 15 minutes per pound of meat if cooking the roast in the oven. However, you should always cook the roast until it reaches the internal temperature you desire, even if that takes more or less time than expected.
Prime Rib Recipe
Roasted in the oven and rubbed with seasonings, this Prime Rib is easy to make at home any time of the year.
Ingredients
1 half-sized Prime Rib, 10 to 12 pounds
1 tablespoon of Kosher Salt
2 tablespoons of high-heat oil OR 2 tablespoons of unsalted butter, softened
1 tablespoon of dried Italian herbs
2 tablespoons of granulated garlic
1 teaspoon of onion powder
1 tablespoon of smoked paprika
Instructions
1. Remove the Prime Rib roast from the refrigerator 1 to 2 hours before cooking so it can rise to room temperature. If you have dry-brined the meat, exclude the salt from the seasoning rub mix. Pat the roast dry with a few paper towels. Spread the oil or butter over the surface of the meat, then rub the seasoning in as well.
2. Preheat the oven to 200 degrees. Check that it's actually at that temperature with a second oven thermometer, then adjust the temperature as needed. Place the Prime Rib in a roasting pan with a rack, fat to the top.
3. Roast with the lid on for approximately 15 minutes per pound. When the roast is nearly the last 20 minutes of its cooking time, remove the lid and begin checking the internal temperature every 10 minutes. Remove it when it comes to 120 degrees F for medium-rare or 130 degrees F for medium.
4. Let it stand for a few minutes, covered with the roasting pan lid, as you raise the oven temperature to 500 degrees F. Once the oven is fully heated, place the uncovered Prime Rib back in for about 10 minutes. This will sear the exterior without bringing the meat past the desired point of doneness. Remove from the oven, cover for a rest of 30 minutes to 1 hour, and then carve and serve.
Conclusion
A well-cooked Prime Rib is one of the most flavorful beef experiences you can have. Make sure you're only using the finest meat for this luxurious recipe.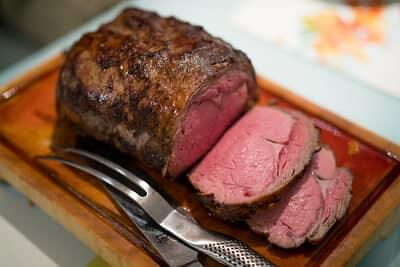 Oven Roasted Prime Rib
Ingredients
1

10-12lbs

half-sized prime rib

1

tbsp

kosher salt

2

tbsp

high heat oil or 2 tbsp unsalted butter, softened

1

tbsp

dried italian herbs

2

tbsp

granulated garlic

1

tsp

onion powder

1

tbsp

smoked paprika
Instructions
Remove the Prime Rib roast from the refrigerator 1 to 2 hours before cooking so it can rise to room temperature. If you have dry-brined the meat, exclude the salt from the seasoning rub mix. Pat the roast dry with a few paper towels. Spread the oil or butter over the surface of the meat, then rub the seasoning in as well

Preheat the oven to 200 degrees. Check that it's actually at that temperature with a second oven thermometer, then adjust the temperature as needed. Place the Prime Rib in a roasting pan with a rack, fat to the top

Roast with the lid on for approximately 15 minutes per pound. When the roast is nearly the last 20 minutes of its cooking time, remove the lid and begin checking the internal temperature every 10 minutes. Remove it when it comes to 120 degrees F for medium-rare or 130 degrees F for medium

Let it stand for a few minutes, covered with the roasting pan lid, as you raise the oven temperature to 500 degrees F. Once the oven is fully heated, place the uncovered Prime Rib back in for about 10 minutes. This will sear the exterior without bringing the meat past the desired point of doneness. Remove from the oven, cover for a rest of 30 minutes to 1 hour, and then carve and serve